November 6, 2018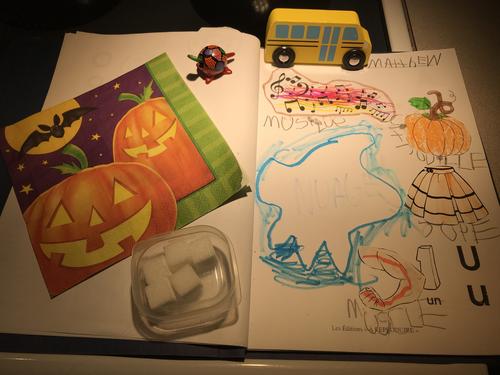 Now that Matthew is in SK (or jardin, as we refer to it) he is doing le foret de l'alphabet with his class. I'm sure Elizabeth did this too, but she did not have associated homework. Matthew does - every week he has a new letter and he needs to find pictures containing or starting with a particular letter (or associated sound). He also does a "sac a sons" which he can put pictures with that letter or objects! They then present the results to the class.
He likes the opportunity to take toys to school!
You might also like
- Spiderman shoes
(0.324803)
- Lac des Loups
(0.32316)
- Ballet PJ week
(0.318841)
- A failed birthday present
(0.312127)
- A new bicycle
(0.3107)
All
November 5, 2018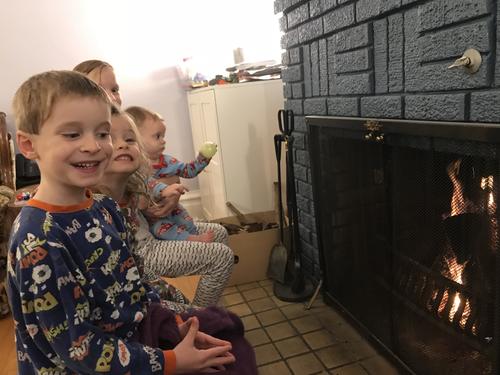 It's the fifth of November and the kids actually asked me when fire day was in November this year. It's the next exciting thing that happens after Halloween and switch witch, apparently.
Lorianne walked by and saw the fire and said "Oh it must be bonfire day" (or something like that). Apparently my excitement over Guy Fawkes has registered.
I was proud, even though the kids were more looking forward to the marshmallows than the fire. Michael didn't quite know what to make of the fire. Elizabeth reckoned he found it too hot. Yes, those ARE Girl Guide thin mints in lieu of graham wafers.
You might also like
- Deep Freeze
(0.345603)
- Sick
(0.321895)
- Family Day 2011
(0.314607)
- First snow!
(0.313253)
- Come Sing Messiah
(0.312404)
All
November 4, 2018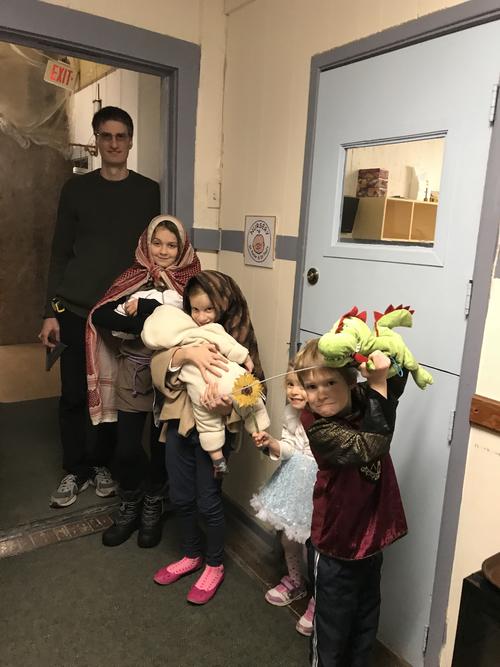 It was All Saints Day and we all duly dressed up for the annual procession. I was St Florian, Brendan was St Joseph, Matthew was St George, Amelia was St Audrey (I don't know why she carries a sunflower, but Amelia's primary request was to be a princess...) and Elizabeth and Michael were St Francis and his lamb. Elizabeth's friend Juno from church was St Mary, and she actually stayed overnight and came with us in the morning. Our junior church lesson was on Jericho. The kids had a grand time dramatizing it with the playdough and peg people.
We had grand plans for the afternoon - choir practice, an invitation to bounce on a neighbour's trampoline and schemes to go swimming...
But then Matthew was very subdued after coming back from Junior church and my "mommy sense" was pinging loudly. He said he felt like he might throw up, but that he could last until the end of church. Brendan and I looked at each other and decided we'd leave immediately, abandoning Elizabeth at church. Then I'd head back to church to join Elizabeth for choir.
We got home just in time to escort Matthew to the toilet. I tucked him in, took his temperature (38.5 under the armpit), set him up with Curious George and some water. Arranged lunch for Amelia and then I fled.
As Matthew put it, he "spent all the rest of the day throwing up" and because he had an "owie throat, it hurt a lot and was not much fun". He kept telling me he was hungry and I would offer him various options (mostly of the jello, soup and popsicle variety) but when it came to actually thinking about food he ended up decided he was too unwell to eat. He actually got to the point where he didn't want to watch videos or do anything but lie in bed and cry. Poor Matthew.
Aside from complaining his head hurt, everything else tallied with our kids typical strep complaints. Puking? Check. High Fever? Check. Sore throat (with pus)? Check. Strep smell? Check. Unfortunately Sunday afternoon is a terrible time to try to get a strep test, so not wishing to take him to emerg for a strep test we rode it out until the following day. Took the doctor about 15 seconds to reach the same conclusion I had and prescribe an antibiotic, to be taken three times daily for the next ten days.
You might also like
- Flying Squirrel
(0.412478)
- London
(0.410887)
- Snow, NAC, GNAG Halloween, dinner
(0.40625)
- Summer Week 1 - Visiting
(0.40553)
- École LaGlace
(0.404819)
All
November 3, 2018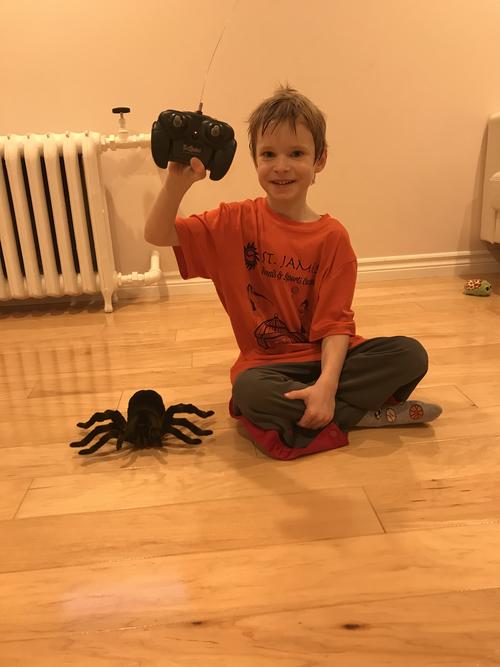 Switch witch duly came and removed candy. Matthew got a giant remote control spider because he adores RC stuff and spiders and we just couldn't resist. Even though we suspected that he might use it to torment his sisters. There was a lot of screaming the first day. On the plus side, Michael isn't fond of it either so we can put it near places that he's to stay away from and it's a bit like those invisible room dividers for the Roomba.
Amelia was thrilled to receive her first Lego set. "My very own!"
Elizabeth finally got a highly coveted fidget cube, along with a cover for her e-reader, both of which she's been wanting badly. A fidget cube is basically a completely useless hunk of plastic consisting of switches that don't work, toggles that do nothing and buttons that make clicking noises but not much else. Clearly I'm not in the target demographic, but Elizabeth thinks we're the best so I guess it was worth it. I'm betting the e-reader cover will have more staying power.
You might also like
- Music Recital
(0.363499)
- St Nicholas Day
(0.362757)
- Piano Recital
(0.359944)
- Virtual Piano Recital
(0.359807)
- Virtual School: Week 17
(0.357143)
All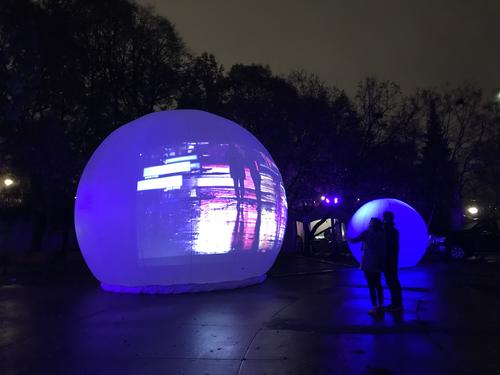 Margaret and I happened to walk through Confederation Park downtown on our way to/from our ballet yesterday, which is how I discovered the "Edge of Peace" moon garden exhibit.
Consisting of nine glowing orbs with images projected on the various screens, I decided it would be pretty cool to bring the kids (especially since there is currently free parking at city hall across the street!)
It's intended to be a tribute to the 100th anniversary of the end of the First World War. We stayed for the entire 14 minute presentation despite the rather chilly evening. The presentation itself was more abstract and artsy than educational, but the kids enjoyed it and there were volunteers handing out free pins which the kids may have thought was the best part. That and the "song at the end" which we got to hear as we arrived and left.
You might also like
- River Oak
(0.33945)
- GCA 50th Anniversary
(0.336364)
- Easter egg hunt
(0.335045)
- Amelia visits the playhouse
(0.33377)
- Toronto
(0.330719)
All
November 1, 2018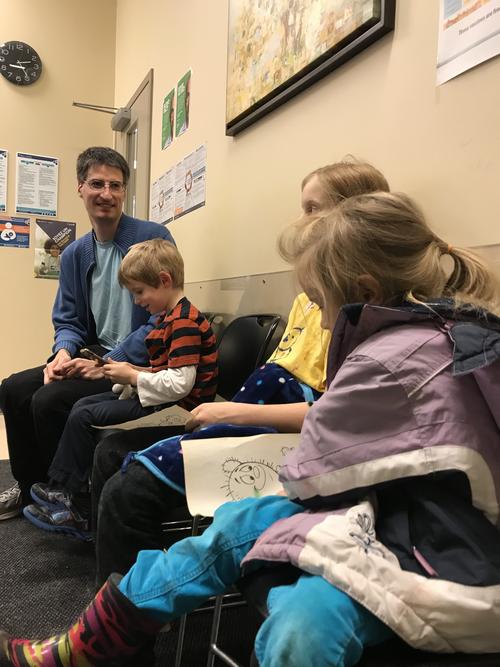 Once again we did the whole family flu shot appointment with Ottawa Public Health. Michael gets two this year because it's his first time.
We had a chat in advance with the older two about a) why we have flu shots and b) not being silly about getting them.
Matthew was particularly anxious. A certain stuffy was demanded. At risk of being late, we stopped home to get it. But of course it was missing, so I brought the entire box of stuffies for him to choose from.
Amelia was great as usual and revelled in her status as the "bravest". Michael hardly noticed. Elizabeth screamed but (in an improvement) she didn't run away. Matthew got super anxious and was worse than last year. We ended up having to hold him while he screamed. It was ridiculous. The older two say they'll be better next year, but at this rate they will be teenagers before they get shots without excessive drama.
You might also like
- Come Sing Messiah
(0.363901)
- Cousins at the Beach
(0.359833)
- Gatineau Park Ski
(0.358251)
- Camp Otonabee
(0.354396)
- River Oak
(0.351926)
All