November 10, 2018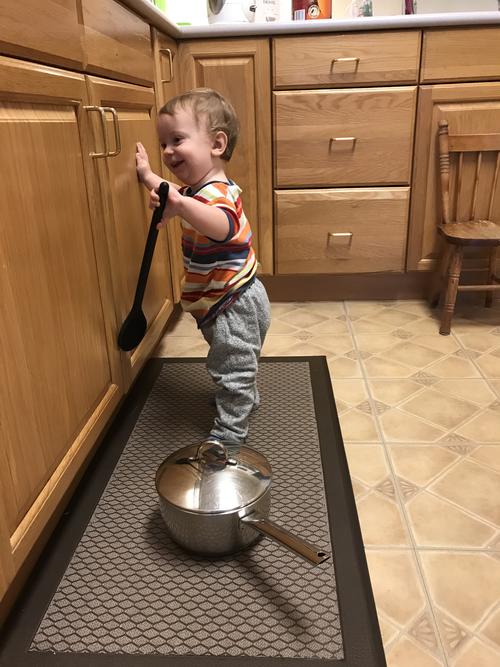 At ten months, Michael weighs about eighteen pounds and 27.5" tall. He has three top teeth and two bottom. They are sharp. Mommy has puncture wounds (ouch!).
Ten months is more vocal and wigglier, if that's possible. At his last checkup the doctor commented that changing his diaper must be entertaining. That's certainly one way of putting it! He's very chatty but we don't understand nearly a fraction of what he's saying.
He spends more time standing independently, but mostly for a second or two at a time. He has been observed standing for up to twenty seconds when totally distracted. Peek-a-boo is a favourite game.
He's napping less, sometimes only once a day! If he naps twice, it's around nine am and two pm.
He has definite food preferences. He doesn't like egg, tomato or cheese - these end up quite consistently on the floor. He likes peanut butter sandwich, most kinds of meat, banana chunks, raspberries, cheerios, apple sauce and yogurt. He prefers to feed himself. He is not a tidy eater. Brendan thinks he's pretty neat for his age.
He is now using the toilet about once a day, which probably makes him more consistent than Amelia. He thinks puddling in the toilet is great fun, to Elizabeth's great consternation.
He loves playing with balls, blocks and balloons. He likes to put things in boxes and take them out again. This makes folding laundry challenging as he wants to "help".
He's fond of his siblings and they are often willing to play with him. Elizabeth especially is quite helpful and he adores her.
You might also like
- Nine months
(0.431866)
- Four months
(0.410793)
- Matthew is eleven months
(0.402804)
- 3 months
(0.400588)
- 23 months
(0.397541)
All