December 28, 2018
Every so often there's a random photo that doesn't quite fit anywhere or I didn't have the energy to put in its own post but I can't bear to delete. For the past three years I've been throwing them into a leftovers folder and deciding that I'll post them "sometime". It's probably time...
The ugly bugs are cicadas and their exuviates, in case you are wondering.
The squirrel was hanging out in the car seat because the kids have dropped THAT much food in it. I didn't realize the source of interest until a flock of birds started attacking the Styrofoam. After that I rescued the seat and brought it inside.
You might also like:
-
Ice Cream Party
-
Wedding prep
-
Rainy day
-
On the canal
-
Douvris Christmas Potluck
December 27, 2018
Nora and Simon (and parents) came to visit us which was very exciting. Elizabeth and Nora still get along really well.
We ordered Swiss Chalet and my kids' minds were BLOWN when they discovered that it was Daniel, Nora and Simon's first time eating Swiss Chalet. Elizabeth reminded me that when she was very little she didn't even know that there were other restaurants.
Jessica reminded me that they still have chicken, vegetables and fries because she's still teasing me about a rather awkward conversation I had with the staff at Swiss Chalet back when we were teenagers and still figuring out this whole ordering out by ourselves thing. But I maintain that it is still weird that you can't get all three together in one meal without ordering an extra side and you used to be able to.
It was super fun to see them and we'll have to go visit them in Boston sometime.
You might also like:
-
Crachel
-
#Jessdoesthemath
-
Kid Math
-
Amelia starts ballet
-
Xander
December 26, 2018
We went sledding at Bruce Pit with Dianne and her kids Boxing Day. It was our first up close and personal look at the damage from the tornado. Softened slightly by the newly fallen snow perhaps, but it was pretty unbelievable. Matthew held my hand tight much of the walk there. "The forest makes me feel sad" The previously dense forest has so many new (unnatural) clearings.
Elizabeth was a bit tense walking through the dog park but everyone enjoyed the sledding. Amelia preferred being pulled to/from the hill to actually going down the hill. Technically it was closed due to ice and for a minute I had flashbacks to that time we went down Landsdowne and Elizabeth declared she'd never sled without a helmet again. We actually left our helmets in the car not wanting to carry them but since that was partly Elizabeth's decision she didn't complain. She did pointedly check that this was ACTUALLY safe this time. Amelia went down two or three times with her siblings and was going to go with me but then decided it was making her tummy sore and decided to stop. I didn't mind.
We were invited back to Aidan, Caitlin and Evelyn's house for lunch. Caitlin's friend came over too and the kids played together with new toys, especially Aidan's new home Escape room game which was declared great fun, though maybe not quite as fun as a real escape room. They would have liked to stay longer but Daddy and Michael were missing us so with promises to get together soon we headed home again.
You might also like:
-
Family Day
-
History Museum
-
Home
-
Apple Picking Reprise
-
Missed the bus, Concussion, Matthew gets a stripe
December 25, 2018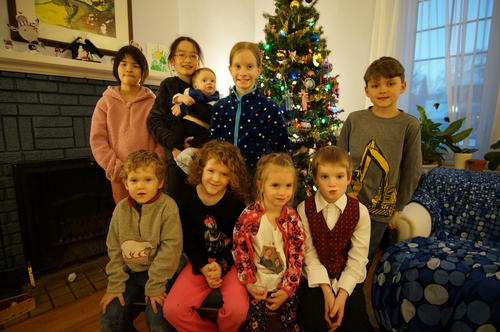 We tried going to church on Christmas morning for the first time in a while (ever?) to mixed reviews. The kids were upset that they didn't get to "sleep in", which was kind of hilarious since they came upstairs and woke us up in the morning. We had a simple breakfast and then off to church and back for "brunch" with Grandma and Janice, before opening presents. As usual there was much excitement over new possessions. Matthew in particular was most excited to receive a toolbox and has carried it everywhere (including to bed). In the evening the cousins came over and there was much energy as they all ran around burning off the morning's candy intake before supper and the cousin gift exchange.
You might also like:
-
Early Christmas
-
Home again
-
Sheep Shearing
-
Happy Father's Day
-
Christmas Eve
December 24, 2018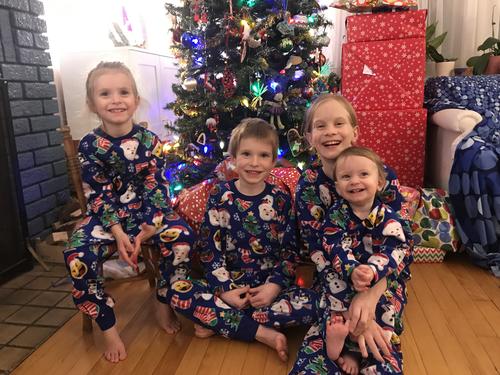 This year's spontaneous pageant featured a couple of speaking roles and this was so enthusiastically embraced by the kids involved that we might ask them to do it again with more than a day's notice!
Elizabeth agreed to play Mary even though her idea that Michael could play baby Jesus was denied. She did request veto power over Joseph. Amelia and Matthew really wanted to be angels and we tried to get Michael to be a sheep.
I was a bit stressed when all the kids charged down the aisle to the adult at the crèche waiting to put the characters... without the characters. So I had a box of porcelain and no one to carry them. Meanwhile Michael is frantically pawing at my shirt and Amelia is wailing because she was told to stop running "I can't fly" she sobbed to Rachel, who was wondering what the problem was.
Somehow it all came together, but Michael was not ready to be a sheep at the appointed time as he had not yet had his fill. He DID wish to be a sheep later in the service when it was not really appropriate for him to be crawling around in the aisles.
Once the play was over my angelic daughter decided that she was going to fly whether it was allowed or not. Turns out flying was running up and down from front of the church to the back, during prayers. Not very quietly. It was joyful but disruptive so I went to grab her and it was clear that I was not going to be able to get her without being really disruptive (she's getting fast!) so luckily my friend Jessie was able to help out. Kid did not reckon on me sending a proxy to catch her and she decided not to have a great big noisy fuss.
After church we headed home for fondue in front of the fire, and matching Christmas pjs.
You might also like:
-
Christmas eve service
-
Plasma Car
-
Christmas Eve
-
Ski Club 4
-
Halloween