December 29, 2018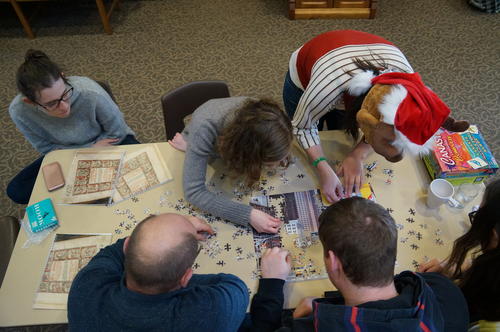 We made it to the hippo house for our family Christmas. Dave and Karen and crew had to stay home because of Dave's back and Mom and Dad are in Angola but the rest of us made it! We actually managed the drive all the way to Mary's with only a single stop for a bathroom. There might be hope for more peaceful travelling in our future! It was super foggy - when we stopped the fog was just obscuring the tips of the trees but by the time we left again you could hardly see the trees at all anymore!
After we put the big kids to bed Mary and Brendan and I played ticket to ride and I misinterpreted the rules so I lost! Oops!
We gathered at the Crosshill church for an epic lunch featuring ham and turkey and a remarkable number of gluten free dishes, including stuffing, scalloped potatoes and so-called funeral mustard.
I was extremely interested by the "funeral mustard", having never noticed it before although Mary tells me there was quite a lot at Grandma's funeral and it's apparently a thing around here. This was the mustard of her childhood.
Funeral Mustard Recipe: 1 egg, 3/4c sugar, 1tsp dry mustard powder, 2 heaping tsp gelatin, dash of turmeric and salt, 2/3 c vinegar, 2/3 c water
Mix everything except vinegar and water. Stir well. Boil in microwave (stir a couple of times). Mary boiled it for 2 minutes in her microwave which resulted in a mustard explosion so I'd watch it closely... The boiling is apparently important. Stir in vinegar and water. Let sit/ Chill.
Triple it and stir into 10lbs of potatoes to make 1qt of potato salad. Original recipe from Anna Mae Steinmann.
It was fun to catch up with cousins and aunts and uncles, albeit too briefly... We played many games. I had a rematch of ticket to ride... and misread the board (in my defense it was upsidedown) so lost AGAIN! Great fun was had by all.
Matthew lost his second tooth! The tooth fairy had some miscommunication - Matthew duly put it out on the table, but when I woke up in the middle of the night in great panic to "assist" the fairy I could not locate the tooth. So I ended up hauling my darling husband upstairs and eventually located the tooth in the garbage. Mary had accidentally put the tooth (in plastic bag) in the garbage. Then in the morning Mary saw the bag (but not the money!) and thought - oops so she hid the bag just as Matthew came up. Of course he was then confused as to where it was and she had to finesse unhiding the bag and putting it back on the table. We had a good laugh over it all.
In the morning Elizabeth showed Aunt Judy some karate moves, to the great amusement of all. Then we invaded Great Aunt Esther and Great Uncle Roy's house next door and barely escaped with the house intact. One small child needed to leave slightly earlier than the rest after getting a bit... wild. It was fun to see everyone and Elizabeth was thinking maybe she shouldn't have signed up for karate adventures January first so we could have had more time!
You might also like
- Mary and Andrea visit
(0.42801)
- At Mary's
(0.423396)
- Karate Tournament, Birthday and ER Part 2
(0.421662)
- Homeschool wk apr 27-may 1
(0.42151)
- Family Day
(0.421439)
All