January 1, 2019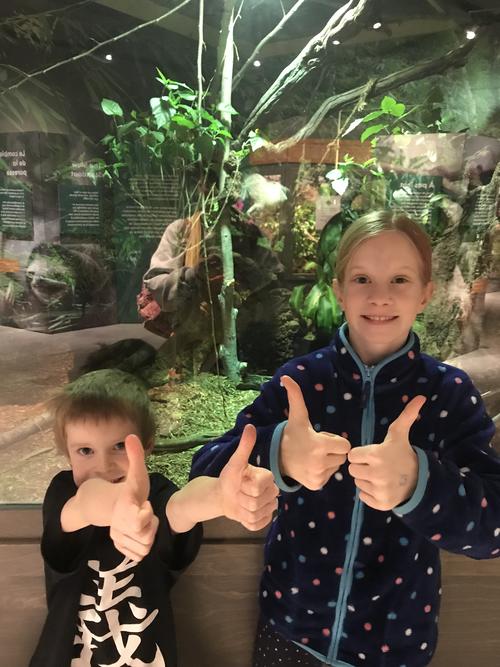 Elizabeth insisted that we must do Sensei Nick's New Year's Day fitness challenge "to start the New Year our right!" which is primarily why we came home yesterday.
I signed up, Matthew signed up, Janice signed up and Elizabeth signed up. Predictably Elizabeth didn't want to go this morning at 7:30am but I was having none of that nonsense! I even let Amelia come at the last minute since Michael had had a poor sleep due to a stuffy nose and generally feeling unwell.
I kind of wished I had let everyone sleep in when we arrived and I discovered it was a TWO HOUR fitness class, rather than the 45 min class I had fondly imagined. Anyway, it went surprisingly well given that I brought a rambunctious three year old to work out at 8am after a very late night the night before. Did I mention it was for two hours and that we skated the evening before?
Actually I did discover it's surprisingly fun to punch the punching bags and the activities changed often enough that the time went very quickly. Elizabeth thought it was super fun.
I did bribe Amelia with Tim Horton's and let her play on my phone for the last ten minutes but she did pretty well for her age. Her kicks are hilarious (but probably better than mine...)
After we had a well deserved brunch, turned Elizabeth into a unicorn and then I kicked the older three outside to play with the neighbour kids. When they got cold they disappeared to the neighbour's house to play while Brendan and I reassembled playmobile so we could vaccum the living room. The glamour!
It's kind of a New Year's Day tradition to go visit a museum. This year I took the four kids to the museum of Nature - getting the hang of this solo with four thing. Michael mostly hung out in the sling. It was the happiest he was all day - he just looked and looked at everything. We saw the artic exhibit (aka let's put our hands on glowing ice), the new sloth exhibit (which had sloths, cheetahs and mammoths featured, so everyone was super happy). Amelia and Elizabeth started watching the "live animal show" but the chameleon's tongue was too scary for Amelia so we went and learned about caloric intake requirements of various animals instead.
Elizabeth picked the sloth exhibit; Matthew decided to go to the Earth exhibit (aka gymnastics in the cave, sparkly jewels and blowing up volcanoes). This time round we spent quite a lot of time figuring out what kind of rocks are made if we apply various amounts of erosion and pressure. Our last stop was the birds. Amelia just wanted to play with the stuffies but the older two played the guessing game. I was quite amused on the way in when Amelia casually identified various birds (we've been working on them). "Owl, owl, jay, loon, owl, falcon, tweety bird"
When we got home it was playtime. Elizabeth and Matthew pulled out some Christmas crafts. Amelia listened to music on Aunty Janice's phone (she cracked and handed it over after many renditions of the first three words of Let It Go). Michael pretended to vaccum and I made supper using my newest toy (an "Instant Pot").
All in all a good first day, even if we did burn Elizabeth's beads while cooking them.
You might also like
- Visiting Great Grandma
(0.44382)
- Social Distancing: Day 20
(0.442611)
- Summer Week 1 - Visiting
(0.442322)
- 5th Birthday Party
(0.441292)
- Billings Estate
(0.436589)
All