March 14, 2019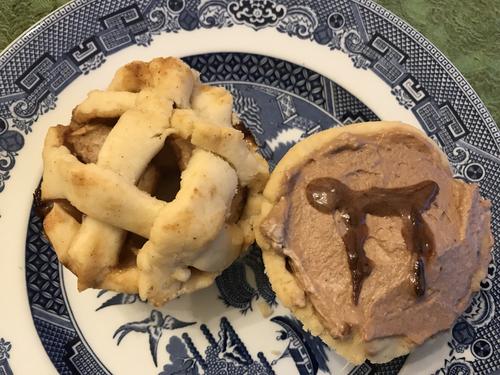 I nearly forgot about pi day altogether but in the end I made a bunch of mini apple and chocolate pies for the occasion.
You might also like
- Pi day
(0.265896)
- Remember remember
(0.222826)
- Finally cake
(0.210256)
- Tooth fairy
(0.207031)
- Splits Club
(0.206422)
All
March 11, 2019
Our winter bucket list had "flaming poutine" as an entry, which puzzled me and Brendan since we didn't know where the kids got the idea.
Turns out that "poutine" was a Elizabethism who meant we should flame our Christmas "pudding" as is our tradition. After this was cleared up amidst some giggling the family conclusion was that flaming poutine sounded awesome and we had to try it.
Brendan and I don't drink alcohol, but we do use brandy as an accelerant on a semi regular basis. Turns out that the path to setting cheese, gravy and French fries on fire was not as smooth as anticipated - scaling down the amount of alcohol involved to flame a small quantity of poutine along with the poutine being too cold led to multiple attempts, including one where we essentially doused the whole thing in booze.
Eventually there was success, but since the result was swimming in non-burned off alcohol we decided that Mommy and the kids maybe shouldn't try it. Brendan took one for the team and reported it was edible. We apparently are going to try this again sometime.
You might also like
- Family Day
(0.342995)
- The Dentist
(0.341308)
- Gatineau Park Ski
(0.339523)
- Skating
(0.339223)
- Wedding prep
(0.338216)
All
March 10, 2019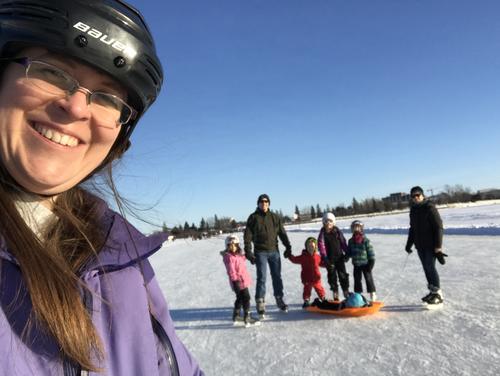 Lauren, Donna, Lindsey, Anna and David were going skiing at Mont Blanc again so they stopped in overnight in Ottawa to visit!
The canal was still open so we went skating while Elizabeth was at black belt class. She was not amused to have missed out on beavertails! Or the skating, but it was actually terrible ice. Worst ice I've ever skated on - it was like walking on skates through snow! Too bad! They'll have to come back another time when it's better conditions :)
You might also like
- Cousin Time
(0.349876)
- Second cousins
(0.316129)
- Visitors
(0.31185)
- Olympic skater
(0.311388)
- Skating on the Canal
(0.311069)
All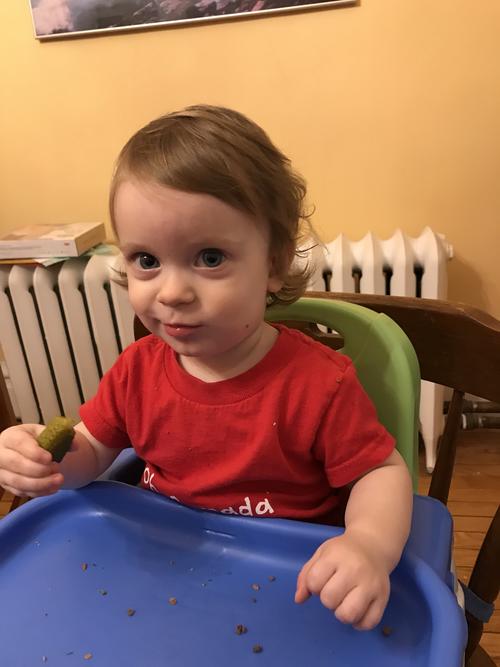 At fourteen months, Michael (or "Pickle") likes trying to be like the big kids.
He just got new shoes, which are a great puzzle. He stamps his feet trying to figure them out, but so far doesn't take them off the way he did his boots.
He likes to play with the vacuum, piano and the swiffer. Stuffing things in and taking things out is a favourite game; it's the era of finding diapers in drawers, toys in the recycling bin and containers under the table. He's actually pretty destructive. Slamming things open and shut is also wonderful fun. It's remarkable that the sliding mirror closet door in our bedroom is still in one piece. He definitely knows he isn't allowed but it is irresistible.
Daddy resorts to carrying him around, especially when he's feeling particularly naughty. Daddy carries him around quite a bit...
When the kids come home from school he runs to Elizabeth and grabs her legs for up. Elizabeth loves playing with him and she's definitely his favourite person in the world. He likes to help Elizabeth brush hair, play violin, play piano. Matthew likes to roughhouse with him which is fun too, but he's just as likely to bop Amelia on the head as he is to play with her so usually they keep out of each other's way.
At fourteen months his favourite foods are cake, peas, raspberries, blueberries, grapes, peaches, Cheerios and meat. He also loves sushi, pickles and butter chicken. He is not a fan of banana, kiwi or melon.
He is VERY talkative.
You might also like
- Michael fifteen months
(0.408665)
- Nine months
(0.402503)
- Matthew at 9 months
(0.3833)
- One year old
(0.379202)
- 4.5 Amelia
(0.379015)
All
Celebrating birthday parties for stuffed animals is a thing around here, and I was duly informed that there were some birthdays coming up. The actual birthdays are spread out over a few weeks for multiple different toys but despite an attempt to have extra dessert days during lent we compromised by allowing ONE party for all stuffies. I know, I'm such a strict parent...
You might also like
- First day of Spring!
(0.30273)
- Elizabeth baptism birthday
(0.288747)
- Graduation Day
(0.280749)
- Egg Hunt
(0.280255)
- Uncle Dave has a birthday
(0.27762)
All
March 9, 2019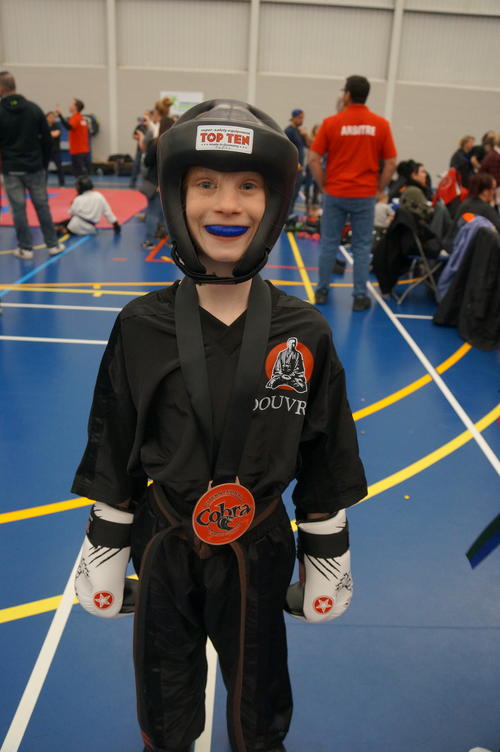 Elizabeth had a karate tournament in Montreal today. Her group for kata had 16 competitors and she placed 6th. In sparring she tied for 3rd after being a bit shaken going first against a girl in full body armour. Overall she did quite well and was a excellent sport about it all. She also had a lot of fun cheering on her teammates and the generally comradery of the team. When she finished her last match I checked the clock and figured that if we didn't dawdle we could even make it back for her black-belt prep class so I asked her if she wanted to try to make it back or stay to watch her teammates some more. She jumped at the chance to make it to her class so we hopped in the car and drove straight to the dojo. They were most surprised to see her!
You might also like
- Evelyn's 6th
(0.35474)
- Inhouse Tournament
(0.342618)
- First day of Maternelle
(0.342187)
- Plowden 2021
(0.340351)
- In house tournament
(0.337461)
All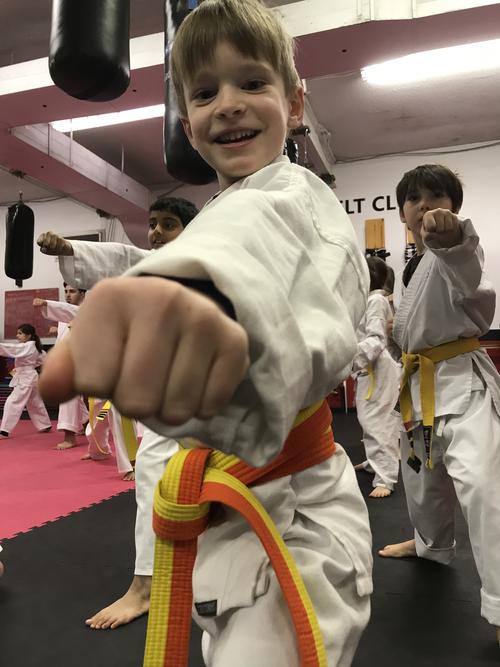 Matthew finally got his orange belt and boy was he excited because orange means SPARRING GEAR!!! He insisted on a photo with sensei Nick, who is one of his favourites.
Elizabeth and Daddy were at the tournament with the car, so Matthew, Michael and I took the bus to grading. Lorianne graciously agreed to take Amelia out for a "date" which was wonderful because wrangling multiple small children through a grading by myself is not my most favourite activity in the world. Amelia was really excited to go skating with Lorianne but after we left she changed her mind and was inclined to meltdown. So she went for a sled ride on the canal instead and then they took the bus to meet us for celebratory donuts after grading.
Then we took the bus back home.
You might also like
- Skating on the Canal
(0.349829)
- Aaron and Joanne get married
(0.348333)
- Come sing Messiah Rehearsal 2
(0.340604)
- Rainbow Camp
(0.338438)
- Race Weekend (Children's Marathon)
(0.338073)
All
March 8, 2019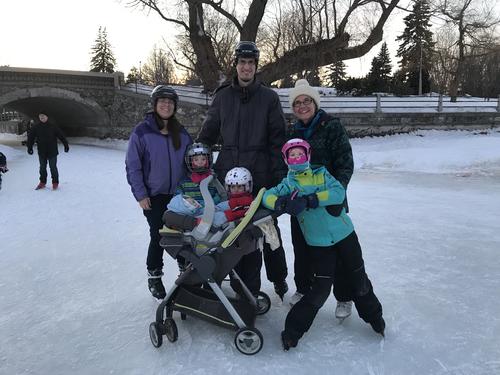 It has been more than the prescribed time that the ER docs suggested I should need for my toe to heal. While the followup xray showed that said toe is still cracked, apparently it is healing nicely. My doctor told me that I could skate a short distance to get a beavertail if I was careful after I basically begged for permission since the canal won't be open much longer. So skate we did!
You might also like
- Baby shower and Canal
(0.284932)
- Spring snow angels
(0.282692)
- Skating with Angie
(0.281623)
- Canal part deux
(0.281579)
- Cousin Camp: Picnic
(0.278037)
All