April 1, 2019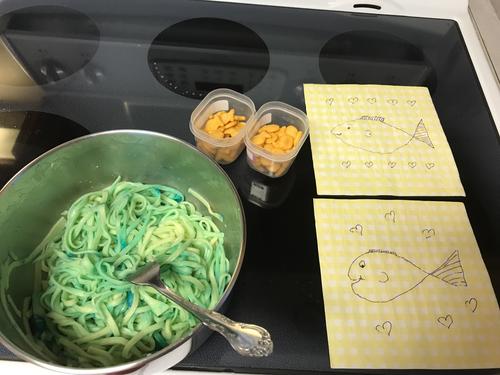 It's April Fool's and that means a silly April's Fools Day song for wake up ("I played a joke on you" by Janeen Brady), green or yellow or blue milk and green eggs at breakfast and a special lunch.
Auntie Janice helped the girls make fishtail braids in their hair.
You might also like:
-
Mochi Making II
-
Magic Mud
-
Party weekend continues
-
Beach
-
Brownies
March 31, 2019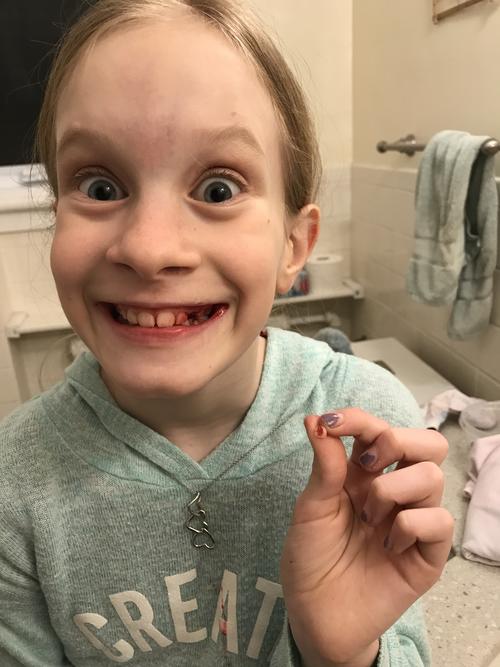 Elizabeth lost another tooth. It got to the point where she could flip it almost inside out but she didn't want to twist it. There was much drama. Finally she yanked on it a couple of times and it came out. There was a LOT of blood.
You might also like:
-
Minus one tooth
-
Leader Board
-
Minus one tooth (ibid.)
-
Pumpkin carving
-
Elizabeth lost (part of) a tooth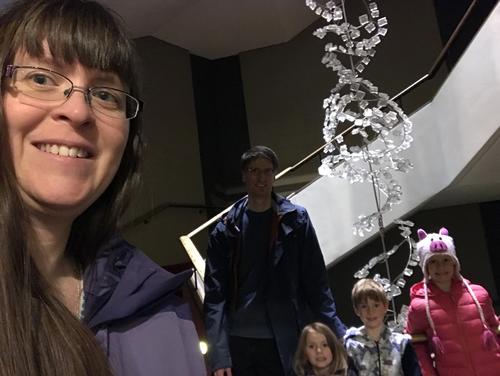 Erika and Elizabeth decided they needed a sleepover after Greek Night. Erika came with us to church and was super helpful wrangling many small children while Elizabeth and Daddy went to a climbing birthday party. Daddy would like to point out that he didn't go to the party; he spent much time driving nearly 100km to go to and from Gatineau.
After church we dropped Michael and Erika off at Sunnyside and the rest of us headed to the NAC for a show about aliens. Specifically we saw Orchestra from planet X, which had a couple of mimes as aliens. We enjoyed it very much and the kids have all agreed that we should do this music subscription thing again next year. The kids had the chance to try out wind instruments before the show. Amelia was too shy to try any but Matthew and Elizabeth were coaxed into trying the bassoon, oboe, clarinet, and trumpet. Elizabeth really enjoyed the clarinet. Neither of them were able to get any kind of sound out of the trumpet so they had new respect for the trumpet players they heard later!
Auntie Yukiko had to work and Uncle Chris had to drive Maria to and from a birthday party that afternoon so hardworking Erika watched Michael by herself for a short time and even managed to convince him to have a nap!
After we'd retrieved Michael, we were lucky enough to be invited out for a wonderful dinner at the neighbours.
You might also like:
-
Snow, NAC, GNAG Halloween, dinner
-
Happy Birthday
-
A zoo party
-
Recital, Home Depot, movie night
-
History Museum
March 30, 2019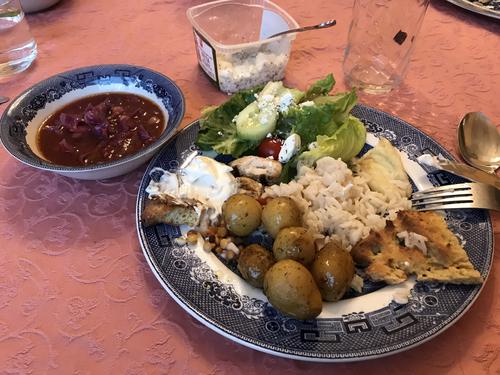 We went to the museum of science and tech to get a birthday present before karate and managed to squeeze in a little playtime while we were at it.
Then Matthew invited Amelia to come with him to be his karate "buddy" as all of his friends that he wanted to invite were busy with hockey. Amelia had great fun!
In the evening we invited Lorianne and Oliver, Grandma J and Erika, Maria, Chris and Yukiko over for greek night. Opa!
You might also like:
-
Two birthdays
-
Vera, Astra and Magnus
-
PJ party
-
-
Pull to standing
March 28, 2019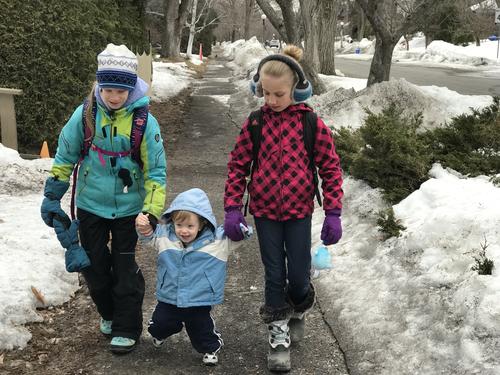 Now that it is spring(ish) we've started letting Michael come to the bus stop to see off his siblings. He's much happier about being outdoors now that we aren't insisting on snowsuit and now that he can walk around by himself. Somehow it didn't seem worth getting smaller boots since he was constantly taking them off anyway, so we ended up just tying off the bottoms of his too-big snowsuit and calling it good enough. Strangely that was not conducive to wandering around in the snow. In any case, his fan club was very excited to see him.
You might also like:
-
Outdoor french class
-
Park with Xander
-
Sledding disaster
-
Asthma
-
Race Weekend (Children's Marathon)
March 24, 2019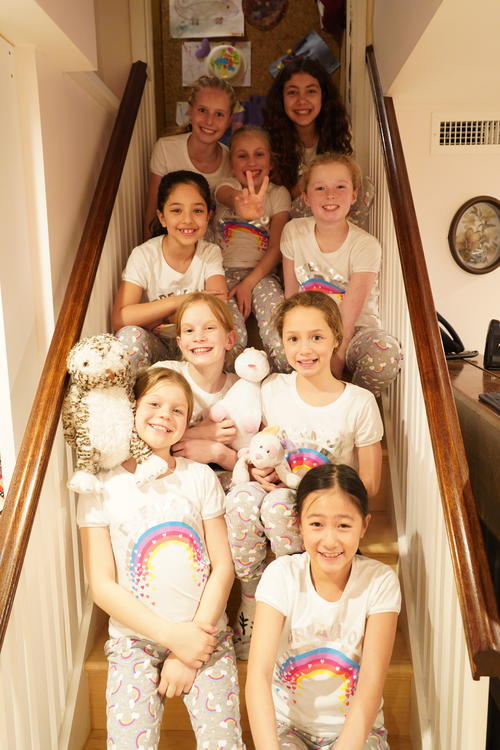 Elizabeth decided to have a sleepover party again this year, but Daddy was in charge of the guest list and it was strictly limited to ten girls, including herself. There was much agonizing over guest list and promises extracted to arrange play dates but eventually she decided that she'd invite mainly kids from school, plus Ruici and Mila (who knows many of them from last year). Most of the girls speak French at home, so it was a very French party, aside from the movie (Freaky Friday - 2003 edition). Olivia couldn't make it and Elizabeth thought she should be allowed to invite an alternate but in the end Daddy held firm.
A couple of the girls came late (hockey and Disney on Ice) and one girl had to leave in the evening (dance competition) so we actually only had eight girls including Elizabeth except for about half an hour or so after 9pm. So that's when we did cake and presents!
Matthew is buddies with Bianca's little brother and got himself invited for a sleepover at Nico's. There were waffles! Treats during Lent! Plus he got to "escape the house full of girls" as he put it. He was quite pleased with himself. From the sounds of things his first sleepover went well.
You might also like:
-
Halloween
-
Broken nose
-
Field trip to Agriculture museum
-
Virtual InHouse
-
Preparing for Gingerbread