April 19, 2019
Good Friday! Creighton spoke at church today with an object lesson about the stickiness of sin and how Jesus took our sins onto the cross and wiped them out with his blood.
Then I made hot cross buns and we prepared dye for the eggs. I tried beets again for pink; still no joy... Erika, Maria, Chris and Yukiko stopped by to help us make eggs. Janice, Yukiko and Erika made the most which was greatly appreciated. Especially Janice who also removed all of the wax.
We made empty tomb buns complete with Amelia and Matthew as guards to our "tomb" (aka oven) and watched Story Keepers Easter edition.
You might also like
- Good Friday
(0.332288)
- First Communion
(0.306644)
- Happy Birthday Daddy
(0.297297)
- Good Friday
(0.287879)
- Cousins move in
(0.285503)
All
April 17, 2019
I gave up being too ambitious this lent (Brendan would no doubt disagree) but I did manage to organize a 30 pieces of silver hunt on spy Wednesday along with the relevant scripture reading. Elizabeth and Matthew enjoyed it, but Amelia thought it was "too hard". Oh well!
You might also like
- Stripes
(0.265993)
- School concert
(0.261236)
- Fort Magic
(0.258993)
- Cottage Days: Point Swim and Treasure hunt reprise
(0.25731)
- Green Belt
(0.256798)
All
April 16, 2019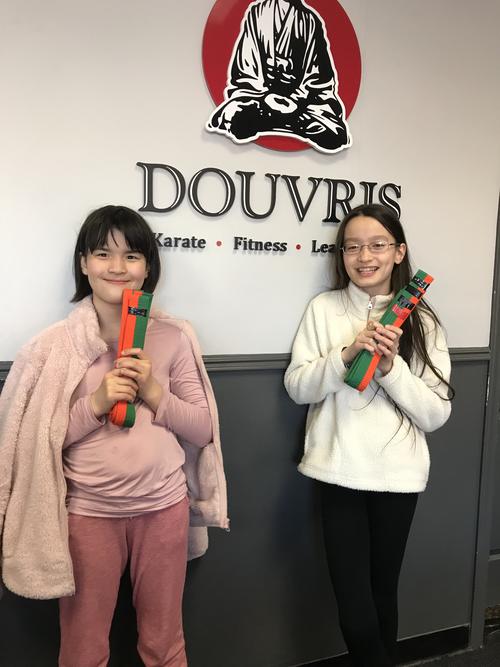 Maria has her first stripe on her orange green belt! Erika has her red stripe and is going to grading!
You might also like
- Erika going to grading stripe on green
(0.632184)
- Maria stripe
(0.495146)
- Stripe
(0.494118)
- Erika stripes
(0.488372)
- Stripes
(0.451923)
All
April 15, 2019
Matthew has his first stripe on his orange belt, which is significant because the next step is being invited to don the red gi. It will be interesting to see whether he is ready to make the commitment to getting his black belt...
You might also like
- Stripe
(0.286624)
- Stripes and going to grading
(0.286517)
- Stripes
(0.276836)
- Third Stripe
(0.260504)
- Red stripe
(0.255738)
All
April 14, 2019
It was Palm Sunday and bits of vegetation were duly waved. Some with more enthusiasm than strictly sanctioned, I'm afraid.
We hosted Erika's birthday party this year and she requested a menu of roast chicken, rice, Caesar salad ("because Elizabeth likes it so much") and some kind of chocolate mousse cake along with caramel icecream with chocolate chunks in it. Challenge accepted! The triple chocolate mousse cake I ended up making was SO good. I made two because it only served 12 and we were twenty but in retrospect we could probably have gotten away with one because of the ice cream. I don't think anyone objected to having extra... I made Erika take home the leftovers because it's lent and we wouldn't have been able to eat them. One of these days we'll try freezing it but it seemed a shame to waste in case it didn't work out. Strangely she didn't argue :)
At thirteen Erika is growing up to be an impressive and responsible young lady. The next's generation's first official teenager is very popular at our house. A good friend to Elizabeth, Erika is a frequent visitor to our house. It's pretty neat that she can get here and back home all by herself! We are really enjoying having cousins practically in the same neighbourhood after so many years where even being able to skype was hard due to the opposite time zone!
It's also fun to see how quickly she's progressing in karate and her enthusiasm to learn from Elizabeth in addition to showing Elizabeth how to do all kinds of older cousinly stuff is amazing.
You might also like
- Garden
(0.38835)
- Pandemic ER - Civic Edition
(0.387126)
- Musical Breeze
(0.385841)
- Dovercourt
(0.383123)
- Extracurriculars start again
(0.382727)
All