May 5, 2019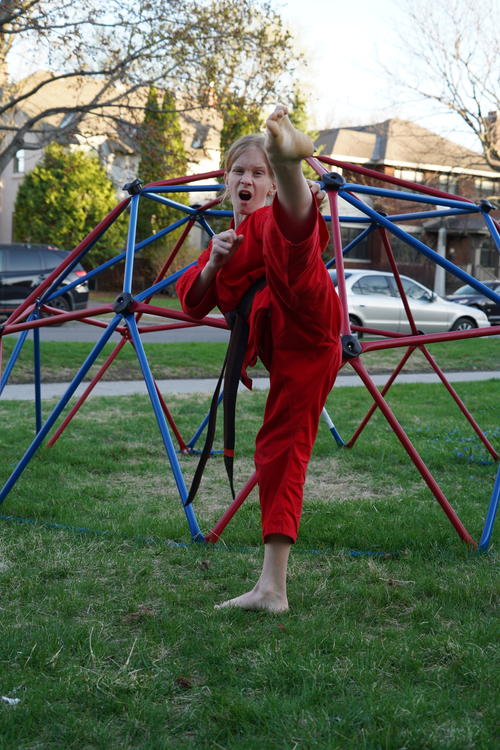 Elizabeth passed her red stripe test! We are going to have a black belt in our house...
As part of her black belt preparations Elizabeth needed to write an essay answering the question "How has karate impacted your life?", which you may read by following the link. We talked about what an essay was and how we needed an introduction and conclusion, but other than that I tried hard to stay out of it. I was fascinated to discover that Elizabeth naturally plans her writing in advance - first bullet points, which are then fleshed out into sentences and finally paragraphs. She wrote three drafts out by hand prior to typing them up.
She wanted to put a cover page on the essay and was very excited to find that Word does this sort of thing for you.
I resisted "improving" it, aside from pointing out obvious spelling errors. I'm biased, but I think it's a pretty darned good essay from a ten year old, even if it does rather read like an advertisement for Douvris. She's pretty into karate, in case that wasn't obvious.
You might also like
- Red Stripe
(0.357337)
- The birds and the bees
(0.348193)
- Social Distancing: Day 5
(0.347174)
- White Belt
(0.345455)
- New doctor
(0.344458)
All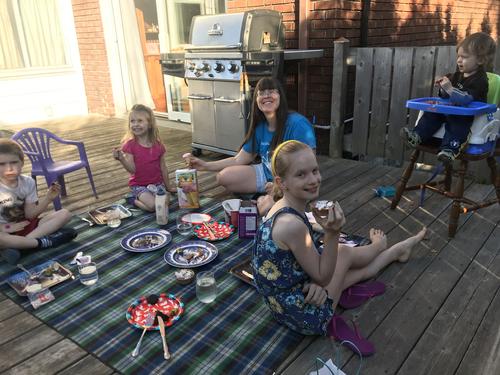 The weather has improved to the point where we agreed with the children that we could perhaps eat outside without turning into ice cubes.
Unfortunately our deck furniture is still totally frozen into the ground. The kids were sure they could chip it out of there but we opted for picnic style instead.
You might also like
- First meal outside of the season!
(0.300505)
- Tulips
(0.275785)
- Still Tulips
(0.26738)
- Jay and Jane
(0.267045)
- Nora and Simon visit
(0.262658)
All
May 4, 2019
We went to the Nature museum with Elizabeth's friend Juno from church. We admired dinosaurs, and the arctic exhibit (not that anyone was actually terribly interested in the educational part - they just like sticking their fingers on the ice and looking at the funky lighting). Some of us greatly enjoyed seeing the butterflies. Elizabeth merely endured the experience. Apparently butterflies are "ugly" close up. The mammoths outside made up for the trauma though.
You might also like
- Museum of Nature
(0.304854)
- Bug Day
(0.296642)
- Bob the Builder
(0.292585)
- Easter Sunday
(0.286408)
- Summer vacation
(0.285097)
All
May 2, 2019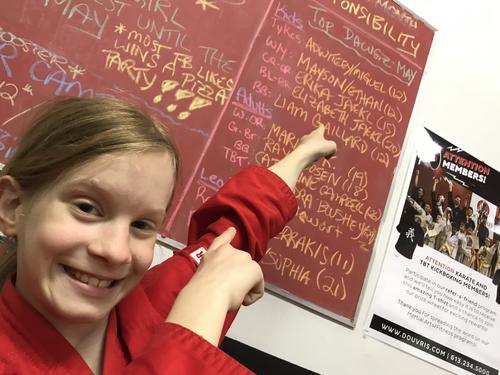 Elizabeth has wanted to be at the top of the leader board for a VERY long time, but she's not the only keener. But after two months of making a dedicated effort to achieve her goal she FINALLY made it and was VERY VERY excited.
You might also like
- Second Stripe
(0.299625)
- Finally cake
(0.29386)
- Elizabeth gets to hold Xander
(0.292035)
- Choppy Choppy
(0.291139)
- Another tooth out
(0.290598)
All
May 1, 2019
Matthew went to see Dr Guerrette to get his eyes checked. He was very excited because she is "so nice".
His eyes have actually improved to 20/20 (last year they were 20/30 and 20/40) so that's pretty good news. He didn't need drops this year. He was slightly disappointed because he was hoping for temporary sunglasses again, not to mention getting out of more school.
He was happy he went to school in the end though because today he learned how to make origami boats "like Curious George".
You might also like
- Dr Guerrette
(0.310573)
- Katelyn
(0.310204)
- Opthamologist
(0.308797)
- Pandemic violin lessons
(0.308581)
- First bath; meeting Erika & Auntie Yukiko
(0.307155)
All
April 30, 2019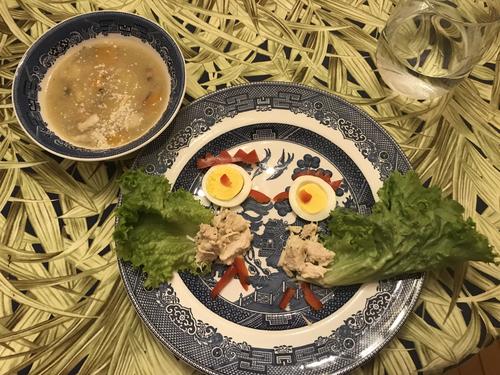 Every so often, the kids demand that I take a picture of their plates. Usually this is something like deformed cereal, abnormally large fruit, or evidence that they were playing with their food rather than consuming it politely. Food faces are rather popular. I guess it's not terribly surprising that the kids like to make shapes in their food given that their mother frequently enjoys arranging cute food for them. In any case I tend to humour them.
I find it kind of interesting to look back at some of the variety of what passes for supper around here as well.
You might also like
- Butterflies
(0.303183)
- Bug Day
(0.302368)
- Cousin Week: Balloon Cars and Airplanes
(0.301619)
- Grandir Ensemble
(0.298126)
- First day of Maternelle
(0.295868)
All