May 14, 2019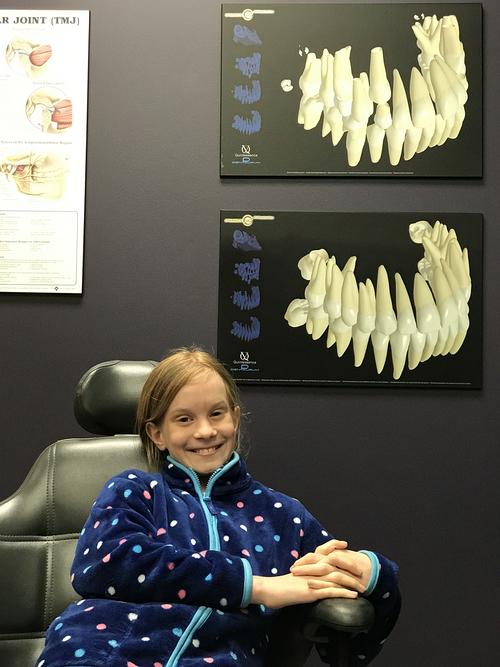 Elizabeth's routine orthodontics visit was very efficient and short. We just keep waiting until she loses the rest of her baby teeth. "See you in two years"
You might also like
- Leader Board
(0.248927)
- Tooth fairy
(0.243077)
- Elizabeth lost (part of) a tooth
(0.242537)
- End of an era
(0.241228)
- Shirley
(0.239024)
All
May 13, 2019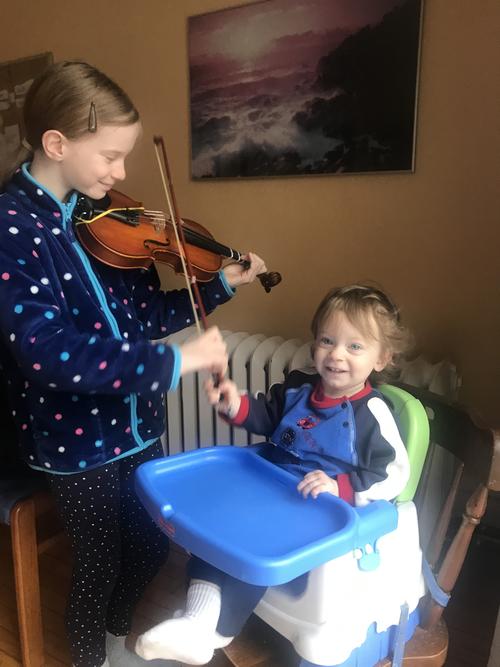 Elizabeth and Matthew have been taking violin lessons through their school this year with Mme Danielle.
Matthew does a special music class with five other students and enjoys it very much. I gather most of it is musical games, songs and rhythm instruments with a tiny bit of violin (one on one) per class.
Elizabeth's class is mostly one on one, although sometimes she has class with one or more student in order to inspire each other. Matthew's class is entirely at school but Elizabeth is expected to practice so we've been renting a 1/2 size violin all year and she practices for a few minutes four or five times a week. She likes the classes but isn't sure about whether she likes practicing (but also doesn't want to quit). She was surprised to find out that when you start a musical instrument then you don't necessarily sound all that good at the beginning - I guess she'd forgotten that her piano abilities were built on many hours of practice!
You might also like
- Music
(0.358407)
- Dovercourt
(0.354752)
- Les devoirs
(0.353488)
- Summer school aug 24-28
(0.345622)
- Spring in the park
(0.344887)
All
May 12, 2019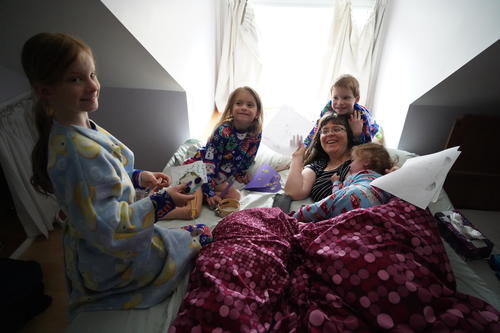 The kids brought me breakfast in bed. Elizabeth apparently wanted to serenade me with the violin while her siblings did a dance but said siblings didn't cooperate. So she played me a private song later.
We went to church and then we picked Grandma Margaret up for a lovely lunch at Uncle Chris and Yukiko's. Daddy went and helped his friend do some wiring. I'd planned to chill at home while Elizabeth and Erika practiced their running, but Auntie Karen texted to say they were going to the tulip festival and would we like to meet up?
I checked with Yukiko to see if we couldn't talk all the cousins into tulip photos and suddenly we were all meeting at the tulip festival. It was a bit hairy getting there. Amelia and Matthew brought their scooters and Amelia managed to let hers get away from under her. There's a steep hill between our house and the festival on Carling and she literally did a somersault down the hill, narrowly avoiding landing on the busy road. I may have shrieked. Luckily no harm done.
We found cousins and they were duly photographed. Maria wasn't too happy to have to come as she had just come with her mom in the morning. The kids all felt we should have bought cotton candy like we did last year but the tulips were beautiful and the sun was shining and I had a lovely time.
Erika and Elizabeth did go for their run. When they got back the kids decided they needed to build a rat trap. There were copious amounts of peanut butter and very elaborate contraptions constructed. We will see if we catch anything.
You might also like
- Spartan Race
(0.396552)
- Good Friday 2015
(0.39528)
- Halloween
(0.39481)
- Race Weekend (2km, 5km)
(0.393186)
- Missed the bus, Concussion, Matthew gets a stripe
(0.392822)
All
May 11, 2019
It was piano recital day. Elizabeth had been at a sleepover the night before for Adi's birthday. We dropped her off after tournament team (the last one before Nationals so she couldn't skip it) and then picked her up early for the recital.
The recital itself was uneventful, except that Elizabeth had a fit of nerves right before. She was talking herself into a bit of a meltdown so we went and found her a piano to do a quick practice on and after playing through her piece a couple of times she settled down. Matthew decided he was going to play his piece from memory and did so quite well. Elizabeth was the last person to play and she was quite pleased about that. Amelia even managed to do her thing.
After the recital we went to the mother's day karate class and Elizabeth and Matthew put me through my paces while Daddy wrangled the other two and tried to get the odd photograph.
I took Matthew to his friend Sianna's birthday party (theme: LOL surprise) and while we were waiting for him I went shoe shopping with the younger two. The store clerk brought me one pair of shoes to try on at once, with a five minute interval in between shoes. Meanwhile Michael and Amelia were doing their level best to dismantle the store. "How do these fit?" the clerk would go. I'd put Michael down, try on one shoe. Michael would make a run for the exit. I'd run after him with one socked foot, setting off the store alarm because I was wearing the store product on the one foot. Michael secured, I'd put on the second shoe. I think I need a bigger size. I locate the clerk. He disappears. Amelia has to pee. She has no diaper because she's experimenting with potty training. Of course the nearest toilet is up the escalators and around the corner from the store. I tell the nearest staffer to tell our guy that we're coming back, because I can't wait for him. We bolt out of the store. We successfully make it to the toilet. We get back to the store. The clerk has meanwhile put away my shoes. It's a miracle that I buy anything, but I do manage to acquire new shoes and we aren't even late to pick Matthew up.
Brendan didn't quite understand why I was so determined to go out for dinner after that but he humoured me.
You might also like
- Solo parenting
(0.412698)
- Battle Zone Karate 2017
(0.405145)
- Cousin sleepover
(0.405145)
- Race Weekend (2km, 5km)
(0.403369)
- Homeschool wk june 15-18
(0.402027)
All
May 10, 2019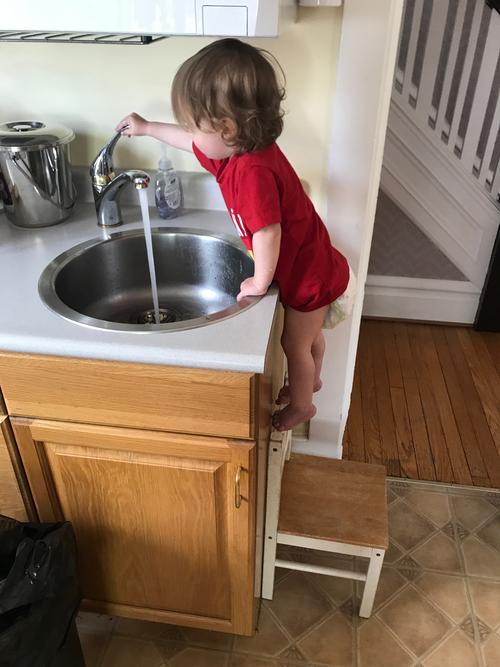 At sixteen months Michael is very very busy. He seems less coordinated than the other kids because every few days he will trip on something, fall on his face and be bleeding from his teeth. Or else he gets tripped (tackled) by a sibling. Brendan says it will be a miracle if Michael makes it to adulthood with all his teeth intact. Of course Matthew also squashed Michael's finger flat in the back door this month. We were less freaked out than the time Amelia did the same at karate because we knew what to do but it was still traumatic. I now have a physical reaction to slammed doors if a child is too close - there's a tingly sensation that runs down from my knees to my ankles. Very unpleasant feeling!
Michael has had a very chesty cough caused by constant snotty now. It seems to have lasted forever. Luckily he is very cute, which makes up for the miserable gross parts...
Michael loves his new French class and spends his time climbing up all the structures and sliding down the slides. He does not wish for assistance.
Meal times are messy. He eats well until he decides he is done with a particular food item at which point he throws everything on the floor. There's no point in giving him extra ammunition so we don't usually let him have a plate or cutlery.
You might also like
- Silly Sock Week
(0.391695)
- Michael fifteen months
(0.390097)
- 22 months: Little Helper
(0.389058)
- Hike in the woods
(0.381579)
- Seventeen Months
(0.378894)
All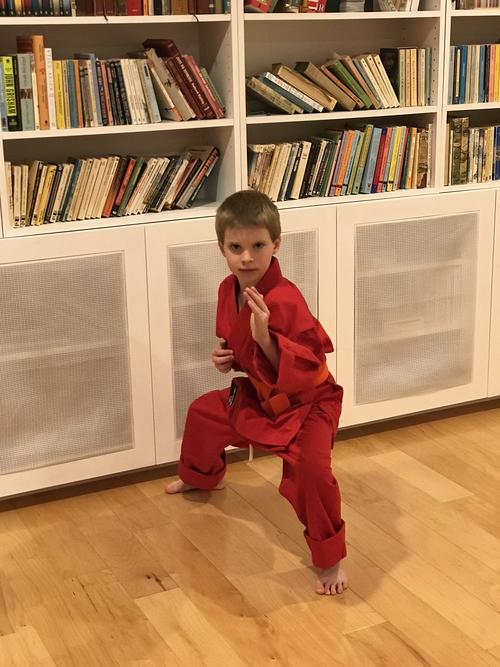 Matthew was invited to wear a red gi and join the black belt club. He was pretty excited. I thought it would be great if he wore Elizabeth's old red gi (ie wait for a month for it to be free) since she's about to wear the black one. Then we could get a bigger size for when he grows out of the red gi. But Matthew had big feelings about this. Turns out that he had been looking forward to the red gi because it was going to be NEW and only his. (He's only had hand-me-down gis to date). In the end we decided that getting a new gi might seem silly on paper but it isn't much money in the grand scheme of things. So far he's treating his gi with a great deal of respect and awe.
You might also like
- Red Gi
(0.338645)
- Green Belt
(0.337731)
- Buddy Day
(0.329412)
- Dress by colour Week
(0.327473)
- End of the canal
(0.32696)
All