May 21, 2019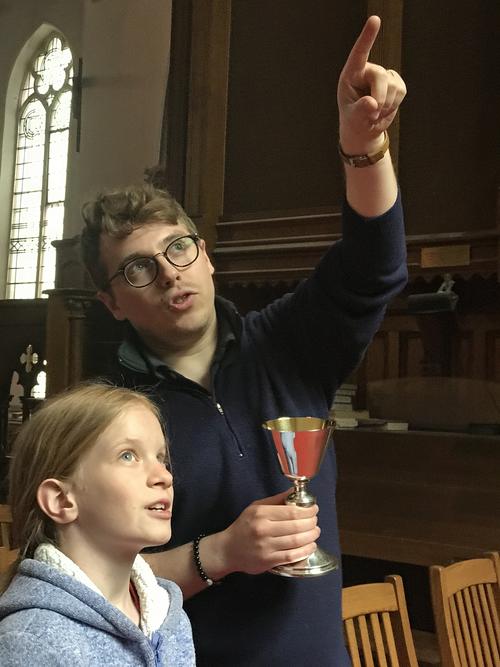 Elizabeth has been taking catechism classes through the church for the last few weeks in order to prepare for her first Communion.
Creighton also asked that she memorize John 6:54-56 "Whoever feeds on my flesh and drinks my blood has eternal life, and I will raise him up on the last day. For my flesh is true food, and my blood is true drink. Whoever feeds on my flesh and drinks my blood abides in me, and I in him." and review the catechism Q's 110-115 pertaining to Holy Communion.
I took her out of school early today to come to church and do one last session with Creighton. First they talked a bit and then we got to go to the Sacristy for a field trip! After getting to see all the pieces used for Communion, Elizabeth practiced how to take the host and drink from the cup using water and unconsecrated bread.
It was pretty amazing preparation and we are very much looking forward to Sunday.
You might also like:
-
Triathlon
-
First Communion
-
Camp Otonabee
-
First day of school
-
Apple Picking Reprise
Matthew has two stripes on his orange belt! Maria also has two stripes on her orange green belt! Plus it was her birthday so she got a birthday belt!
You might also like:
-
Stripe
-
Maria stripe
-
Erika stripes
-
Stripes
-
2nd Stripe
May 20, 2019
Maria turned 10 and we were invited to celebrate with bbq lunch!
She still loves bears. This might have been a theme... We're going to take her to Parc Omega to see the bears; I've been meaning to go for years so I'm pretty excited about this too.
Erika has been making wire art apparently and she made Maria a cute little representation of her two favourite stuffies (bear and seal). It was adorable.
You might also like:
-
Movie Night
-
Bikes
-
Baptism birthday
-
Erika is 14
-
Last day of grade one, Matthew's baptism birthday
When I was in high school one of my favourite youth group activities was a progressive supper. All the parents volunteered to make appetizers, main course or dessert and we went from house to house for each course of the meal. I was talking about this with one of my neighbours and we agreed that it would be super fun and logistically convenient to do one ourselves. So after talking about it for more than a year I finally decided to try it! I thought it would be fun to all end up in a single home and Brendan agreed that we could host main course and also have everyone at our house for dessert if other people brought desserts.
I lined up two other people to volunteer their houses for one of the courses and put out flyers and then waited for results. At first I was a little worried because everyone was happy to bring dessert but much of the street are in the middle of (kitchen) renovations and it looked like the entire group was coming to my house for dinner. But as I talked about it some more eventually we ended up with three houses hosting main course, two doing appetizers and one of my brave neighbours had everyone over for dessert! Lauren made an extraordinary "cakayata" cake full of candy and we all had a great time.
You might also like:
-
LRT Grand Opening
-
First day of preschool
-
Les devoirs
-
History museum; splash park
-
Easter Sunday
May 19, 2019
Elizabeth competed at her first nationals competition this weekend. We were moderately worried about her competing at the national level. Due to the size of the competition and the importance of placement in determining who gets to move on to worlds the format was a bit different from what we were used to. All events are split into two rounds and the rounds are held on different days. This gives the competitors a chance to recover and regroup if they have a bad round. This also meant that this occupied pretty much our entire weekend. Elizabeth qualified to compete in both classical kata and sparring. Friday was kata round one and Elizabeth did very well. One judge scored her as third place. Overall she placed 7th.
Saturday was round 2 of kata and round 1 of sparring. While her kata seemed to be on par with her first round the judges felt otherwise and scored her lower. Overall she finished somewhere around ninth. Between kata and sparring Mommy had the clever idea of visiting the museum of History (the old Civilization) across the street. This provided a great distraction and change of scenery. Mommy then stayed at the museum with the kids while Daddy and Elizabeth went back for sparring round 1. Of course they were running behind schedule and so by the time she actually got to fight three hours and twenty minutes later the museum had closed and the kids had lost their collective marbles. It was a brilliant idea in theory, and would have worked if the normal number of competitors had shown up! We're guessing that since Worlds are not overseas this year more people were interested in qualifying!
Sparring round 1 Elizabeth drew the odd spot out of nine competitors and lost her only match. She had trouble figuring out how to score against her opponent and couldn't really hear her coach over the extremely loud noise. Towards the end of the match she found a weakness and scored a couple of quick points but it was too little too late.
Sunday was sparring round 2. She had an absolutely amazing match and traded points back and forth forcing overtime with 2 seconds to go in regulation. She then managed to get up a point over her opponent and was one point from winning. Sadly her opponent scored a quick two points and took the victory. Elizabeth said she got tired in overtime, prompting some teasing about needing to improve her conditioning. Retorted Elizabeth: "You wouldn't have lasted ten seconds!" (She's not wrong...) In the end it turned out that her two matches had been against the gold and silver medalists! Having missed beating the silver medalist by one point we were beyond impressed.
Throughout the weekend the camaraderie of the team was pretty amazing. Elizabeth had a wonderful time rotating around with her team figuring out where and when various teammates were competing and then making sure they could cheer everyone on! Our original thought was that Elizabeth and Daddy could perhaps come to church with the rest of us after her second fight if it finished soon enough but Elizabeth was scandalized at the thought of not staying to cheer on her friends. Olivia kicked her opponent right off her feet! There were some pretty intense moments. The younger kids and I went off to church (there was a baptism! we got cake!) and even made it back in time to watch sensei Cody crush his opponent 10-0.
Overall it was a great experience and solidified our sense that Elizabeth has earned the black belt she's about to get in a couple of weeks. She is quite the force to be reckoned with and has a lot to be proud of.
You might also like:
-
WKC Provincials
-
Karate Tournament, Birthday and ER Part 2
-
Karate Tournament
-
Child Labour
-
London
May 18, 2019
The three youngest and I went to the History Museum as soon as we got tired of watching kata on Nationals Saturday (read: the kids were being menaces and Mommy got tired of wrangling them).
Daddy and Elizabeth joined us for lunch after her division ended. We spent some time playing in the children's museum and then I talked Elizabeth and Matthew into going to see an IMAX film, where we had the entire theatre to ourselves. Amelia didn't want to go so she and Daddy stayed in the children's museum to play and I took the other three to see a film about backyard wildlife in french. Matthew was captivated by the 3D parts although he said he needed to shut his eyes a few times when it got too intense. Michael even left the glasses on for the first five minutes but after that he got tired of watching and mostly nursed. I was hoping for a nap but no such luck! The film was okay, but not worth a special trip.
There is currently a special exhibit on Neanderthals, so they had a sand pit set up to brush sand away from "bones" and some woolly mammoth stuffies to pose with. Elizabeth was a big fan, as you might imagine.
Soon it was time for Elizabeth to go back (or so we thought). The other kids and I went to check out Neanderthals, which was kind of interesting but a bit above their heads. Matthew liked the skulls though (Amelia thought they were too scary) and they all enjoyed looking at the various weapons. There was quite a lot of material comparing what we know about Neanderthals now versus what made its way into popular culture and what misinterpretations scientists of the past made in part because of false assumptions. I would have liked to spend more time reading but walking through with very small children isn't super conducive to getting to linger over museum panels.
Back to the children's museum for a bit to ride on the camel, but by this time the museum was starting to lose its appeal. I tried to talk them into seeing the other IMAX movie but they were having none of it. So we went and played outside for a while until the museum closed. At that point everyone was tired and hungry so we headed back to the tournament for slushies and some supper. The slushies were very popular!
You might also like:
-
Island visit and Scavenger hunt
-
Music
-
At Mary's
-
École LaGlace
-
The Big Clock
May 15, 2019
Amelia enjoys ballet but is tired of doing buns and actually would rather not even wear official ballet clothes. She's getting better at following the various moves if she feels like it, but still mostly prefers to make up her own dances. So we are probably going to take a break next term before going back to it. She loves her teachers though. She wondered whether they could teach swimming instead lol.
You might also like:
-
Olympic skater
-
Butterflies 2017
-
Amelia starts ballet
-
Xander is TWO
-
Umbrella