June 8, 2019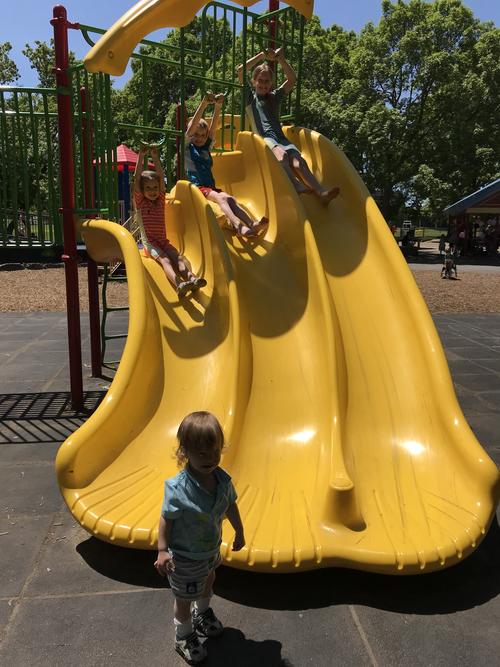 Our regularly scheduled spring (cold, wet, miserable) has been interrupted with some glorious summer weather. There was SUN and it was WARM - nearly 30C. We're out of practice with the hats and sunscreen. We celebrated by going to multiple water parks. Despite his current obsession with the sink at home, Michael could not be convinced to get close enough to the water to get wet. He still had great fun and the kids are thinking we might need to check out more water parks across Ottawa. For research purposes...
Also, yes, that IS Elizabeth doing a one handed handstand.
You might also like:
-
Twelfth night
-
Waterskiing, fish and clams
-
Elizabeth baptism birthday
-
Missed by the camera
-
Cold weather activities
June 7, 2019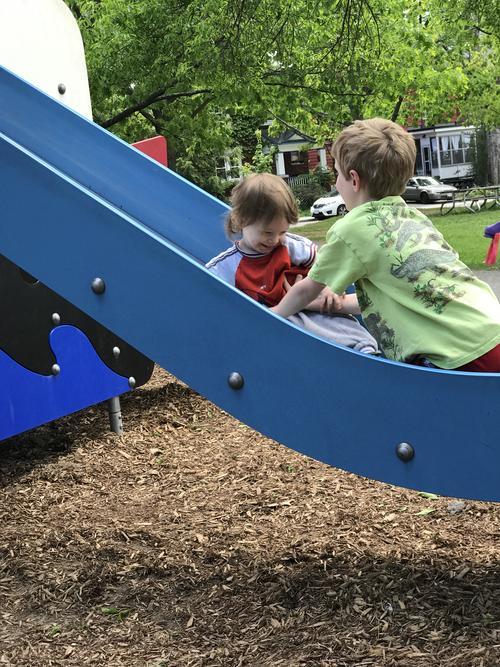 Elizabeth and Matthew had a PD day today. Elizabeth had a playdate at Samia's so once Daddy was ready to watch Michael instead of working on our furnace room I took the two older kids on a bike ride to Old Ottawa South.
Elizabeth is still terrified of riding on the road with cars even along quiet streets near our house, so the ride to Samia's was more an endurance event with soundtrack of slightly hysterical child whining about how much she hates biking than the fun outing some of us were hoping for. Samia's mom suggested we try the bike path along the river on the way back which was actually much better although it involved a longer stretch along Bronson. Bronson is technically a highway and has vehicles zooming along at 80km/h but the bike path is physically separated from the road with flexiposts so Matthew and I decided that Elizabeth would probably like it better. Matthew loved the whole adventure, although he wished we had brought a picnic and had had time to play in every park we passed. Doing so is now on his summer bucket list.
After lunch, while Elizabeth was still at her playdate and Amelia was at school, I took the boys to the park to play. Matthew really wanted me to ride my unicycle to the park. Next time apparently Amelia has to come too but on her tricycle so that we can have one wheel (unicycle), two wheels (his bike), three wheels (the tricycle) and four wheels (the stroller).
Elizabeth and Samia shot each other with water guns while bouncing on the trampoline and played in the park and generally had a wonderful time.
The bike ride home with Elizabeth was much better, so I guess we'll have to stick to bike paths for a bit while she works on getting more comfortable.
You might also like:
-
Ollie Otter goes swimming
-
Flying Squirrel
-
River Oak
-
Social Distancing: Day 3
-
Butterflies 2017
June 6, 2019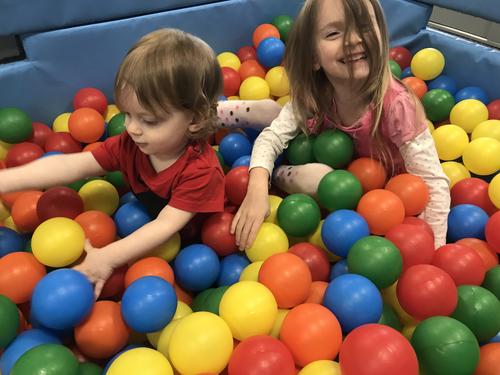 I was looking for another French class for Amelia to attend as she gets ready for kindergarten next year and discovered 123 Petits Pas.
They have lots of classes for toddlers and preschoolers around the city but the only one that really worked for our schedule was out in Barrhaven. It was in a gym which looked pretty fun though, so I figured it was worth trying despite the drive.
Amelia and Michael very much liked the gym part and were much less into the instructional bits. I thought the program was quite well put together but unfortunately I also spent most of the class feeling completely out of place. There was also some weirdness where the instructor went out of her way to explain that it was fine for the kids to run around and not pay attention during circle time (which I actually agree with but only to a point), but then was obviously thrown by the kids running around and not paying attention.
My French is not too bad; I'm certainly capable of carrying on a conversation. Amelia doesn't really speak much French yet (unless you count the French sounding gibberish that she sometimes makes up the pretend she can speak French). Turns out the class was really aimed at complete beginners for both parent and child. I was rather nonplussed to get take home sheets that had pronunciation guides for basic terminology (think climbing words, or body parts).
I had hoped that Amelia would get a more structured overview of various topics - and she did - but also we spent a lot of time on things like colours and Amelia already knew hers. So basically it turned out to be just slightly too easy for Amelia.
I also thought that the instructor spent too much time chatting in English - in fact pretty much all of the parents spoke significant English outside of the circle time, probably because they didn't have enough French to carry on a conversation.
Anyway it was fun and it gave us about 70% of what I was looking for because I was able to take our new environment as a cue to introduce some new French vocabulary. I would hesitate to do it again though because I could probably accomplish the same goal by just going to new places. 123 Petits Pas doesn't appear to have options for kids who aren't complete beginners and especially not for kids with parents who already speak good french.
I do think they provide a valuable service and fill a missing gap, but unfortunately my quest to find services aimed at helping my kids get up to speed prior to entering kindergarten is not over. So far Elizabeth had by far the most options and was therefore the most prepared. Hopefully there will be something new that we can find for Michael before he starts school!
You might also like:
-
Social Distancing: Day 3
-
École LaGlace
-
Dovercourt
-
Homeschool wk apr 6-9
-
Homeschool wk apr 14-17
June 5, 2019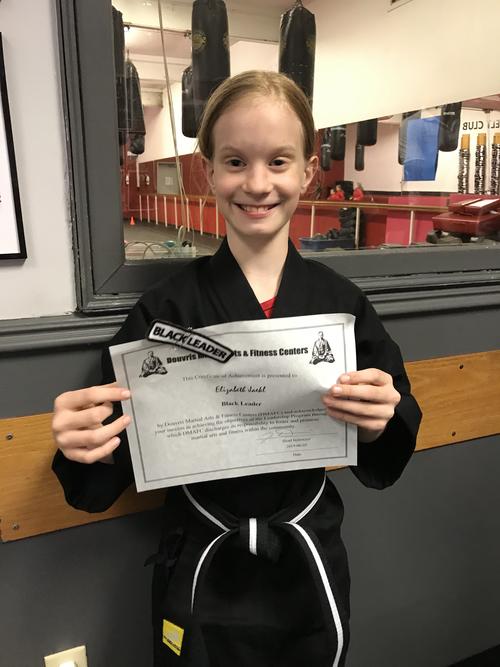 Elizabeth was very happy to get her black leader badge today! She came home in between classes and asked Daddy if he wouldn't pretty please sew it on in time for her late night class with Sensei Suba. (He did)
You might also like:
-
Friend Janice
-
A week in review
-
Red Gi
-
Red leader
-
Hold the hand
June 4, 2019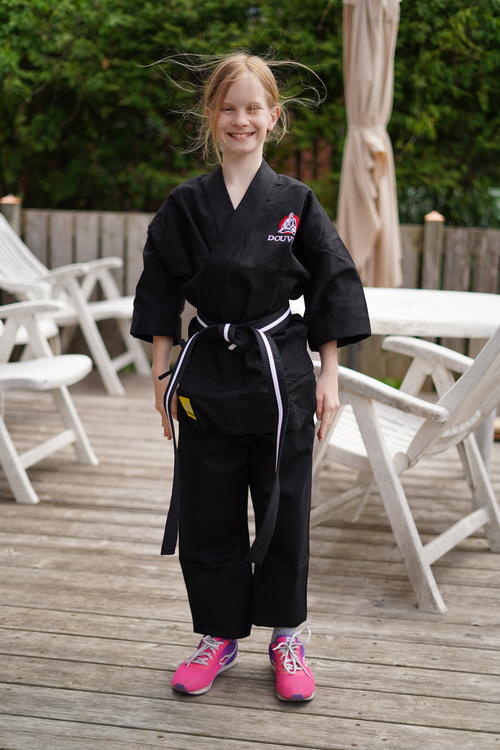 Introducing Miss Black Belt, in full regalia, right before her first class as a black belt. She might be slightly excited...
You might also like:
-
Green Belt, one stripe
-
Black Belt Stripe Test
-
Stripes
-
Stripes and going to grading
-
Yellow Black Belt