June 22, 2019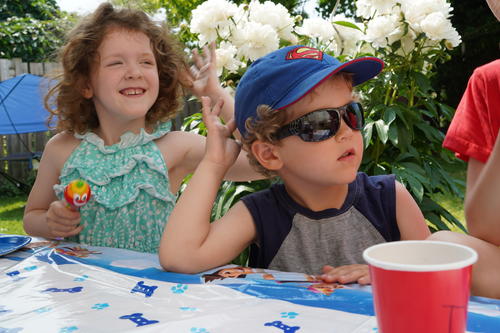 Party weekend continued with a combined family birthday party for Theo and Isabelle. Theo had a Paw Patrol theme and Isabelle had a Pokémon theme. Elizabeth spent much of the party upside down trying to learn how to walk on her hands. Bubbles were a huge hit.
The children were chagrined to discover that the playstructure is no more as it rotted out. Dave is planning to build some swings to replace it, but first he rebuilt the picnic table. We were the first people to use it as he had finished it just that morning!
You might also like
- Le Patinoire
(0.310502)
- Saturday bo
(0.297539)
- Apple picking
(0.296578)
- Charlotte and Elizabeth party
(0.294235)
- Sand Delivery
(0.288802)
All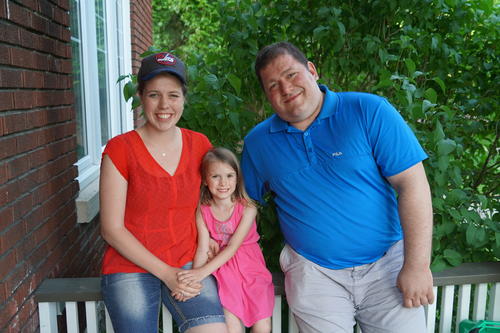 We celebrated Amelia's baptism anniversary with our traditional gathering of godparents, cake and mini liturgy to light the baptism candle. Amelia got to open a belated birthday present too - BUBBLES!!!
You might also like
- Fifth Baptism Birthday
(0.365639)
- Baptism birthday
(0.303303)
- Happy Birthday Grandma
(0.301527)
- Daddy has a birthday
(0.295858)
- Baptism Anniversary
(0.287749)
All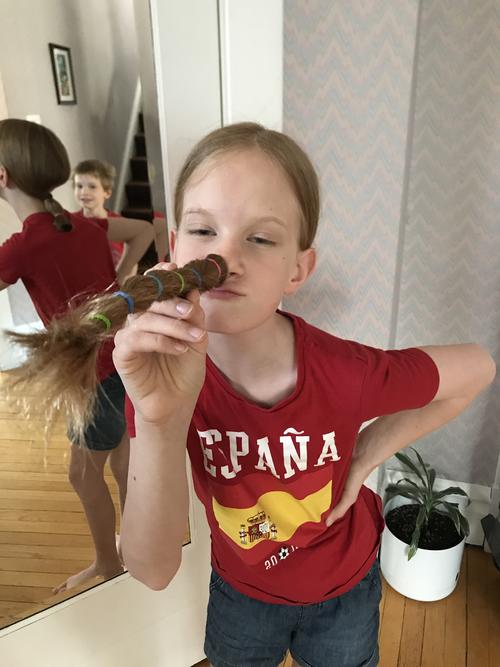 Elizabeth promised to cut her hair for every donation she got this year for Jump for Heart. Actually quite a few of her donations asked for a picture instead but she wanted to donate it as well so she decided to go with 11", so it would still be shoulder length and easy to braid. We waited until AFTER her ballet show in order to not have to worry about ballet buns though.
She went to a sleepover directly after school (taking the bus home with her friend), hence the ridiculous number of bags at the bus stop.
You might also like
- Late night skate
(0.340681)
- More snow
(0.334034)
- Matthew on the canal
(0.328326)
- Spiderman shoes
(0.328273)
- Insectarium
(0.326848)
All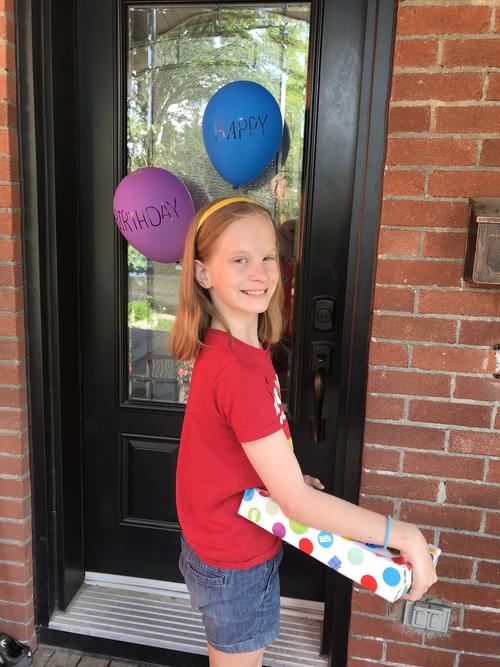 Another day, another sleepover birthday party for Elizabeth. This one was for her friend Maddie and I gather it was a wonderful time.
You might also like
- Grading and birthday party
(0.302564)
- Grandma has a birthday
(0.286458)
- Theo is 5
(0.278539)
- Happy Birthday Rachel
(0.277273)
- Sleepover with Samia
(0.270531)
All
June 21, 2019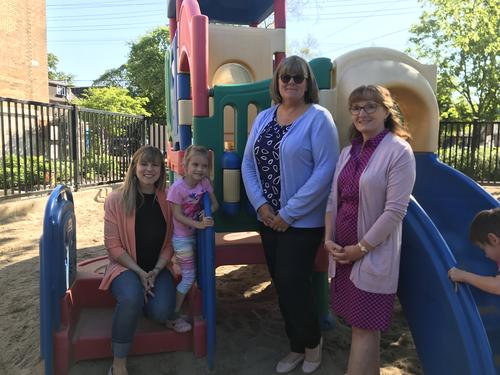 Amelia has very much enjoyed preschool. She enjoys all the toys and the teachers. She spends great amounts of time painting, making up stories for the toys, riding cars around and generally amusing herself. She is less excited about the other kids in her class. While she does enjoy playing with them she tends to want to be the one defining the rules. She adores having mommy or daddy come and showing them around. Amelia's especially liked having mommy as duty parent on her birthday. She even got a special candle from her class. She does not however enjoy when her parents come to pick her up at the end of class. She wishes she could stay forever and is often the last kid to leave. Her teachers enjoy her creativity and her sunny disposition. She follows the rules well the majority of the time. She also very much enjoys her afternoon classes and demanded that she get to do more for the last term. The teachers all smile and say hi whenever they see her outside of class. She also very much enjoyed the various special visitors including a vet and a police officer.
You might also like
- Virtual School: Week 18
(0.368212)
- Duty day
(0.357414)
- Meet the creatures
(0.352632)
- Duty day the third
(0.352308)
- Wedding #RayCray2016
(0.351716)
All
June 20, 2019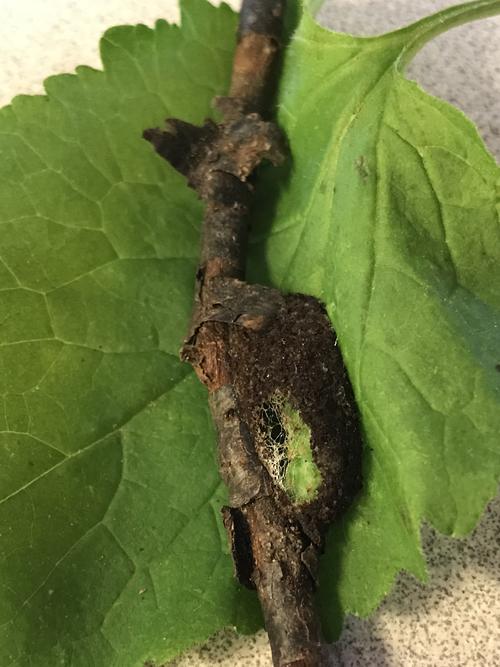 We were excited when our latest caterpillar pet appeared to spin itself a cocoon rather than making a little pupa casing. Maybe it will be a butterfly! Nope - still a boring brown moth. Oh well.
You might also like
- Not a butterfly
(0.2849)
- Greenie the caterpillar
(0.234848)
- Drainage
(0.223022)
- Bedtime milestone
(0.222561)
- Petrie Island Adventure
(0.220736)
All
June 19, 2019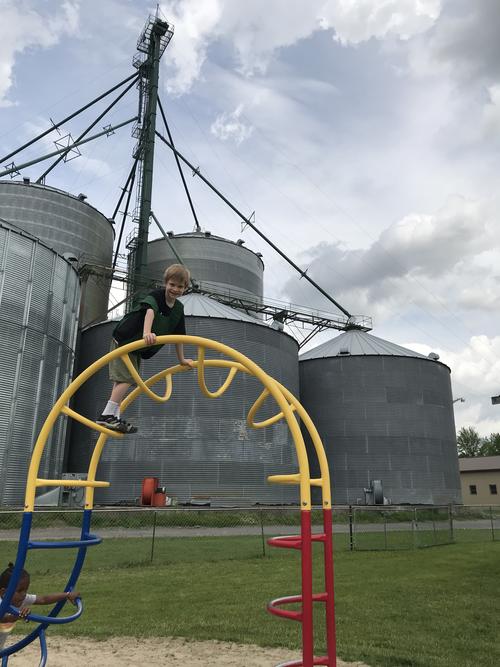 Elizabeth and the rest of the grade fours had a field trip to the clip and climb gym followed by splash park today. Then Elizabeth and Olivia got picked up by Samia's mom and taken out for ice cream before they went to ballet together, and then acro.
I meanwhile went with Matthew to Valleyview Little Animal Farm with his whole school. Matthew told me he handpicked the friends in my group. They were very friendly but prone to wandering off in all directions so I spent most of the morning hollering out various kids names one after the other. "Léo, Nirriam, Aurora, Léééoooooo" I managed to get them all back to the bus in one piece though. We watched a short film about the farm, then got to ride on the train and feed the goats and then wandered around the farm on our own for quite a while. I'd say that the educational value was not super high, but it was very fun. Matthew had visited the farm before with Auntie Janice and dragged us around to all his favourite parts, especially the "secret passage" (aka mosquito infested pathway through the woods).
Our group was quite enamoured with the hamster wheel (aka how to skin your knees and risk concussion) and the teeter-totter. One of the kids in my group was quite big - a head taller than Matthew and possibly heavier than me so the teeter-totter physics were not great. Built to hold four kids but easily accommodating six or seven, kids were hopping on and off and it was a matter of time before someone got injured. Seeing as Erika had sliced her chin open and caused concern over whether she had broken her pelvis on one last year, I'm probably more sensitive about teeter-totter safety than some. So I spent a good half hour explaining teeter-totter physics in English and French and making the kids communicate before leaping off and think about the weight distribution first to avoid launching friends in the air and getting whacked with the rebound. I thought I was making progress until all the girls decided to sit on one side. The girls were much heavier than the boys and there was no seesawing happening until some of them got off. The boys were willing to redistribute and see if that helped (because they were all balanced towards the middle) but their end was high in the sky and even my entire weight was not enough to counterbalance the girls. We were at an impasse with the girls being initially confused by why they weren't going anywhere and then understanding the problem but absolutely refusing to do anything about it. Two minutes, then three minutes pass while they try to force other kids to get off. It might have been a full five minutes later that we were suddenly rescued by the staff from another school announcing their bus was leaving so all the kids from that school had to get off. Our kids were victorious! The teeter-totter began again. Then someone declared the sand was lava and a new set of problem solving was required in order to bounce the seesaw without touching the sand. Aside from my fear that the day would end with an ambulance ride it was quite amusing.
After we got back from our fieldtrip Matthew got a freezie, which we ate in the park before heading home... to the park to find Grandma, Amelia and Michael.
Amelia had her last ballet class of the year and Matthew tried out ballet for his first time too.
You might also like
- Sewing with kids
(0.45328)
- St Patrick\u2019s day
(0.447862)
- Canoe Camping
(0.447387)
- March Break
(0.446122)
- Karate Tournament, Birthday and ER Part 2
(0.440191)
All
June 18, 2019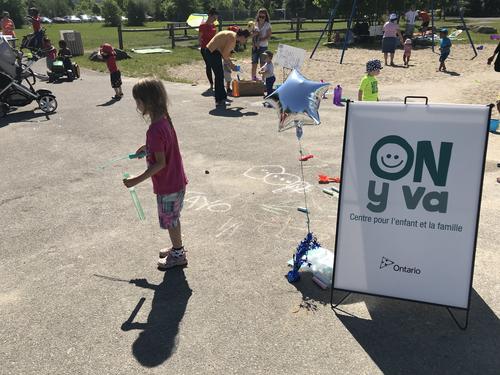 The French playground I've been taking Michael and Amelia to on Tuesday mornings had a welcome summer party so we had a special playgroup in the park with all kinds of activities, bubbles, splashpad, free food and even a fire truck. Amelia got an extra slice of pizza because they insisted on giving me some for myself although obviously I wasn't about to eat it! There was a police car too, but Amelia refused to check it out because she'd "already seen a police car at preschool". (Fair enough!) I'd actually completely forgotten about the special party, so we arrived without hats, sunscreen or bathing suit but we managed anyway.
Kids had a great time!
You might also like
- Wellesley Watering Hole
(0.340841)
- Amelia starts preschool
(0.336634)
- French class
(0.331541)
- Christmas Village
(0.327217)
- Duty day the third
(0.32562)
All
Erika has her second stripe on her green belt (plus bonus Elizabeth showing off her new belt). Dairy Queen stripe celebrations ensue.
0 comments
You might also like
- Elizabeth second stripe on brown belt
(0.376147)
- Second blue belt stripe
(0.319672)
- Erika going to grading stripe on green
(0.31746)
- Erika stripes
(0.310345)
- Erika has 2nd stripe brown belt
(0.307692)
All