June 25, 2019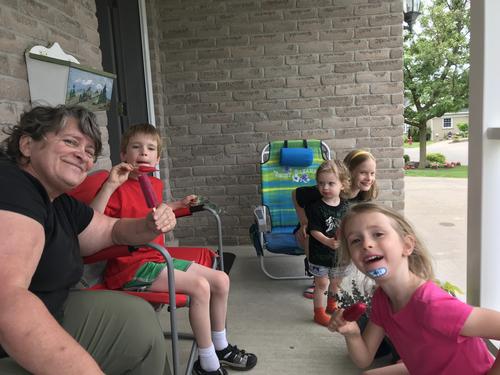 Chilling at the Hippo House is always a good time. Tradition says it requires playing at the nearby parks, visiting with Great Uncle Roy and Great Aunt Esther next door, and many walks around the pond.
Auntie Mary also threw a little birthday party for Amelia which was very popular, especially the floating balloon part.
You might also like
- Home again
(0.302632)
- Theo is Three
(0.291803)
- Charlotte and Elizabeth party
(0.288248)
- Last duty day for Matthew
(0.285347)
- Dr Guerrette (Ibid)
(0.282548)
All
June 24, 2019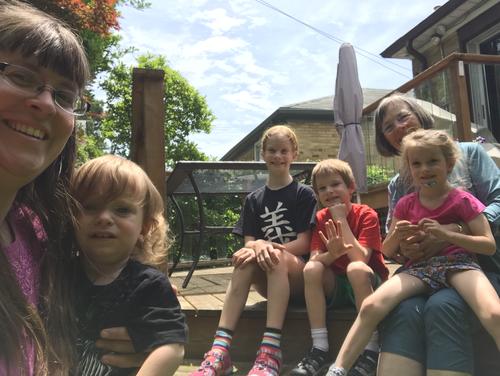 The last couple of years we've gone to visit Wellesley in the week after school ends but before the english boards let out and tourist attractions such as the Lion Safari get completely overrun with children. Typically we've taken the train but this year the summer special wasn't available until quite late and by the time it became available the idea of organizing car seats and a vehicle down south seemed much less attractive. Not to mention that NO ONE liked the idea of entertaining the baby on the train. In fact, the kids started to grumble about not taking the train when they first found out we were driving and I reminded them that going on the train meant going on the train with Michael. After that they decided that a road trip where he could be strapped in sounded just fine, especially after I promised we'd stop at the Big Apple at least once. Let's just say that Michael might be our busiest kid yet...
Anyway, we made it to the Big Apple without incident and discovered that they have a candy store where you can choose any combination of candy from the wall that will fit in a cup. Needless to say this was extremely interesting and the kids had a lovely time taking turns choosing the candy to fill the cup. We stopped in Toronto to visit Auntie Muriel (and her cuckoo clock). We had fun at the local park, aside from a rather sad incident involving shoes on the wrong feet and a chin meeting the pavement.
You might also like
- At Mary's
(0.405331)
- Virtual School: Week 20
(0.396917)
- 123 Petits Pas
(0.387097)
- Summer Week 1 - Visiting
(0.38598)
- Rainbow party
(0.385754)
All
June 23, 2019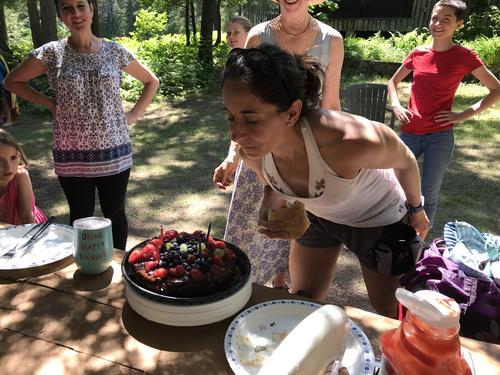 Our neighbour next door invited us to her birthday weekend celebrations, which was a marvellous excuse to leave our children with Uncle Chris for two nights in a row! We went to Fauna for a marvellous dinner Friday night and then headed to their cottage for an afternoon of swimming, hiking, eating, and generally puttering around on the water. Amelia's favourite part was watching Rafale swim and have his first canoe ride. Matthew's favourite part was kayaking up the creek with Noemie - further than anyone else! Elizabeth's favourite part was playing frisbee with Alex, his friend and Trevor.
You might also like
- Museum and Birthday
(0.32304)
- NAC winter concert
(0.313726)
- Ice Cream Festival
(0.308703)
- Recital, Home Depot, movie night
(0.305132)
- Outdoor party
(0.303213)
All
June 22, 2019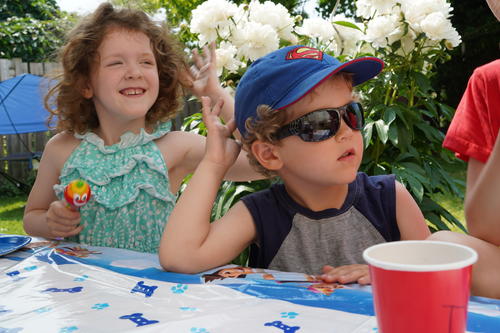 Party weekend continued with a combined family birthday party for Theo and Isabelle. Theo had a Paw Patrol theme and Isabelle had a Pokémon theme. Elizabeth spent much of the party upside down trying to learn how to walk on her hands. Bubbles were a huge hit.
The children were chagrined to discover that the playstructure is no more as it rotted out. Dave is planning to build some swings to replace it, but first he rebuilt the picnic table. We were the first people to use it as he had finished it just that morning!
You might also like
- Le Patinoire
(0.310502)
- Saturday bo
(0.297539)
- Apple picking
(0.296578)
- Charlotte and Elizabeth party
(0.294235)
- Sand Delivery
(0.288802)
All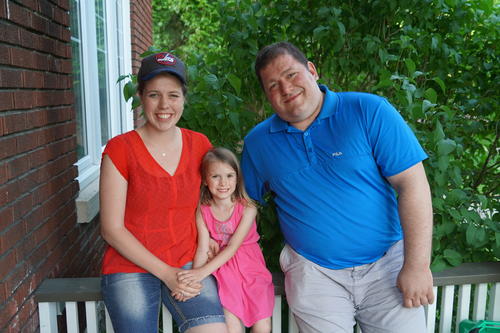 We celebrated Amelia's baptism anniversary with our traditional gathering of godparents, cake and mini liturgy to light the baptism candle. Amelia got to open a belated birthday present too - BUBBLES!!!
You might also like
- Fifth Baptism Birthday
(0.365639)
- Baptism birthday
(0.303303)
- Happy Birthday Grandma
(0.301527)
- Daddy has a birthday
(0.295858)
- Baptism Anniversary
(0.287749)
All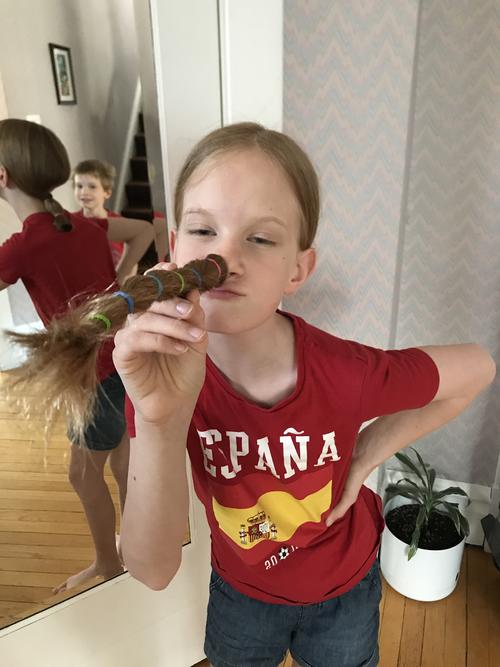 Elizabeth promised to cut her hair for every donation she got this year for Jump for Heart. Actually quite a few of her donations asked for a picture instead but she wanted to donate it as well so she decided to go with 11", so it would still be shoulder length and easy to braid. We waited until AFTER her ballet show in order to not have to worry about ballet buns though.
She went to a sleepover directly after school (taking the bus home with her friend), hence the ridiculous number of bags at the bus stop.
You might also like
- Late night skate
(0.340681)
- More snow
(0.334034)
- Matthew on the canal
(0.328326)
- Spiderman shoes
(0.328273)
- Insectarium
(0.326848)
All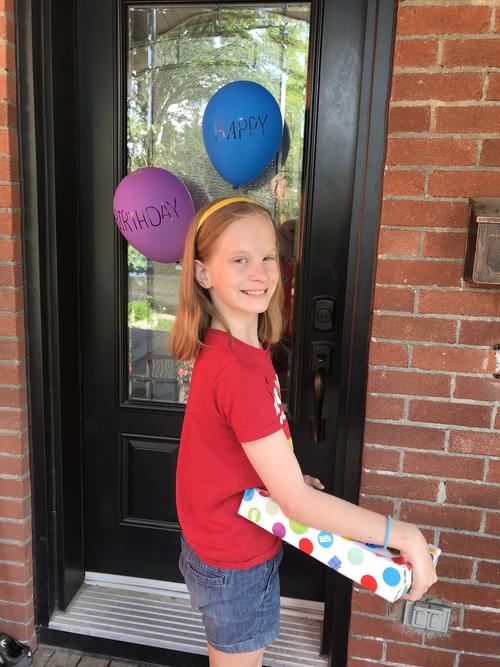 Another day, another sleepover birthday party for Elizabeth. This one was for her friend Maddie and I gather it was a wonderful time.
You might also like
- Grading and birthday party
(0.302564)
- Grandma has a birthday
(0.286458)
- Theo is 5
(0.278539)
- Happy Birthday Rachel
(0.277273)
- Sleepover with Samia
(0.270531)
All
June 21, 2019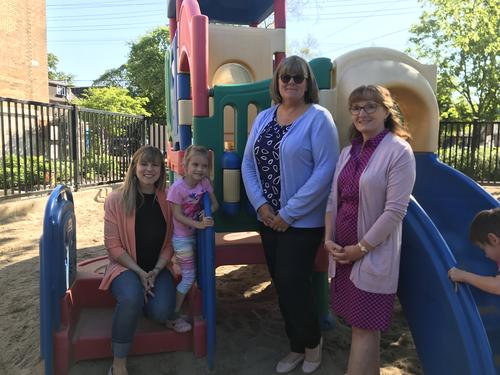 Amelia has very much enjoyed preschool. She enjoys all the toys and the teachers. She spends great amounts of time painting, making up stories for the toys, riding cars around and generally amusing herself. She is less excited about the other kids in her class. While she does enjoy playing with them she tends to want to be the one defining the rules. She adores having mommy or daddy come and showing them around. Amelia's especially liked having mommy as duty parent on her birthday. She even got a special candle from her class. She does not however enjoy when her parents come to pick her up at the end of class. She wishes she could stay forever and is often the last kid to leave. Her teachers enjoy her creativity and her sunny disposition. She follows the rules well the majority of the time. She also very much enjoys her afternoon classes and demanded that she get to do more for the last term. The teachers all smile and say hi whenever they see her outside of class. She also very much enjoyed the various special visitors including a vet and a police officer.
You might also like
- Virtual School: Week 18
(0.368212)
- Duty day
(0.357414)
- Meet the creatures
(0.352632)
- Duty day the third
(0.352308)
- Wedding #RayCray2016
(0.351716)
All