July 4, 2019
Auntie Karen suggested we should get together to make art at Michael's and I misunderstood the date, so when we found ourselves at Michael's and no art to be found we decided it would be a good day to decorate the t shirts with fabric paint that Auntie Heather had given Elizabeth and Matthew for their birthdays. Since Amelia, Erika and Maria didn't have shirts I picked up a few extra and we went home to do some painting.
In the afternoon Elizabeth had summer team training for karate so we dropped her off and went shopping. Maria went home but Erika said she was too bored to go home and would rather hang out with the little kids so we kept her until supper.
You might also like
- Cousin Camp: Picnic
(0.36087)
- First day of Summer
(0.344762)
- Muriel and Pat come to visit
(0.344209)
- Antibiotics
(0.342205)
- Apple picking
(0.342155)
All
July 3, 2019
We had a week without camps so we had planned to make extra progress on our summer school objectives.
This week we studied the human body and worked on our summer journals, did some math and reading. Elizabeth read a story from her collection of books in french and wrote me a book report. She's been playing around with Swift playgrounds and finished off the first section this week.
Matthew worked on his cursive lessons and did some typing on the computer as well.
I had Elizabeth teach her first class to Amelia. Elizabeth had a series of tasks to cover including working on phonics ("L") and they also learned about blood cells. Apparently Elizabeth is a great teacher!
Wednesday Elizabeth had summer team training at karate and while she was there I took the younger three to the University of Ottawa for a research project at the lab the middle two have been participating in on and off. This time they had to throw a bean bag and other things at different distances and make predictions about how they would do. They also had to make predictions about how they might do in the future. It was great fun and they are already wondering when they get to go back.
You might also like
- Decision making study
(0.384058)
- French class
(0.379172)
- Summer school week 1
(0.374869)
- First day of Maternelle
(0.373766)
- Summer school week 2
(0.373464)
All
July 2, 2019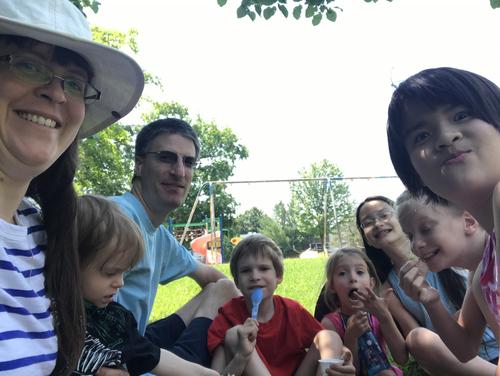 We took Erika and Maria along with us to do a hike and picnic. Amelia was not too pleased that we made her wear Michael's spare shorts and no top (it didn't fit) when she had a toilet accident, but I pointed out that she was lucky that she was able to borrow at least some clothing!
You might also like
- Amelia is 7
(0.300633)
- Running
(0.300595)
- Cousin Tshirts
(0.2925)
- Cousin Art
(0.292359)
- Tent sleepover
(0.2875)
All
July 1, 2019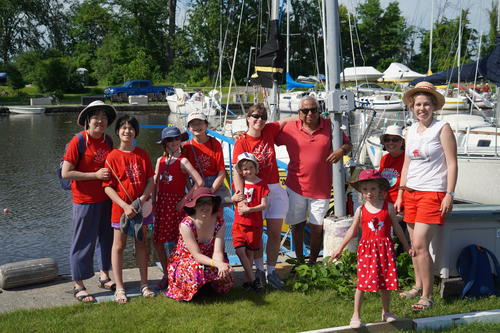 We celebrated Canada Day and my birthday with brunch, sailing and fireworks.
I didn't want to cook on my birthday, so I acquired muffins and fruit and things to serve. I also made myself some rainbow jello as soon as I got home from Southern Ontario (priorities!), which I greatly enjoyed despite not having enough time to put anything more exciting than marshmallows in it.
I didn't think that watching Michael on the boat would be terribly fun so Uncle Chris very kindly looked after him while we sailed. The water has been so high after this year's spring floods that Canada Day was this year's sail past rather than a fun race. In fact, the season only just began as all boats were restricted from being on the water during the floods.
There are so many of us now that we didn't all fit on the boat; we'll have to bring Uncle Dave and Karen and family next time! I think there was a record dozen of us in the end. There were lots of laughs about our massive crew!
After sailing we came home for a quick supper before heading over to Grandma's to watch the fireworks off her neighbour's balcony. Michael thought the fireworks were very interesting - "woooo" he said, pointing.
You might also like
- Happy Birthday
(0.391877)
- LRT Grand Opening
(0.377632)
- Canada Day
(0.375)
- Broken nose
(0.364316)
- Calypso
(0.362554)
All
June 30, 2019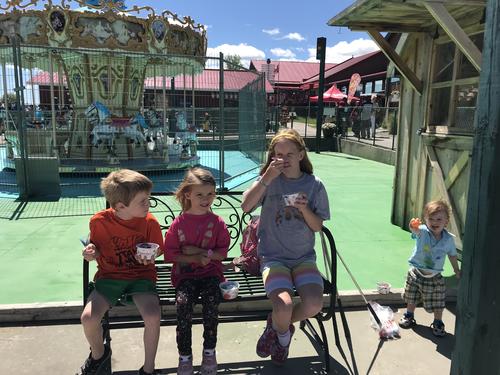 On our way home we stopped at the Big Apple and discovered the rides. Sadly the merry go round was busted but the train was working! The kids enjoyed riding it very much - Elizabeth more for watching Michael's reaction than the actual ride. There may have been ice cream and mini golf too. It was pretty fun and the kids decided they didn't mind not going on the real train after all.
You might also like
- Covid shot 2
(0.328841)
- Ice cream party
(0.324251)
- Ice Cream parties
(0.321149)
- Musical Ride
(0.318627)
- Preschool open house
(0.310992)
All