July 16, 2019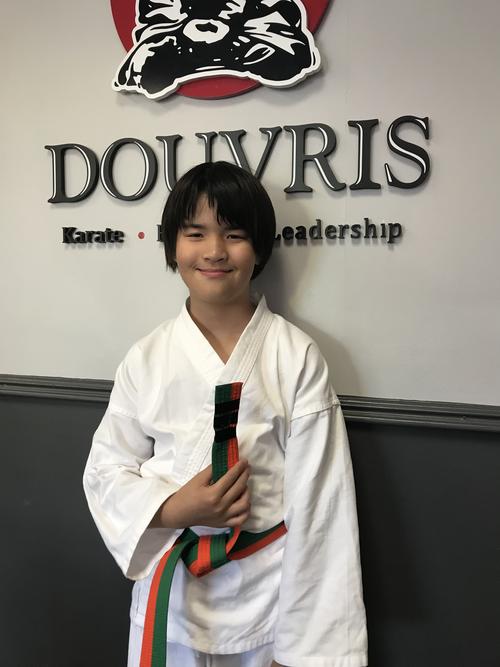 Maria has her third stripe on her orange green belt. She says she's going to quit as soon as she gets to her green belt (!)
You might also like
- Stripes and going to grading
(0.495146)
- Orange belt two stripes Matthew
(0.426087)
- Erika stripes
(0.391304)
- Stripe
(0.380435)
- Erika going to grading stripe on green
(0.378641)
All
July 14, 2019
I didn't take many photos of this year's annual "Canada Day" (slightly late) block party but this one of Trevor holding Rafale is too amazing to be lost to the ether.
You might also like
- Lake of Shining Waters
(0.253247)
- Karate randoms
(0.231317)
- Showing stuff
(0.226563)
- End of school picnic
(0.223214)
- Pretty flowers
(0.218447)
All
July 13, 2019
Andre very graciously invited us all to visit his cottage for the day. It is quite rustic but the location is beautiful. There is a small beach with shallow sandy shore for playing along with the cottage itself up higher on the hill with a great view of the lake. The kids had lots of fun exploring and playing in the water. Andre even took them out for a cruise around the lake in his boat. All too soon it was time to head home before a line of thunderstorms ripped through the area.
You might also like
- Easter Egg Hunt
(0.327083)
- Lake Erie
(0.325866)
- Back to Ottawa
(0.307882)
- Last day at the cottage
(0.298578)
- Vera, Astra and Magnus
(0.293785)
All
July 12, 2019
The lilies are out and very beautiful.
You might also like
- Autumn
(0.276316)
- Flowers
(0.229508)
- Thanksgiving 2019
(0.207207)
- Matthew
(0.2)
- Stair Master
(0.191489)
All
Lorianne moved out and then we spent a number of hours sanding and refinishing the floor of the blue room. Elizabeth was VERY anxious to move in and soon enough the big day came, even though we haven't yet gotten around to arranging a bed. Brendan was thinking he might make one out of the wood from our beloved maple tree. Elizabeth said she could sleep on the floor. She's loving having all the space and having a great time rearranging her stuff. In time honoured tradition she is culling things by passing them on to her siblings. She does not allow Matthew or Amelia in her room at all, but Michael is tolerated "because he's a baby".
Amelia is quite happy to have a real bed and Matthew finally gets the top bunk (and slide!) to himself. Our plan is to move Matthew and Amelia to the bigger room, but first we need to finish painting the walls and do the floor.
You might also like
- 12 Days of Christmas: New Year's Eve
(0.375867)
- Twenty-two months
(0.358209)
- Cottage Arrival 2019
(0.351124)
- River Oak
(0.347527)
- Grading for a brown belt
(0.346939)
All
July 11, 2019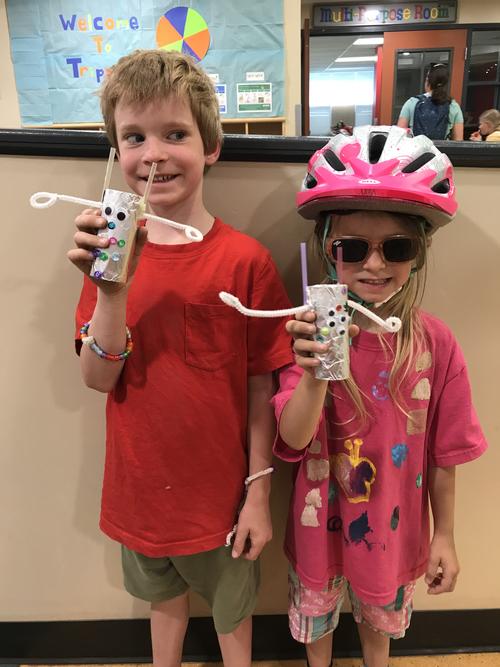 When we were talking about summer camp possibilities this year Amelia and Matthew decided they really wanted to do a Glebe Community Centre camp. When they discovered they could both do robot camp they were excited to sign up together. Matthew was a bit sad that mini athletes no longer seems to exist but once they discovered the afternoon camp was run by Jason that sealed the deal. Actually the robot part wasn't the main draw; Jason was! Amelia was even happier when she discovered her other favourite staffer Chris was also helping to run this camp.
One of the best parts was getting to ride the school bus to Cosmic Adventures where Amelia got lost in the tunnels and "I screamed until Matthew rescued me". They are extremely anxious that we should go back and "show Elizabeth". Elizabeth is inclined to feel a bit too old for Cosmic these days but perhaps in the fall...
Elizabeth meanwhile was at dance camp at KV Dance. She got to try out a whole range of different styles and had a blast doing so.
You might also like
- All Saints and GNAG Halloween Party
(0.366786)
- First day of "preschool"
(0.353222)
- Virtual School: Week 39
(0.3523)
- Butterflies 2017
(0.35102)
- Baby Sloth
(0.349782)
All
Double stripes! Erika with her third stripe on her green belt; Matthew with his red stripe on his orange belt!
You might also like
- Stripe
(0.493976)
- Erika stripes
(0.488095)
- 2nd Stripe
(0.467391)
- Stripes and going to grading
(0.451923)
- Third stripe on yellow
(0.428571)
All