July 30, 2019
Elizabeth went tubing with her friend Rachel and Matthew went with Jill (Rachel's mom). I went with Amelia. It was a beautiful day and we took advantage to go swimming and canoeing and collect some eggs. Grandma and Matthew have been watching youtube videos on how to catch minnows as Matthew is obsessed with fishing this year. He tried making a trap with bread but I think he just ended up feeding the minnows instead.
We couldn't convince Grandpa to compete in the great seed spitting contest but Grandma did!
You might also like
- Waterskiing, fish and clams
(0.336694)
- Santa at Cumberland Heritage Village
(0.305816)
- Cottage Days
(0.303846)
- The Dentist
(0.302187)
- Stripes, stripes, stripes
(0.301932)
All
July 29, 2019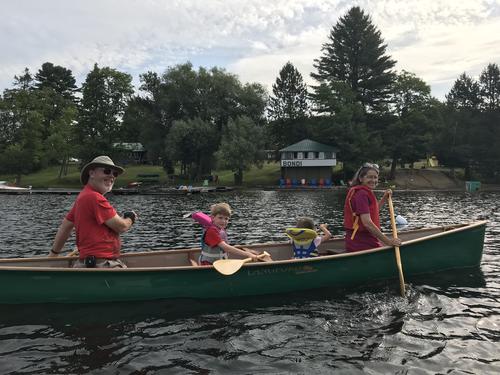 Rachel and Andrew are up at the cottage this week, so there were many shenanigans. Grandma brought lemon juice so that the kids could practice their secret writing. We flew kites and went canoeing and wrote secret messages by candlelight. Matthew's "kite" accidentally turned out to be a glider which was a little disappointing but he had fun with it anyway.
You might also like
- Waterskiing, fish and clams
(0.305907)
- Father's day dojo
(0.292683)
- Vera, Astra and Magnus
(0.285437)
- New Year's Eve
(0.28373)
- Dragon boating
(0.28246)
All
July 28, 2019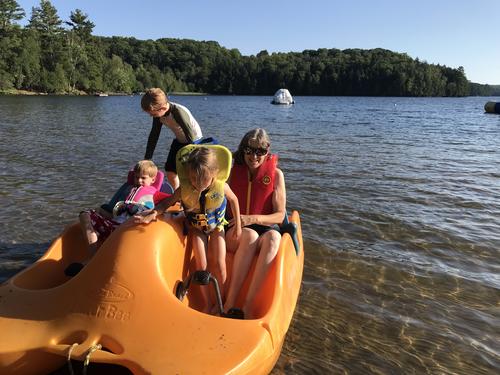 Mom and Dad and the kids and I went to the cottage a week early this year, which meant that I drove down by myself with the four of them. Brendan was skeptical that I'd left enough space for the cooler (not to mention him!) but I packed extra light this year and hoped for the best. The car was still ridiculously full. Next year probably the kids will have to just live in their swimsuits all day so we can take fewer clothes.
Amelia got to go in the back seat which apparently was a dream come true. The other kids were all very jealous. I didn't think we'd be stopping at Golden Lake as per tradition because Michael was sleeping but he woke up just in time. Everyone was very surprised and sad to discover that the "Chicken Dinner" sign at the chicken church wasn't up yet. We clucked anyway, as one does in our family. I'm pleased to report that Michael now has quite a credible chicken imitation.
When we arrived the kids immediately had to go down to the beach and go paddle boating and make sandcastles. I stayed up at the cottage because I almost immediately got stung by a bee on my foot.
We're in Springside this week, which I was nervous about but turned out was okay even though it is not Clover. Aside from the location being rather far from the main beach I think we could get used to it.
You might also like
- Cottage Days: Support boat
(0.413959)
- Farm Camp and On the Water Camp
(0.40684)
- 12 Days of Christmas: New Year's Eve
(0.404101)
- Homecoming
(0.402887)
- River Oak
(0.401058)
All
July 27, 2019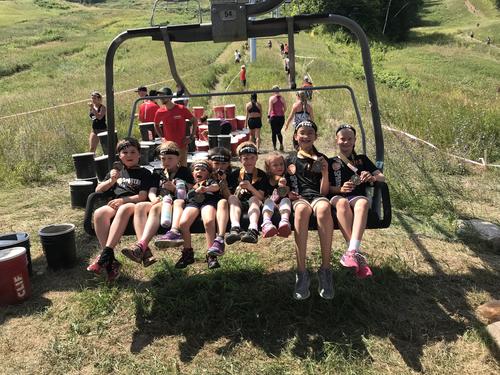 Spartan race was the day before the cottage in Calabogie but we decided it was fun enough to be worth the drive anyway. Elizabeth talked Erika into racing too and we met up with Aidan, Caitlyn, Evelyn and Jasmine. Elizabeth decided to do the Elite 3km race for 9-13 this year as she did the same distance last year without burpees and didn't have a problem. We thought this was a good idea because the elite race happens first thing (so it would be cooler). Plus last year the elites got extra swag. Of course this year there was no such concept, so she was put out. I did wonder what I was thinking agreeing to get to Calabogie so early in the morning!
When she arrived she was a bit nervous about competing against "the serious kids" and inclined to her usual "why am I doing this" drama, but luckily her race was first so it wasn't long to wait. She had thought that maybe she could do her race and then run with Erika, but after she finished she decided that would be overdoing things since Erika's race (1.5km 9-13) was immediately after hers.
The kids course this year was much steeper than last year and took place entirely out in the open with no shade. I was really glad we had opted for the earlier races because it was sweltering hot. We hung out under the ski lift area which was the only available shade. The kids had a good time on the chair lift. It was neat that the course went under the adult course, but this meant that much of the race was hard to watch and either required cutting across the adult course (an endeavor fraught with peril) or going quite a ways around. This was tricky with Michael. During Elizabeth's race the kids all hung out with Erika and had a snack but Elizabeth wanted to cheer Erika on so I had less opportunity to take good pictures of the action for that race. Aidan was doing this one too so there were also fewer adults. Elizabeth reckoned she could have done this race too if only there had been an extra 15 minutes between them.
Erika was pretty tired after her race but she recovered in time to decide to run the 1km as well, so she and Elizabeth did the 1km to "help" Amelia, who was running in her first formal race.
After racing was done, we headed over to Dave and Dianne's for lunch and to chill in their pool. I sent Yukiko a photo and we managed to lure her and Maria over as well.
Then I dropped Elizabeth and Erika off at Windsor park for a special outdoor karate book club (Harry Potter 4). It was a pretty fun day.
You might also like
- TriKids Triathlon 2017
(0.445763)
- London
(0.44373)
- Downhill skiing
(0.437768)
- Race Weekend (2km, 5km)
(0.431288)
- Canoe Camping
(0.43125)
All
July 26, 2019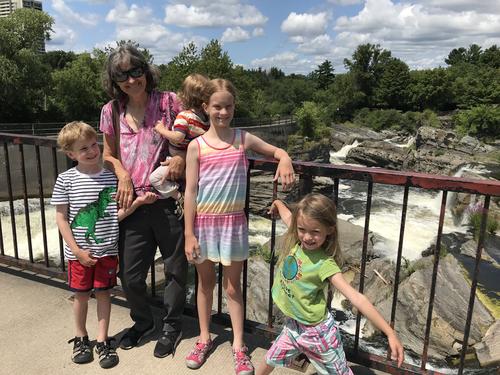 One of our summer bucket list items was to participate in an Ottawa Photo Scavenger hunt and on the list was a visit to the million dollar playground at Mooney's bay as well as Hogsback falls just around the corner.
You might also like
- Scavenger Hunt
(0.255172)
- Halloween scavenger hunt
(0.252788)
- Splits Club
(0.25)
- Four Generations
(0.24918)
- Island flottila and visit to second cousins
(0.242515)
All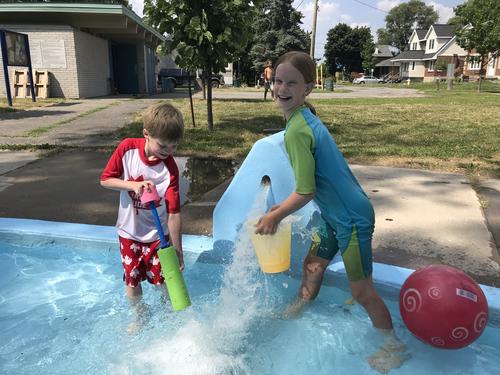 We managed to make it out to visit the park near my homeschool friend Evelyn (complete with wading pool). She organizes fun activities throughout the summer on Fridays and we like to connect with some of other kids that homeschool full time.
Elizabeth and Matthew had a great time building a sand garden under the slide with some of the other kids.
You might also like
- REACH Coop: Egypt
(0.313333)
- Cousins
(0.312321)
- Summer Carnival
(0.300885)
- End of year french class
(0.2949)
- Kick like a girl
(0.290488)
All
"Don't hang off the towel racks" we said. "They aren't intended to hold your weight."
Amelia learned the hard way that we really weren't kidding. Luckily she managed to avoid damaging both herself and the floor. It appears it is fixable...
You might also like
- Broken glasses
(0.275081)
- Raclette
(0.250794)
- Park with Xander
(0.249307)
- Seed spitting and s'mores
(0.246154)
- Back to school
(0.240909)
All