August 1, 2019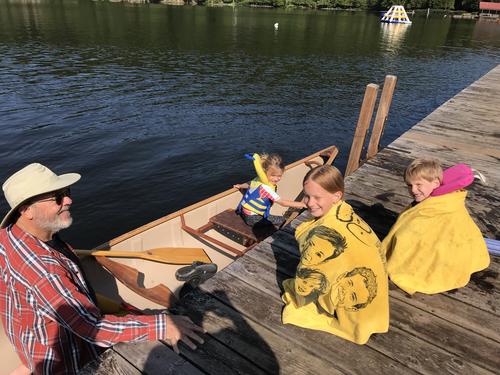 Matthew lost a tooth! The cottage tooth fairy always sprinkles chocolate around the tooth instead of glitter. Matthew approved greatly.
The water was warm, there was no wind, it was sunny and basically conditions for our point swim were perfect. Predictably the kids did not want to swim. I had foolishly told them that they only needed to swim two out of the three weeks we are up here and they had decided that this should be the week to skip. Amelia ended up going in the canoe with Grandpa as there is a limit to how many reluctant children I can coax into the water.
Once everyone had warmed up they went back to the beach
Pony riding later was much more popular. Rob organized a resort wide all ages soccer game which was unexpectedly amusing. Elizabeth and Matthew don't really have the idea of what to do so mostly ran around. Elizabeth started to get the idea by the end but needed to be a bit more aggressive in order to steal the ball away. A few players (notably Rob and Andrew!) clearly play all the time. The kids were impressed by how good Andrew was. Also impressive was our goalie, who didn't let a minor detail like only having one leg due to a badly fractured ankle stop him. Actually he went swimming and canoeing (with a special waterproof cover) so I don't know why I was surprised to see him diving all over the field to save the ball.
You might also like
- Birthday reprise
(0.397436)
- Skating Show
(0.396861)
- Mooney's Bay
(0.388829)
- Garden
(0.388448)
- Cottage Days:Cousins
(0.378348)
All
July 31, 2019
Jill and Rob rented a boat so that Rachel and Andrew could do some waterskiing and everyone had great fun watching them and getting rides in their boat. Elizabeth and I both had a shot at it ourselves, but neither of us could get up. I think Elizabeth might have been able to with another turn but by the time both she and the boat were ready to go again she'd gotten too cold and wanted to get out. Next year!
Andrew showed Matthew the way of the fishing rod and Matthew caught his first fish. It wasn't just the fish that got hooked... Matthew is completely in love with fishing and convinced Elizabeth to go in on a fishing rod with him when they spotted one at the store at Dorset. There were many fish that subsequently got hauled out of the water. It was so exciting that Mom accidentally threw her phone in the water.
In the evening it was time for the great clam race, which was great fun.
You might also like
- Fish
(0.380379)
- Rainy day
(0.379421)
- Face paint practice
(0.369952)
- Beach
(0.366906)
- Rachel
(0.366197)
All
July 30, 2019
Elizabeth went tubing with her friend Rachel and Matthew went with Jill (Rachel's mom). I went with Amelia. It was a beautiful day and we took advantage to go swimming and canoeing and collect some eggs. Grandma and Matthew have been watching youtube videos on how to catch minnows as Matthew is obsessed with fishing this year. He tried making a trap with bread but I think he just ended up feeding the minnows instead.
We couldn't convince Grandpa to compete in the great seed spitting contest but Grandma did!
You might also like
- Waterskiing, fish and clams
(0.336694)
- Santa at Cumberland Heritage Village
(0.305816)
- Cottage Days
(0.303846)
- The Dentist
(0.302187)
- Stripes, stripes, stripes
(0.301932)
All
July 29, 2019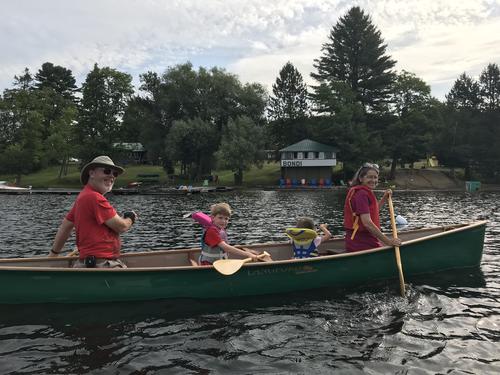 Rachel and Andrew are up at the cottage this week, so there were many shenanigans. Grandma brought lemon juice so that the kids could practice their secret writing. We flew kites and went canoeing and wrote secret messages by candlelight. Matthew's "kite" accidentally turned out to be a glider which was a little disappointing but he had fun with it anyway.
You might also like
- Waterskiing, fish and clams
(0.305907)
- Father's day dojo
(0.292683)
- Vera, Astra and Magnus
(0.285437)
- New Year's Eve
(0.28373)
- Dragon boating
(0.28246)
All
July 28, 2019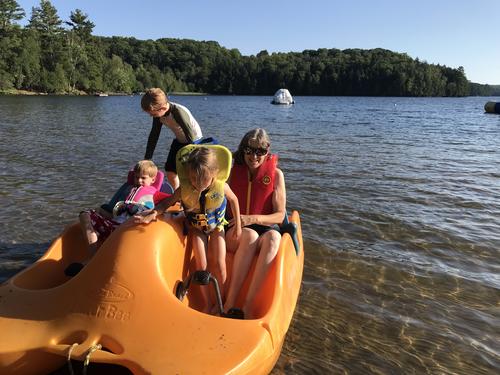 Mom and Dad and the kids and I went to the cottage a week early this year, which meant that I drove down by myself with the four of them. Brendan was skeptical that I'd left enough space for the cooler (not to mention him!) but I packed extra light this year and hoped for the best. The car was still ridiculously full. Next year probably the kids will have to just live in their swimsuits all day so we can take fewer clothes.
Amelia got to go in the back seat which apparently was a dream come true. The other kids were all very jealous. I didn't think we'd be stopping at Golden Lake as per tradition because Michael was sleeping but he woke up just in time. Everyone was very surprised and sad to discover that the "Chicken Dinner" sign at the chicken church wasn't up yet. We clucked anyway, as one does in our family. I'm pleased to report that Michael now has quite a credible chicken imitation.
When we arrived the kids immediately had to go down to the beach and go paddle boating and make sandcastles. I stayed up at the cottage because I almost immediately got stung by a bee on my foot.
We're in Springside this week, which I was nervous about but turned out was okay even though it is not Clover. Aside from the location being rather far from the main beach I think we could get used to it.
You might also like
- Cottage Days: Support boat
(0.413959)
- Farm Camp and On the Water Camp
(0.40684)
- Homecoming
(0.402887)
- River Oak
(0.401058)
- #Jessdoesthemath
(0.400978)
All