August 11, 2019
It was a misty morning and with a bit of coaxing we managed to get the kids out of the cottage and into canoes for a quick paddle around the bay. The day turned out to be a nice one so much beaching was done. Erika demonstrated how her karate training and love of books and cooking can be combined to great effect. To finish the day off the older girls did acrobatics and karate practice in the water.
You might also like
- Mist on the lake
(0.310345)
- Slime, canoe tipping, beach bathtub and ski show
(0.290865)
- Misty Moisty Morning
(0.288177)
- Last day at the cottage
(0.279703)
- Great Blue Heron
(0.276744)
All
August 10, 2019
Today was a busy day. We started by making slime at the Dwight library, followed by our annual canoe tipping practice. Then it was time for an epic water run on the beach with a pool at the top large enough to bathe in. To finish the day off we went to watch the ski show around the corner. This year they did many of the same tricks but also added a pyramid which we didn't get to see last year. Daddy may or may not have had too much fun photographing it with his new camera.
You might also like
- Marvellous Muskoka
(0.304688)
- Great Blue Heron
(0.301518)
- Pie Day #3
(0.296943)
- Rachel
(0.296296)
- Water baby in the pool
(0.294347)
All
According to Erika, Michael at 19 months is "giggly, crazy, bouncy and runs around all over." Elizabeth says he's "wild, busy, likes to push me around on my bum". Matthew says "he eats me alive". Amelia says he cries a lot. Brendan says that is only when Michael's ideas about what he wants to do outstrips his ability to execute said ideas and admittedly that happens fairly often. Michael has LOTS of ideas and desperately wants to do all the things the big kids are doing.
New this month is playing a clapping game, especially in the car. He likes to clap frantically and yell "YAY" and especially enjoys if other people join in. He often yells yay after singing, even grace.
He's a very friendly little boy who talks nonstop. Aside from a very clear "Hello", he's kind of hard to understand but that does not prevent him from carrying on long conversations with just about anyone, especially if they have something he wants. He's a terrible mooch. His vocabulary has improved a great deal.
He's very comfortable in the water and now dunks his head forwards and backwards. Once he gets cold he is done and once he is done he is inconsolable until he's out of his wet things and on to the next adventure.
He is down to a single nap, not super consistent on time. Bedtime isn't very consistent either though; we've had a lot of summer and cottage adventure.
He saw stars for the first time this month and was VERY impressed. All animals have become woofs. More accurate to say WOOFS! He likes to tell us about the animals at high volume while pointing with great enthusiasm about the Woof and "What's this?" and telling us that he'd like to pat it.
You might also like
- 20 Months Old
(0.396709)
- River Oak
(0.396189)
- 4.5 Amelia
(0.393235)
- Amelia is 5 months
(0.3923)
- Seven
(0.388018)
All
August 9, 2019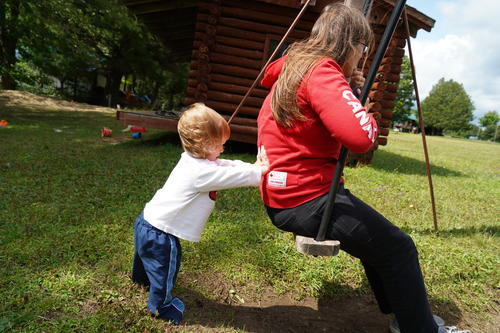 Today was swim day and Erika, Elizabeth and Mommy swam to the point and back. Michael has decided that not only is being pushed on the swing fun but so is pushing others. He doesn't quite understand that what is pushed away comes back a moment later. At the library there was a fun exhibit on robots where the kids got to build robots and control other robots. There was also a super cool marble run type toy and a bin for searching for dinosaur bones.
You might also like
- Swim and a dragon
(0.296196)
- Ultimate Dinosaurs
(0.293006)
- How does your garden grow?
(0.292899)
- Swimming to the point and back
(0.289641)
- Last day at the cottage
(0.286408)
All
August 8, 2019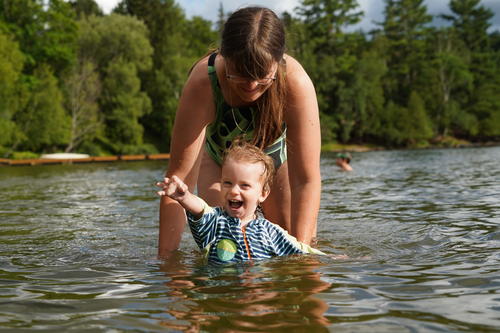 Today was a rain and sun all mixed together kind of day. The kids didn't let it cramp their fun though. They canoed, played at the beach and rode ponies between rain showers. Michael is still absolutely loving the water. He plays like a wild thing until he is cold then climbs up the nearest parent and cuddles while shivering.
You might also like
- Last day at the cottage
(0.293507)
- First covid test
(0.280872)
- Auntie Yukiko rides a pony
(0.276451)
- Water show
(0.274841)
- OEYC Toy Library
(0.272926)
All
August 7, 2019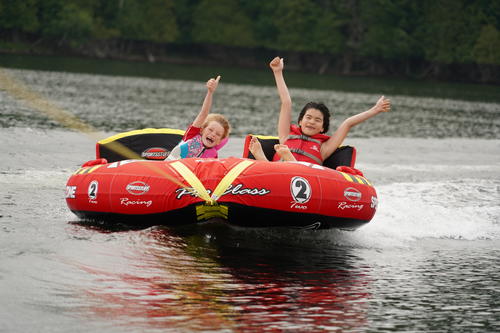 Tubing was a great hit today. The kids pretty much all spend the entire ride with their hands in the air making the "go faster" sign. Somewhat miraculously none of them have been ejected from the tube yet. After tubing we went to the library for cupcakes and then booted Erika and Elizabeth out of the van way down the road so they could run back. In the afternoon we had Mr. Bear's treasure hunt. Despite many years of incident free treasure and scavenger hunts this week we had three injuries including a rather impressive foot injury which kind of put a damper on the end of the hunt. One of the girls managed to slice her foot open while running through the water by bringing her foot down super hard on a ginormous clam which was embedded in the sand in the shallow water pointing straight up. A freak accident but still very traumatic for all involved. In the end though all was sorted out and everyone made the best of things. The next few days the girl was hoping around the resort and even out canoeing. We made the older kids kick the pinata instead of hitting it with the stick as this was slightly more challenging for most of them.
You might also like
- Rehearsal Dinner #RayCray2016
(0.377778)
- Cottage Days: Party time
(0.368222)
- Island visit and Scavenger hunt
(0.366851)
- Easter egg hunt
(0.361548)
- Halloween
(0.35877)
All