September 6, 2019
I do many fewer "cute" lunches than I used to since the kids like to have pasta and some other things that lend themselves less well to bento boxes. Also I have less time for such frivolity.
However, I DO enjoy making them very much and decided to indulge myself for at least the first couple of weeks of the new school year.
You might also like
- Matthew and Elizabeth spectacle
(0.282167)
- Getting there
(0.281167)
- Last day at the cottage
(0.277202)
- Twelfth night
(0.276018)
- Jardin
(0.2725)
All
September 2, 2019
Sensei Nick opened the dojo on Labour day so of course our crew wanted to go! They had a blast.
You might also like
- Last day at the cottage
(0.218905)
- A donkey carrot
(0.210227)
- Charlotte and Elizabeth
(0.210145)
- Ryan and Rebecca's visit
(0.209205)
- Crazy hair day
(0.207865)
All
September 1, 2019
The kids wanted to go dooooo something after church while Daddy was helping uncle Chris build his deck. We went to Lee Valley to pick up tung oil for the canoe but apparently that didn't count.
It was a bit too cold and windy to go to the beach, so we decided to go hiking instead at Stoney Creek after I looked up hike locations near us and the kids liked the look of the boardwalk in the picture.
There was a prominent notice displayed at the entrance warning about bears but luckily the kids didn't notice. Elizabeth did notice the Daddy long legs crawling into her shoes. "Ack! Spiders!!!" but we persevered and it turned into quite a nice little hike. We ended up walking about 3km, which is pretty good when you consider that Michael did most of that on his own two feet. There were quite a few stops along the way as he needed to explore everything. Matthew and Elizabeth insisted on walking through all the muddy parts. After all they have sandals that are machine washable!
The kids dubbed the hike "rock smash hike" because there were all kinds of boulders lying around and they had great fun whacking at the scenery and rocks with sticks and yes... breaking a few of the rocks in the process.
You might also like
- Canoeing
(0.384319)
- Wedding prep
(0.383202)
- Lac des Loups
(0.377254)
- Roses and Thorns
(0.376276)
- Orange swimsuit please
(0.375648)
All
August 31, 2019
Matthew is now six and a half. Actually the picture's a little late, but we were having so much fun at the cottage we forgot to take a photo with the bear (although we even remembered the bear!)
You might also like
- Remember remember
(0.300971)
- Father's day dojo
(0.28125)
- Picture with a Bear
(0.280992)
- Still Tulips
(0.280864)
- Angie departs
(0.274419)
All
August 30, 2019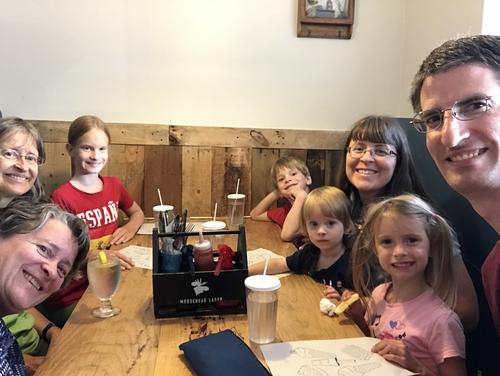 Auntie Mary took us to Cats Fish and Chips for supper. Michael spent most of the dinner time running in and out of the restaurant and playing with the various ship's wheels outside. As we were leaving we got to see the balloons from the Gatineau Balloon festival floating overhead.
You might also like
- Sunday Dinner
(0.292096)
- Social Distance Walk
(0.28483)
- Great Aunt Mary
(0.275766)
- Auntie Mary
(0.263021)
- Father's Day
(0.259053)
All