September 14, 2019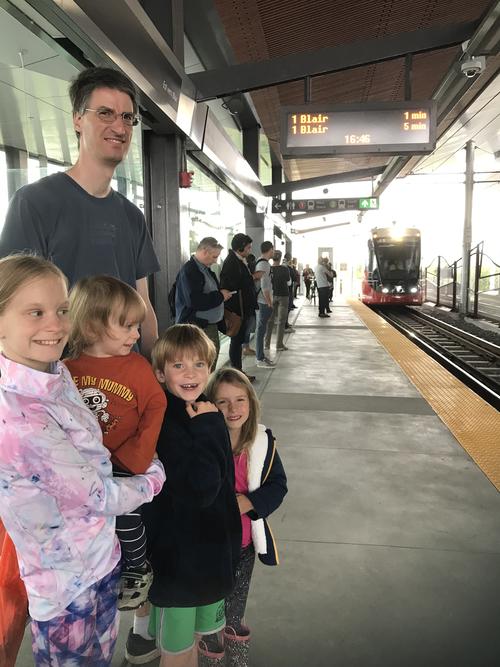 Elizabeth had karate so we didn't quite manage to make it on the first public trains but I did manage to talk Brendan into bringing the family to ride the rails on the very first day.
We were expecting Lorianne for dinner so needed to be back by a particular time, which meant we didn't quite have enough time to go from one end to another. Instead we parked at St Laurent and took the train until Bayview. Then we got out and took the train back to St Laurent. The kids thought it was pretty cool but Michael was mostly over the novelty about three stops in. This was the point that Elizabeth and I looked at each other and decided it would be more fun to drive to London at the end of the month rather than entertaining him for seven hours on a train. They also thought it smelled a bit like cows. They weren't wrong.
We travelled on a family pass which was confusing because it turns out you can't put a pass on the presto card. Oh well. There was an army of people in red jackets directing everyone. We were clearly not the only LRT tourists onboard - there was a festive air with many people taking selfies and just taking the train for fun.
We were impressed by how smoothly everything was running. The trains came when they said they were going to come and there wasn't much waiting.
You might also like
- Virtual Piano Recital
(0.408665)
- First outings: Music, library, karate
(0.40273)
- Roses and Thorns
(0.397946)
- Spartan Race
(0.395487)
- Cottage Arrival 2019
(0.395202)
All
September 11, 2019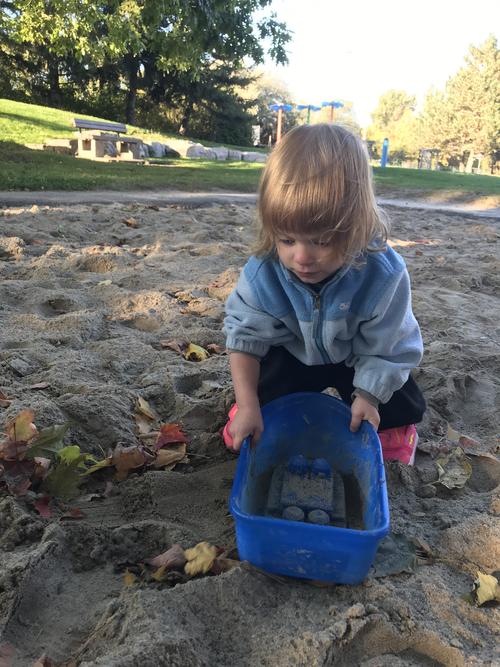 At 20 months Michael is still very busy. He likes to play with light switches; flicking them on and off and on and off. He would also like to play with the alarm system but although he's now tall enough this is strangely not at all allowed.
Michael isn't terribly fond of routine changes so he is annoyed that the older kids are at school all day now. He does love going to the park and playing outside.
Daddy always puts him to bed now. On days when Amelia is also being put to bed they generally get to play together for a bit before bedtime. At 6:00 they all go upstairs and while Amelia gets her PJs on Daddy takes Michael upstairs, puts his PJs on, brushes his teeth and locates his bed under the mess of toys. Once ready they head back down to Amelia and help her finish getting ready for bed. Then they read a story and say prayers before tucking Amelia into bed. After Amelia is suitably tucked in and lights out they head back upstairs and tuck Michael into his bed. After a quick prayer daddy sits in the hall outside the room where Michael can still see him until Michael falls asleep. This takes somewhere between 30 seconds and an hour or so depending on how wound up Michael was, but he is very good about staying in bed instead of trying to get up and do things. Daddy used to sit beside him but that led to more mischief for some reason. Curious George always sleeps with Michael now.
You might also like
- 23 months
(0.397982)
- Two!
(0.387605)
- Five months
(0.387019)
- PD Day
(0.374074)
- 14 months
(0.373613)
All
September 10, 2019
Grandma H bought the kids some cute cookie cutters and we finally managed to find time for her to make cookies with the kids. Everyone enjoyed making, decorating and EATING them.
You might also like
- Grandma has a birthday
(0.296651)
- Progressive supper
(0.280335)
- Swimming at the Stickleys
(0.280172)
- Nutcracker
(0.278261)
- Adam and Allie
(0.27439)
All
September 9, 2019
Elizabeth enjoyed doing the upriver woman's race quite a lot and not only wasn't in the way but was actually useful. So she earned an invitation to crew on a regular Monday night race! Unfortunately there wasn't much wind but from my perspective that was a good thing as it meant I didn't have to particularly worry about her safety.
You might also like
- Big Apple rides
(0.295082)
- Women's upriver race
(0.294618)
- Sugar Bush
(0.294118)
- Skate to church
(0.290244)
- Heidi and Tante Elfi
(0.290043)
All
September 8, 2019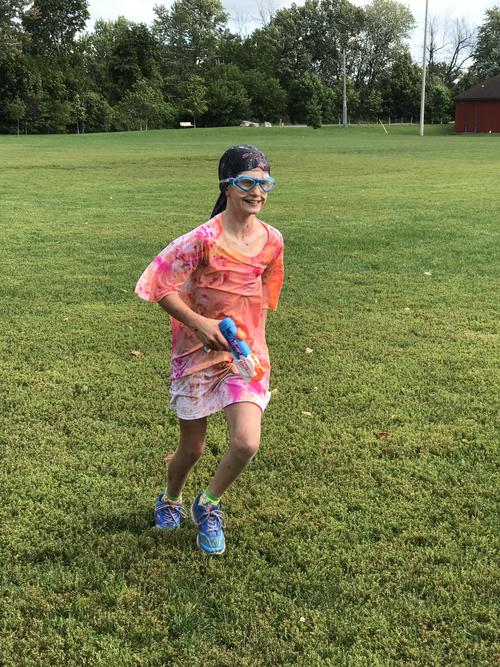 One of Elizabeth's close friends at school had a paint fight for her birthday. It was pretty cold and windy but the kids had a blast shooting each other with paint. In theory they were on teams but the kids kept shooting paint at whatever person happened to be in the way regardless of teams. When they were mostly out of paint they invented a new game where they used their bodies to mix paint on the cardboard shields.
Elizabeth declared it good fun but messy. She'd like to do it again, perhaps on a warmer day.
The paint washed right out of the shirt; she's thinking she might tie dye it sometime.
You might also like
- Rachel
(0.335821)
- Maggie's birthday pinata
(0.324275)
- Le Patinoire
(0.324263)
- Summer Carnival
(0.324219)
- Dentist
(0.323276)
All