September 28, 2019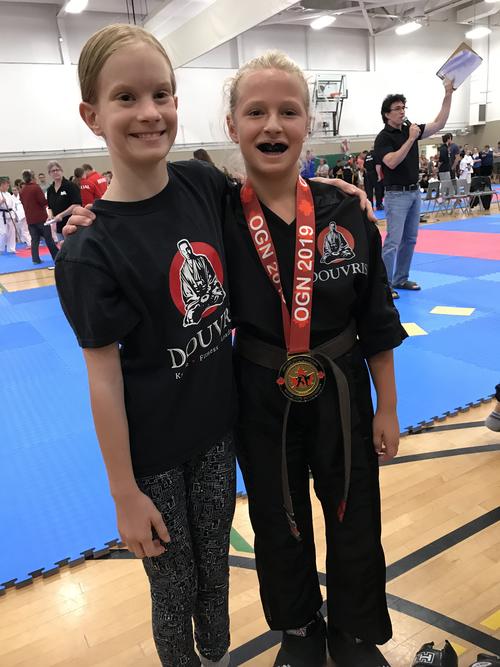 This weekend was the OGN tournament in London Ontario. Elizabeth, Michael and Mommy all headed down and stayed with Auntie Maybeth and Auntie Mary for the weekend. Much visiting was done and from the pictures you'd never know that Elizabeth had a total fit of nerves at the tournament. She hadn't competed in so long that she was super nervous. The other kids on the team were amazing at helping to calm her down and focus her on the task at hand. Again the judges didn't appreciate her kata and the nerves certainly didn't help. In sparring she was up against a giant and nearly refused to do it. In the end she overcame her nerves and got the job done and then enjoyed herself cheering on her teammates. The rest of the visit was wonderful and it was so nice to see many relatives.
You might also like:
-
KMC Tournament
-
Aunts and Uncles come to visit
-
Rachel
-
Karate Nationals
-
Inhouse Tournament
September 25, 2019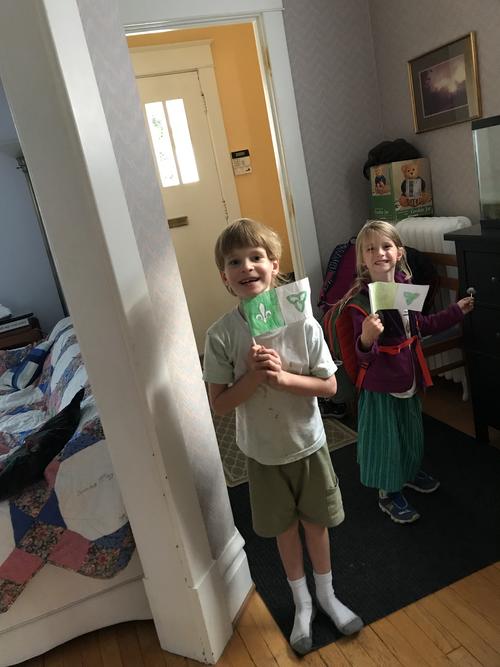 Today was Journee Franco Ontarien complete with fun lunches and white and green clothes.
You might also like:
-
Xander is five
-
Friday Fun Day: Luau
-
Friend Janice
-
Red leader
-
Raking leaves
September 22, 2019
We went apple picking at Mountain Orchard with Erika, Auntie Heather, Grandma J, my mom and Dave and Karen's kids. We brought lunch to church and left immediately afterwards. (Maria was at a birthday party). We thought Erika probably didn't want to come at first because she went apple picking the weekend before but it turned out that she actually went to an organic orchard to buy apples. So they didn't need anymore apples but she hadn't had the "apple picking experience" yet. As Elizabeth pointed out, the main point of going apple picking isn't taking home the apples. Matthew chimed in that it was probably the donuts (hahaha, priorities).
I am pleased to report that no one was injured, though we did temporarily misplace a few of our party in the corn maze.
You might also like:
-
Family
-
A failed birthday present
-
Family Day
-
Cousin Tshirts
-
Cousins move in
September 21, 2019
Book club is back after summer break. You'd think Elizabeth and Erika hadn't seen each other in months.
It was outside at Windsor Park again, which the kids greatly enjoyed.
You might also like:
-
Swim and a dragon
-
Cousins
-
Ballet and Paw Patrol Camp
-
Lunches
-
Spring has sprung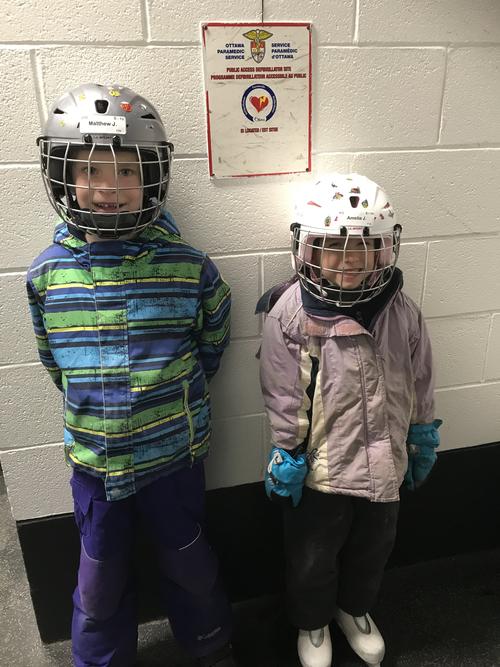 The kids do karate pretty much year round but their other activities pause over the summer.
This year Elizabeth is taking grade 5 ballet (4:15-5:15pm on Tuesdays and Fridays), Acrodance (5:15-6:15 Thursdays) and Contortion (6:30-7:30 Thursdays). The contortion was kind of an accident; we agreed to allow her to try acro on the grounds that she's doing it at home anyway and we were concerned she was going to injure herself with no training or supervision. Turns out that our extra flexible kid jumped ahead some levels, and more advanced levels need to take additional classes in order to avoid injury. We told Elizabeth that she might have to drop something else if it was too much, and she probably has to find her own way home from dance sometimes. She's also taking violin lessons again through the school and in theory is doing piano, but we haven't located a teacher yet. We aren't exactly in a rush. One great thing this year is that we have an amazing carpool again so we only have to drive one day a week. It's amazing what a difference that makes. We also don't have to find parking because the kids at Osgoode are old enough to be "autonome" and can find their way to our designated parking spot. She doesn't have any activities on Mondays, so she's been assigned responsibility for making dinner that day, which has been nice for me and a great experience for her. I was sad to see that the ballet class was on Tuesday; last year it was Monday which would have worked better for our schedule.
Matthew and Amelia both have piano Monday evenings out in Alta Vista with the lovely Shana. I pick Amelia up at 3:20pm and then get Matthew and Elizabeth's friend Maddie from the big school at 3:30pm. I drop Maddie off at dance and carry on to music class. Matthew is enjoying piano class much more this year because it comes with a regular dose of screen time every week. Amelia enjoys that part too! It's her first year of piano and she seems to find it fun. The middles are also doing swimming and skating, by request. Elizabeth did the big swim at the cottage specifically to get out of having to do swim lessons and her level isn't offered at the same time as the middles anyway. I did inquire if she wanted to skate but when she discovered it meant she'd either have to miss her favourite karate class with Sensei Suba or miss her bo class she decided to pass. Swimming is at 8am at Dovercourt on Saturdays and skating is at 10am at St Laurent, so there's more driving than I'd like, but it's only for the fall term and there's plenty of time to get changed, dry hair and get into skating gear. In theory the kids could even play at the playground but so far it's been too cold or wet and I doubt that's likely to improve as fall turns to winter.
In any case so far everyone is enjoying their extracurriculars and we're getting into the groove. The main problem - aside from Elizabeth not being able to join us for dinner on Tuesdays - is that Mommy and Daddy don't have any days off from driving. We're looking forward very much to Matthew getting his blue belt 235484965 months from now, as the karate part of the schedule should then get a bit easier...
You might also like:
-
Silly Sock Week
-
Homeschool wk may 11-15
-
Seven
-
Amelia is 2.5
-
Social Distancing: Day 20
September 20, 2019
Amelia seems to be settling into kindergarten pretty well. She seems to love going and the teachers thought she followed along so well that they weren't sure whether she was a shy francophone or an anglophone who isn't talking because she doesn't have enough French words. Actually she does have quite a lot of French now, but she's gotten into the habit of inventing her own French to fill in the gaps so the result is rather difficult to understand. I was amused but pleased to know that she at least isn't just chattering away in English.
One problem does seem to be that she is very frequently having toilet accidents. After a couple of weeks where she peed or pooped herself nearly every day on the bus home from school (and even before) I finally got the teachers to be more assertive with their suggestions about using the toilet. Amelia tends not to tell anyone when she has an accident but I was kind of at my wit's end. The current issue does not appear to be related to her previous constipation issues, more general stubbornness.
Today she was "ami du jour" for the first time and she got to present a homework sheet all about her favourite things (kittens, the colour pink, potatoes - don't ask me why it's purple!) and what she doesn't like ("loud scary tigers"). Matthew helped her draw the kitten.
You might also like:
-
Amelia is five
-
Amelia is 2.5
-
Skating
-
19 months
-
FIVE