October 6, 2019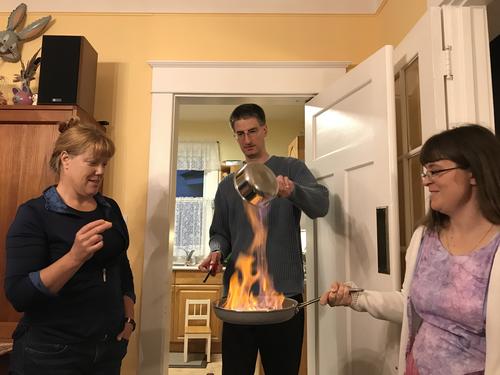 Brendan wanted greek food for our family celebration of his birthday, so I arranged for greek salad, pork and chicken souvlaki, lemon potatoes, lemon rice, tzatziki sauce and homemade gluten free pita bread, saganaki cheese and of course birthday cake.
Here is the recipe I used for the triple chocolate mousse cake from Chew Out Loud, slightly modified.
Bottom Layer: In a glass bowl, melt 6T butter, 7oz of chocolate, and 1tsp of coffee powder in microwave at 30 second intervals at 50% power. Repeat and stir until very smooth. Cool mixture about 5 minutes. Whisk in 1.5 tsp vanilla and 4 egg yolks.
Beat 4 egg whites and pinch of table salt at medium speed until frothy, 30 seconds. Add 1/3c brown sugar in two parts, beating until combined after the first addition and on high until soft peaks form after the second (about 1 minute). Scrape sides halfway through. Using a whisk, gently fold in one-third of the beaten egg whites into chocolate mixture. Using rubber spatula, gently fold in the rest of egg whites until no white streaks remain, but don't overdo it.
Carefully transfer batter to greased 9.5" springform pan, gently smoothing the top. Bake in preheated 350 degree oven until cake is risen and firm around edges and center has just set but is still soft. Center of cake will spring back after pressing gently with finger, about 14-18 minutes. Transfer to wire rack to cool completely. Do not remove cake from pan.
Middle Layer: Combine 2T cocoa powder and 5TB hot water in a small bowl and set aside. In a glass bowl, melt 7oz chocolate in microwave set to 50% power in 30 second intervals until smoothly melted. Remove and cool 5 minutes.
Whip 1.5c cream, 1TB sugar, and a pinch of salt until soft peaks form.
Whisk cocoa powder mixture into melted chocolate until smooth. Gently whisk in one-third of whipped cream into chocolate mixture. Use a rubber spatula to gently fold in rest of whipped cream until no white streaks remain (don't overdo). Spoon mousse into springform pan over the cooled bottom layer. Gently tap pan on counter to remove large air bubbles, gently smooth top, and wipe inside edge to remove drips. Chill cake while preparing top layer.
Top Layer: In a small bowl, sprinkle 1 tsp powdered plain gelatin over 1TB water and let stand 5 minutes. Place 6oz white chocolate in a bowl and set aside. Bring 1/2 cup cream to simmer in a small saucepan. Remove from heat. Add gelatin mixture and stir until fully dissolved. Pour cream mixture over the white chocolate and whisk until fully melted and smooth. Cool to room temp, stirring occasionally.
Whip 1c of cream until almost stiff peaks form. Using whisk, gently fold a third of whipped cream into the cooled white chocolate mixture. Using rubber spatula, gently fold in rest of whipped cream just until no white streaks remain. Spoon batter into springform pan over chilled middle layer. Smooth top and chill at least 2.5 hours or overnight.
I've left out the gelatin part entirely for a smaller version and it worked okay. I'm still working on my Janice safe version - I tried substituting aquafaba for the egg whites in the bottom layer and just making chocolate mousse using aquafaba for the second layer and a sugared aquafaba for the top layer but unfortunately the bottom layer exploded rather than cooking. I'll have to try again another time. I'm told it was quite edible though I felt quite lacking in presentation.
Brendan's present from our family this year represents somewhat of a milestone for us - we are getting our first dishwasher. I have very mixed feelings but I think the kids are more excited than Brendan is.
You might also like
- Family reunion
(0.397229)
- Homeschool wk may 11-15
(0.38189)
- Cooking
(0.381151)
- Sewing with kids
(0.379132)
- Great Grandma Funeral
(0.378894)
All