October 31, 2019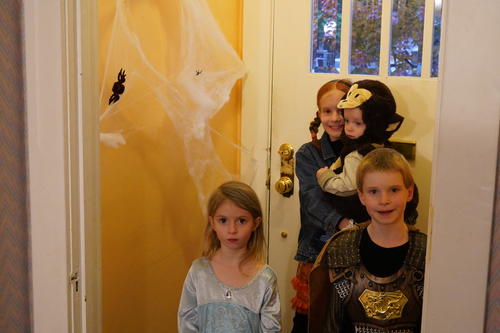 The kids had scary lunches. After school we did our now traditional Halloween party. Everyone seemed to enjoy themselves while eating gross snacks and even the adults got in on the costumes. This year the older girls went out trick-or-treating by themselves. Parents survived. Lorianne took Ameila, Janice took Matthew and mommy took Michael to visit a few of the closer neighbours. Daddy stayed home and handed out candy to the few brave souls who ventured out in the pouring rain. Montreal cancelled trick-or-treating in favour of delaying it until the following day due to the weather forecast. This turned out to be a silly idea as the next day a wind storm ripped through the area and knocked out power to roughly a million people. Anyway Ottawa was thankfully more sensible and just toughed out the rain. The kids came back rather soggy but happy to have a bag full of candy to chow down on.
You might also like:
-
Halloween
-
Halloween
-
Doors Open Ottawa: NRC Wind tunnel and Lawn bowling
-
Apple Picking Reprise
-
Gatineau Park Ski
October 30, 2019
Amelia got a coupon for ice cream when she went to her bus practice back in the summer. Her siblings did get the same coupon back in the day but we were able to ignore it successfully. Amelia was very invested in making sure it didn't expire before we used it.
It expired on Halloween, which is why we ended up at McDonald's for dessert on October 30th. Elizabeth was at karate. I ended up taking her and Erika to Marble Slab in between karate classes. It was Erika's first Marble Slab experience and she approved.
You might also like:
-
Stripes, stripes, stripes
-
Two stripes
-
Bus Practice Day
-
Cousin Tshirts
-
Opthamologist
October 27, 2019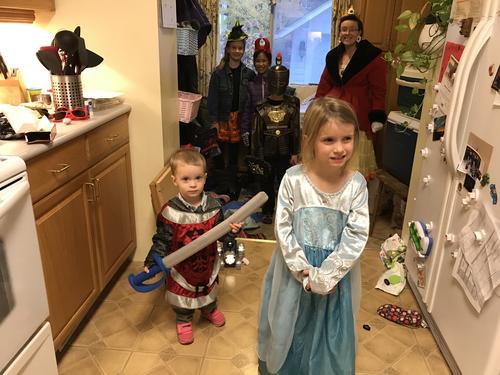 Elizabeth had a birthday party with her friend Olivia but that didn't stop her from dragging Olivia out to the GNAG Halloween party immediately afterwards. Great fun was had by all.
You might also like:
-
Grandma has a birthday
-
How does your garden grow?
-
Theo is Three
-
Cousins
-
Troll Cupcakes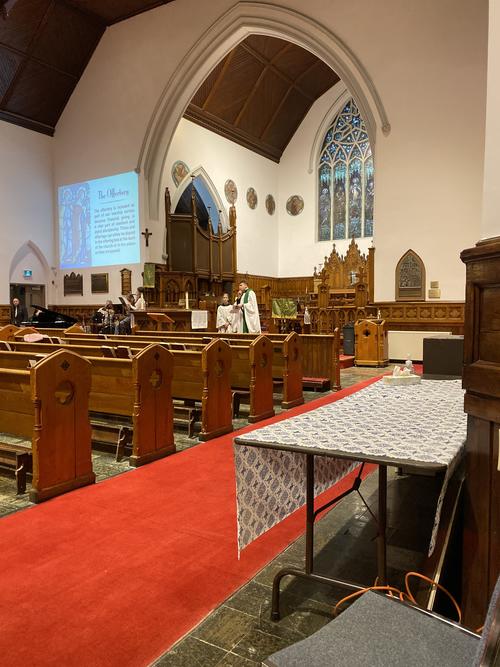 Elizabeth has wanted to be an acolyte at church since her friend Karis started doing it last year (or was it the year before?) but she wasn't old enough at the time.
Now she is! She asked me to arrange it and Father Creighton was happy to oblige. At which point Elizabeth decided it was too scary and she couldn't possibly. Maybe this had something to do with her first time coinciding with our parish celebration and bishop's visit - super cool but also definitely out of the ordinary.
Anyway we are familiar with Elizabeth changing her mind on stuff when she's nervous so we told her she couldn't back out for a few months.
Turns out she enjoyed it very much and is looking forward to the next time.
You might also like:
-
Visitors!
-
Wedding prep
-
First day of preschool
-
First day of grade 3
-
Antibiotics
October 26, 2019
Olive and Chili is closing! Many tears were shed and mommy stocked up on one last round of goodies. Then it was time to carve pumpkins. Much degooing was required and Matthew basically had to be hauled away from his before he cut away so much that it collapsed. He certainly enjoyed carving it... Oh and his wiggly tooth finally fell out!
You might also like:
-
Swim to the point
-
Seed spitting and s'mores
-
Matthew tooth
-
Scary crickets
-
Hottawa
October 25, 2019
Some back-story: cars these days have fancy computers in them. Most of these run android and update themselves from time to time. Our van seems to do this without too much fuss most of the time but for the past several days the infotainment system has been stuck on "updating" or something similar.
So Daddy was out "fixing" the car after the kids had gone to bed and as he's waiting for the thing to reboot he sees some motion out of the corner of his eye. Looking over he sees a giant skunk waddling around our backyard. Of course he had left the side door of the garage open and the skunk wandered off in the direction and didn't come back for quite some time. Daddy is meanwhile being very still and quiet in the van... After having imagined all the possible scenarios of having a skunk family taking up residence in the garage, spending the rest of the night in the van, he finally resorts to playing Pokémon. Even the game was in on the fun as it presented a skunk for him to catch. Eventually the skunk decided to take pity on poor Daddy and sauntered off into the night. Daddy jumped out, locked the garage and dashed inside.
You might also like:
-
January Duty day
-
Sheep Shearing
-
Egg Hunt
-
History Museum
-
Dovercourt