November 3, 2019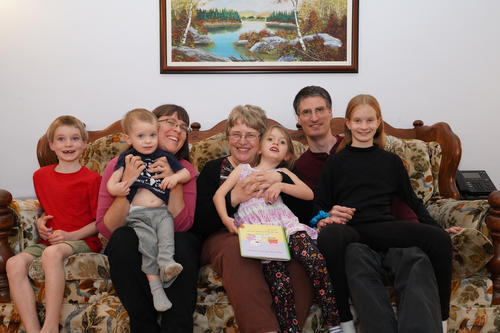 Angie had to leave again to go do some real work. Hopefully we'll see her again for winterlude.
You might also like:
-
-
Angie departs
-
Let it Snow!
-
Look!
-
Stair Master
November 2, 2019
Thankfully for all concerned the switch witch showed up and took away the mountains of candy and replaced them with some toys. Matthew got a race track, Amelia a Peppa Pig book for her leap frog device, Michael a singing microphone and Elizabeth a Bo staff.
After morning activities we went off to Dave and Karen's place for lunch with Angie and Janice. We then finished off the day by trying out a new restaurant Little Mac's. It was good food but rather chilly and very very small. Probably the sort of place that is more fun when it is nice out and you can sit outside.
You might also like:
-
Race Weekend (Children's Marathon)
-
The Dentist
-
Angie 2015
-
Cousin Tshirts
-
First day of Holidays
October 31, 2019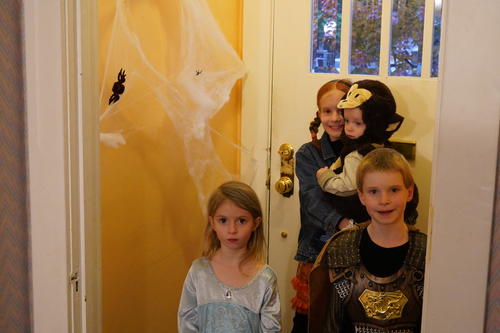 The kids had scary lunches. After school we did our now traditional Halloween party. Everyone seemed to enjoy themselves while eating gross snacks and even the adults got in on the costumes. This year the older girls went out trick-or-treating by themselves. Parents survived. Lorianne took Ameila, Janice took Matthew and mommy took Michael to visit a few of the closer neighbours. Daddy stayed home and handed out candy to the few brave souls who ventured out in the pouring rain. Montreal cancelled trick-or-treating in favour of delaying it until the following day due to the weather forecast. This turned out to be a silly idea as the next day a wind storm ripped through the area and knocked out power to roughly a million people. Anyway Ottawa was thankfully more sensible and just toughed out the rain. The kids came back rather soggy but happy to have a bag full of candy to chow down on.
You might also like:
-
Halloween
-
Halloween
-
Doors Open Ottawa: NRC Wind tunnel and Lawn bowling
-
Apple Picking Reprise
-
Gatineau Park Ski
October 30, 2019
Amelia got a coupon for ice cream when she went to her bus practice back in the summer. Her siblings did get the same coupon back in the day but we were able to ignore it successfully. Amelia was very invested in making sure it didn't expire before we used it.
It expired on Halloween, which is why we ended up at McDonald's for dessert on October 30th. Elizabeth was at karate. I ended up taking her and Erika to Marble Slab in between karate classes. It was Erika's first Marble Slab experience and she approved.
You might also like:
-
Stripes, stripes, stripes
-
Two stripes
-
Bus Practice Day
-
Cousin Tshirts
-
Opthamologist
October 27, 2019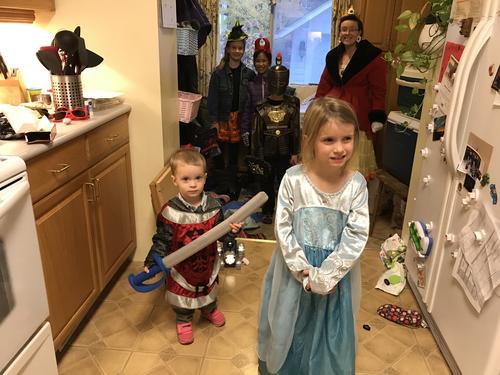 Elizabeth had a birthday party with her friend Olivia but that didn't stop her from dragging Olivia out to the GNAG Halloween party immediately afterwards. Great fun was had by all.
You might also like:
-
Grandma has a birthday
-
How does your garden grow?
-
Theo is Three
-
Cousins
-
Troll Cupcakes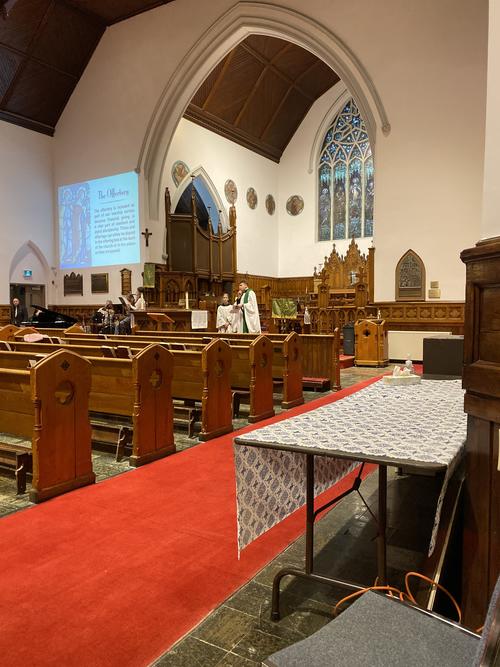 Elizabeth has wanted to be an acolyte at church since her friend Karis started doing it last year (or was it the year before?) but she wasn't old enough at the time.
Now she is! She asked me to arrange it and Father Creighton was happy to oblige. At which point Elizabeth decided it was too scary and she couldn't possibly. Maybe this had something to do with her first time coinciding with our parish celebration and bishop's visit - super cool but also definitely out of the ordinary.
Anyway we are familiar with Elizabeth changing her mind on stuff when she's nervous so we told her she couldn't back out for a few months.
Turns out she enjoyed it very much and is looking forward to the next time.
You might also like:
-
Visitors!
-
Wedding prep
-
First day of preschool
-
First day of grade 3
-
Antibiotics