November 15, 2019
The kids had the day off school again so we took advantage of the snow and went skiiing again.
You might also like
- Adam and Allie
(0.246032)
- Tree decoration
(0.225)
- Spring thaw
(0.224242)
- Back to school
(0.223022)
- First Snow
(0.222222)
All
For the second tooth in a row Matthew "couldn't sleep" because his wiggly tooth was "bothering [him] too much" and he got up out of bed to demand relief while simultaneously refusing to let anyone close enough to his mouth to do anything.
Luckily before his parents decided to eat him the tooth suddenly came out. It bled profusely because the one really sharp edge cut his gum while he was trying to remove it.
You might also like
- Fish
(0.29222)
- Tooth fairy
(0.287841)
- Minus one tooth (ibid.)
(0.287206)
- Deep Freeze
(0.285398)
- First snow 2015
(0.284768)
All
November 14, 2019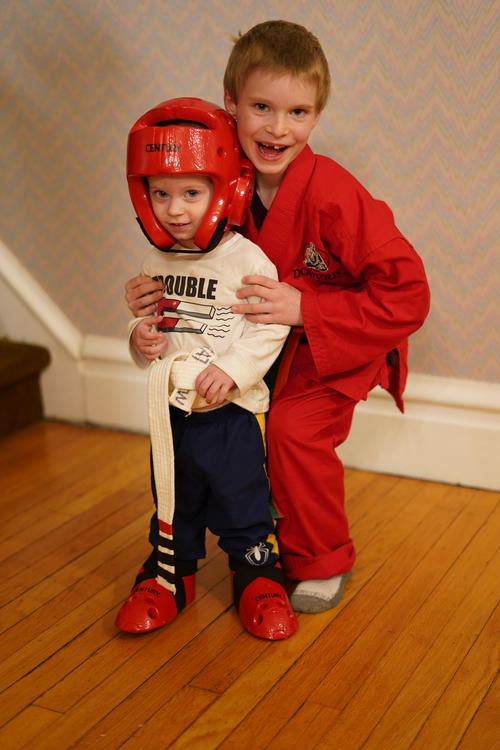 Michael has reached the age of copying everything his older siblings do. Karate is of course included in this and is rather adorable.
You might also like
- Karate on the beach and wiener roast
(0.24186)
- First Aid
(0.234234)
- Skate to church
(0.230366)
- Hair Tourniquet 3
(0.22807)
- Auntie Yukiko rides a pony
(0.220657)
All
November 13, 2019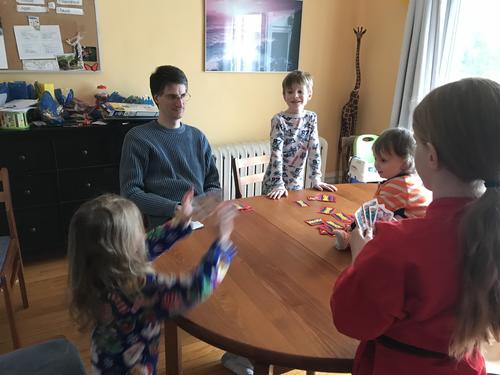 One of our resolutions this year was to institute a "family game night".
Typically on Wednesday evenings - in between karate classes - we've taken to playing games of all kinds. Game night interferes with Michael's bedtime and the board games have often ended in tears - Matthew in particular almost always loses - but we persevere. Despite my feeling that these evenings are more trouble than they are worth apparently the kids think they are awesome and complain if we don't make them happen.
You might also like
- St Nicholas and Grandpa's birthday
(0.310924)
- Telephone
(0.309783)
- Birthday party
(0.309028)
- Visitors!
(0.308008)
- Rainy day
(0.307692)
All
November 12, 2019
It was the first big snowstorm of the season so busses were cancelled due to snow. We had very long recess to start off our school day. Michael isn't quite sure what to make of it all. He doesn't seem to mind except for his mittens which he constantly removes. Elizabeth doesn't find it terribly amusing to keep putting them back on so he ended up coming in early.
In addition to regular schoolwork the kids got to observe the excitement of the last three windows in our house being replaced.
In the afternoon we went crosscountry skiing! Since it was our first time we took the advice of the guy at the ski show to go to our local park and get used to the skis before trying a trail. The kids were quite excited to discover the park has a little hill we never noticed before so we got to practice going up and down short hills as well as skiing around the flat part.
You might also like
- Virtual School: Week 17
(0.358323)
- Virtual School: Week 18
(0.35809)
- Piano Recital
(0.357453)
- Ski
(0.354839)
- 12 Days of Christmas: New Year's Eve
(0.353947)
All
Matthew has his first stripe on his orange green belt!
0 comments
You might also like
- 2nd Stripe
(0.656716)
- Stripes
(0.508772)
- Stripes and going to grading
(0.494118)
- Stripes
(0.493976)
- Erika stripes
(0.463768)
All
November 10, 2019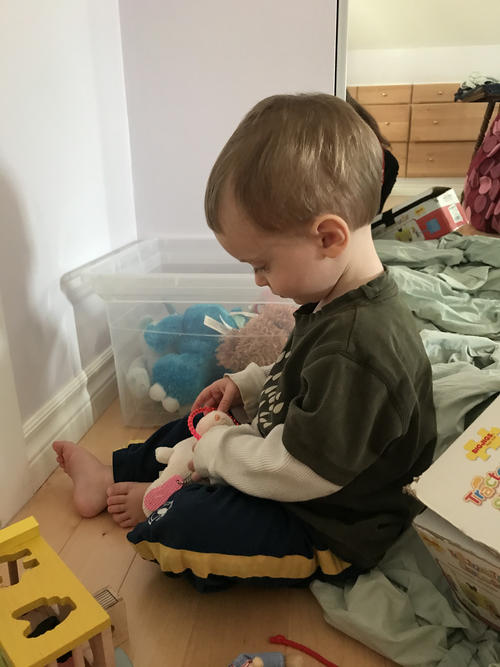 At 22 months Michael likes to sing. His favourite song is "Baby Shark" (doo doo doo) but he will often sing to himself while playing and I recognize many of them from music and french classes.
We've had our first snowfall and while Michael does not love his winter gear he did think that shoveling was interesting. He adores putting on Matthew and Amelia's cache-cous along with his balaclava style hat. But the hat part always gets pulled off his head so it's more like he's wearing a million scarves. He doesn't quite seem to have the idea. He likes putting on mittens ("mitt, mitt, mitt") but takes them off again almost immediately. Elizabeth thinks watching him outside is hugely annoying because it's a constant dance of putting on mitts, him taking them off and then bringing them to you to put back on ("mitt, mitt, mitt").
He likes to throw balls around and in time-honoured tradition his favourite toys are those that belong to siblings (or "contraband" as we like to call it around here). The other day he got into Matthew's toolbox and was having a grand time with the hammer. Amelia's Barbie wardrobe is another great favourite as it has lots of tiny pieces and drawers to open and doors to shut. He's started building his own little structures out of fort magic, but needs a lot of help. He's got his own collection of stuffies now but loves ALL stuffies and carries them around the house. Then he likes to put them on the floor and cuddle them while rolling around with them. They are now "mahmahs".
He loves reading books. His favourites include Baby Boo, Fred and Ted like to fly, Go Dogs Go and Rocket Science for Babies.
You might also like
- 23 months
(0.413249)
- 21 months
(0.397912)
- Grading for a brown belt
(0.392894)
- St Nicholas Day
(0.38277)
- Virtual Piano Recital
(0.381522)
All