November 16, 2019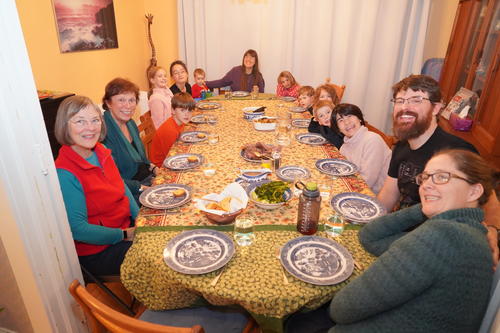 My aunt Muriel and her cousin Pat came to visit Ottawa. They met Janice, Elizabeth, Michael and I at the Come Sing Messiah rehearsal. Amelia and Matthew were at skating, and afterwards Daddy swapped out boys. Elizabeth was quite relieved as she then got a chance to sing too. Auntie Janice even sat with her in the alto section so she could learn her own part!
After choir we had lunch and hung out at home while Elizabeth disappeared to her bo class. Erika came over after bo for a sleepover as the girls wanted to practice karate before their tournament tomorrow. The Teevens crew showed up in the late afternoon for supper. Then Maria said she wanted to come too so we had a full house! Amelia and Matthew were very excited as Maria had promised to sleep in their room.
We had a little impromptu cooking class as Erika and Elizabeth decided they wanted to make dessert and various others (mostly Xander) helped me make yorkshire puddings for supper.
Muriel showed off her photos from her recent trip to visit family out west and we chatted late into the evening in front of the fire. It was a pretty relaxing evening.
You might also like:
-
Wedding prep
-
Lac des Loups
-
St Nicholas Day
-
Come Sing Messiah
-
Family Day
November 15, 2019
The kids had the day off school again so we took advantage of the snow and went skiiing again.
You might also like:
-
Adam and Allie
-
Tree decoration
-
Spring thaw
-
Back to school
-
First Snow
For the second tooth in a row Matthew "couldn't sleep" because his wiggly tooth was "bothering [him] too much" and he got up out of bed to demand relief while simultaneously refusing to let anyone close enough to his mouth to do anything.
Luckily before his parents decided to eat him the tooth suddenly came out. It bled profusely because the one really sharp edge cut his gum while he was trying to remove it.
You might also like:
-
Minus one tooth (ibid.)
-
Deep Freeze
-
First snow 2015
-
Olive and Chili and pumpkin carving
-
Antibiotics
November 14, 2019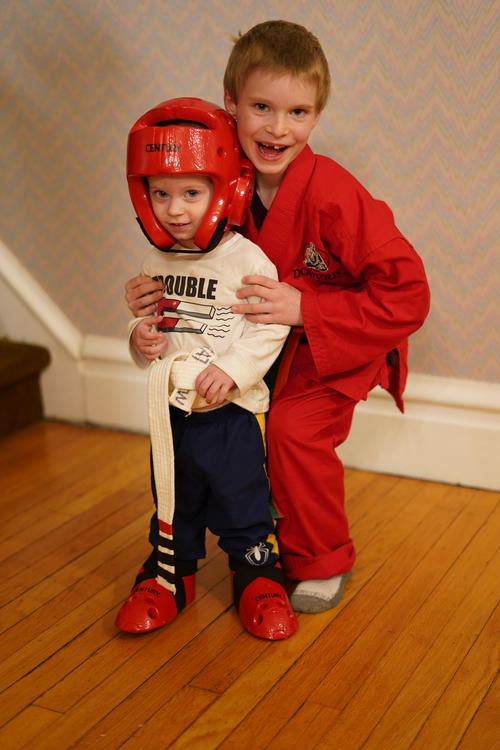 Michael has reached the age of copying everything his older siblings do. Karate is of course included in this and is rather adorable.
You might also like:
-
Karate on the beach and wiener roast
-
First Aid
-
Skate to church
-
Hair Tourniquet 3
-
Auntie Yukiko rides a pony
November 13, 2019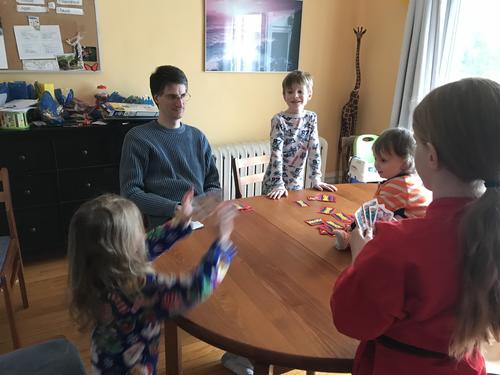 One of our resolutions this year was to institute a "family game night".
Typically on Wednesday evenings - in between karate classes - we've taken to playing games of all kinds. Game night interferes with Michael's bedtime and the board games have often ended in tears - Matthew in particular almost always loses - but we persevere. Despite my feeling that these evenings are more trouble than they are worth apparently the kids think they are awesome and complain if we don't make them happen.
You might also like:
-
St Nicholas and Grandpa's birthday
-
Telephone
-
Birthday party
-
Visitors!
-
Rainy day
November 12, 2019
It was the first big snowstorm of the season so busses were cancelled due to snow. We had very long recess to start off our school day. Michael isn't quite sure what to make of it all. He doesn't seem to mind except for his mittens which he constantly removes. Elizabeth doesn't find it terribly amusing to keep putting them back on so he ended up coming in early.
In addition to regular schoolwork the kids got to observe the excitement of the last three windows in our house being replaced.
In the afternoon we went crosscountry skiing! Since it was our first time we took the advice of the guy at the ski show to go to our local park and get used to the skis before trying a trail. The kids were quite excited to discover the park has a little hill we never noticed before so we got to practice going up and down short hills as well as skiing around the flat part.
You might also like:
-
Piano Recital
-
Social Distancing: Day 5
-
Les devoirs
-
Daddy and the buck bucks
-
Gatineau Park Ski
Matthew has his first stripe on his orange green belt!
0 comments
You might also like:
-
2nd Stripe
-
Stripes
-
Stripes and going to grading
-
Stripes
-
Erika stripes