November 17, 2019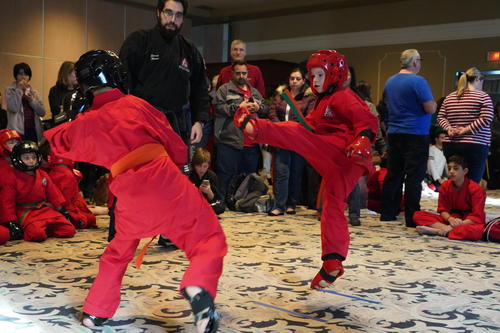 Matthew got to compete in sparring for the first time today at the in-house tournament. He was very excited about this. So excited that he apparently forgot his kata. His sparring was amazing though. His complete lack of fear worked to his advantage. Despite being up against kids 1-2 years older (and thus bigger) he was a force to be reckoned with and not only held his own but won three of his four matches. His first match the other kid was literally running away form him. Another match he managed to come back from being down 0-4 to win 5-4. He was one happy little boy with his silver medal.
Elizabeth's teammate Remi decided to compete up as last in-house she had no real competition as Elizabeth had moved up a division since she was now a black belt. So this time they were back to competing against each other. No more free rides. Elizabeth beat Remi in kata with probably her best rendition of nipaipo yet and Remi won in sparring so they were both happy. The judges decided to spare the poor third kid in the sparring the pain of being beat up by both Remi and Elizabeth and decided to just have Remi fight her and then have Remi fight Elizabeth for the gold/silver. They also let the girls go to ten instead of the 5 points that they were capping most matches at. Elizabeth also competed in bo for the first time and came super close to beating Oliva which was a big surprise. Her bo skills have clearly come a long ways in a very short time. Another week or two of practice and we think she'll be serious competition for Olivia. Elizabeth was very pleased with her three medals and decided that competing in bo was a good idea.
Erika actually had some real competition this time. No easy medals for her. She had a large tough group of more experienced girls in kata and sparring. Overall a good learning experience but no medals this time.
You might also like:
-
Burlington
-
Battle Zone Karate 2017
-
Nationals
-
Rive Nord
-
KMC Tournament
We went to visit Muriel and Pat again at Dave and Karen's. We *might* have brought along an extra kid (Erika) lol. We played ticket to ride!
0 comments
You might also like:
-
Uncle Dave's birthday party
-
Movie Night
-
Cousins
-
Cousins
-
Boxing Day
November 16, 2019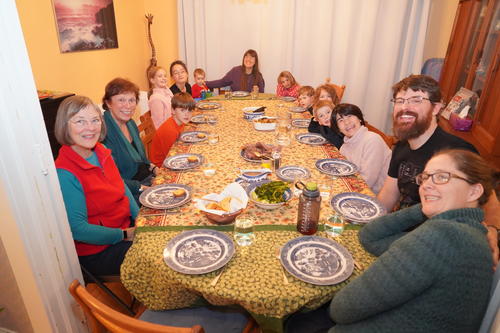 My aunt Muriel and her cousin Pat came to visit Ottawa. They met Janice, Elizabeth, Michael and I at the Come Sing Messiah rehearsal. Amelia and Matthew were at skating, and afterwards Daddy swapped out boys. Elizabeth was quite relieved as she then got a chance to sing too. Auntie Janice even sat with her in the alto section so she could learn her own part!
After choir we had lunch and hung out at home while Elizabeth disappeared to her bo class. Erika came over after bo for a sleepover as the girls wanted to practice karate before their tournament tomorrow. The Teevens crew showed up in the late afternoon for supper. Then Maria said she wanted to come too so we had a full house! Amelia and Matthew were very excited as Maria had promised to sleep in their room.
We had a little impromptu cooking class as Erika and Elizabeth decided they wanted to make dessert and various others (mostly Xander) helped me make yorkshire puddings for supper.
Muriel showed off her photos from her recent trip to visit family out west and we chatted late into the evening in front of the fire. It was a pretty relaxing evening.
You might also like:
-
Wedding prep
-
Lac des Loups
-
St Nicholas Day
-
Come Sing Messiah
-
Family Day
November 15, 2019
The kids had the day off school again so we took advantage of the snow and went skiiing again.
You might also like:
-
Adam and Allie
-
Tree decoration
-
Spring thaw
-
Back to school
-
First Snow
For the second tooth in a row Matthew "couldn't sleep" because his wiggly tooth was "bothering [him] too much" and he got up out of bed to demand relief while simultaneously refusing to let anyone close enough to his mouth to do anything.
Luckily before his parents decided to eat him the tooth suddenly came out. It bled profusely because the one really sharp edge cut his gum while he was trying to remove it.
You might also like:
-
Minus one tooth (ibid.)
-
Deep Freeze
-
First snow 2015
-
Olive and Chili and pumpkin carving
-
Antibiotics
November 14, 2019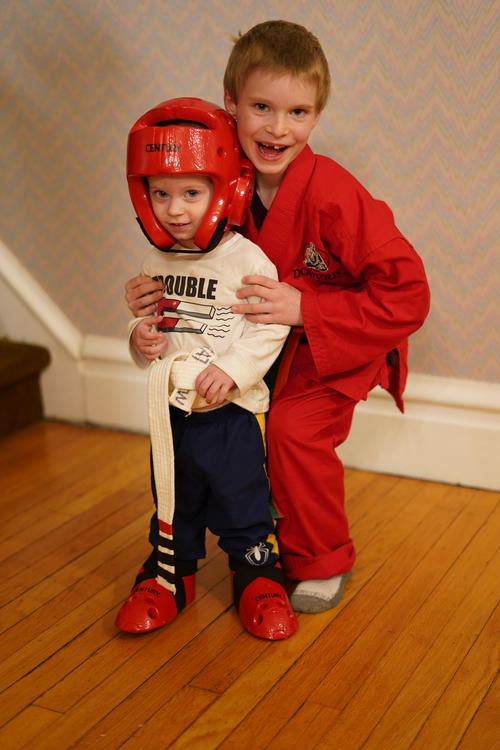 Michael has reached the age of copying everything his older siblings do. Karate is of course included in this and is rather adorable.
You might also like:
-
Karate on the beach and wiener roast
-
First Aid
-
Skate to church
-
Hair Tourniquet 3
-
Auntie Yukiko rides a pony
November 13, 2019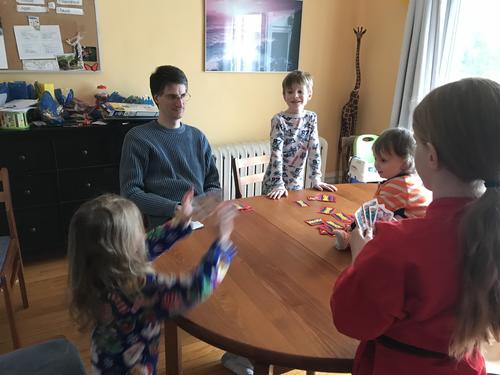 One of our resolutions this year was to institute a "family game night".
Typically on Wednesday evenings - in between karate classes - we've taken to playing games of all kinds. Game night interferes with Michael's bedtime and the board games have often ended in tears - Matthew in particular almost always loses - but we persevere. Despite my feeling that these evenings are more trouble than they are worth apparently the kids think they are awesome and complain if we don't make them happen.
You might also like:
-
St Nicholas and Grandpa's birthday
-
Telephone
-
Birthday party
-
Visitors!
-
Rainy day