December 6, 2019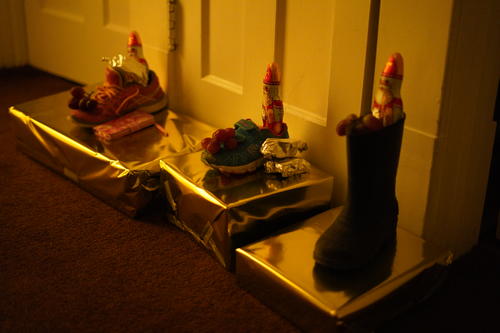 St Nicholas was eagerly anticipated by the children, although Matthew made it very clear that he knows this event requires parental involvement. We've never actually pretended that Santa is real, but I've been much more circumspect about St Nick. I do explain that St Nick was a real person that died long ago. Ironically, I feel that our refusal to tell fibs about Santa has made them more likely to believe. After all, most of their friends seem to think Santa is real so it's very strange that Mommy and Daddy keep saying it's a pretend story that's fun. In any case, the older kids seem much surer that this is a fun game we play. I gather they ARE puzzled by how we manage the donkey though.
Auntie Mary was here for St Nicholas for the first time so we enjoyed introducing her to the joys of selecting appropriate footwear and I think she enjoyed seeing this tradition close up.
I tried a new kind of gluten free licorice which turned out to have ammonium chloride as a main ingredient. Apparently this is a delicacy that you either love or think tastes like windex. I think it tastes like windex.
The last few years we've shifted St Nicholas to have European candy from the Dutch store, which I find both nostalgic and deeply satisfying.
Elizabeth's St Nick gift was games on her ipod and an inflatable boat. Matthew received a hot wheels race track. Amelia received a programmable kitten. Michael received a pop-up tent and tunnel/ball pit. I received a sweater dress, Brendan received new sweaters and Lorianne and Auntie Mary got tea.
You might also like
- Good Friday 2015
(0.398068)
- Apple Picking Reprise
(0.385291)
- St Nicholas Day
(0.384534)
- St. Nicholas
(0.38392)
- Egg Hunt
(0.379447)
All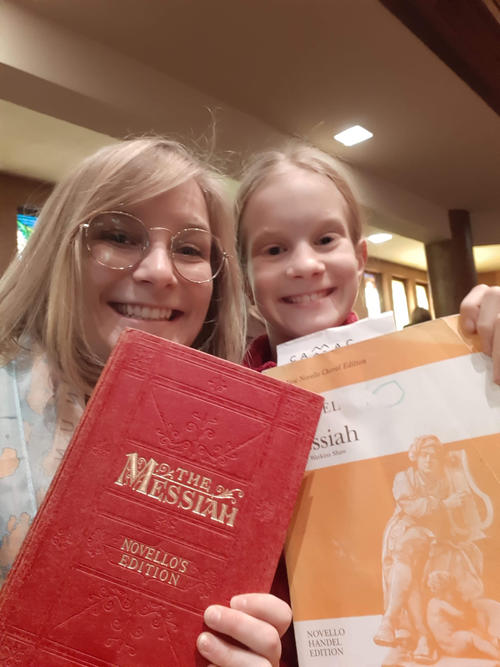 In the end, Elizabeth, Michael and I made it to all three rehearsals for this year's Messiah, but ducked out early for two of them. This was mostly because Michael really couldn't manage the whole thing and Daddy was already doing a lot of driving to get us to rehearsal and then the middles to skating and back without adding a second back and forth to the church. Matthew came to the second half of the first one. I'm sad to say that I didn't manage to find time to bring Amelia. She was a bit sad about that as well, although mostly she found the cookies I brought from snack time to be an acceptable compromise. Elizabeth was extremely helpful with Michael during rehearsals, though she did grumble a bit about missing parts as a result. Apparently rehearsal is no longer something to get out of :)
It was the first year that Alan Thomas didn't play the organ (Matthew Larkin has taken his place), but at least we had Alan for rehearsals.
Auntie Mary, Auntie Yukiko, Lorianne and I sang alto together, while Elizabeth and Rachel sang soprano. Elizabeth had been thinking about whether she wants to switch to singing alto (because that's what we rehearse and we have a critical mass). But she really enjoys singing with Rachel and apparently it's much easier to get a seat as a soprano.
You might also like
- Come Sing Messiah
(0.418338)
- Come Sing Messiah
(0.389877)
- Elizabeth is eight
(0.381323)
- Come sing Messiah Rehearsal 2
(0.379205)
- Christmas
(0.375604)
All
December 5, 2019
Matthew insisted he needed to skip karate to come and watch Elizabeth's acro class, so Auntie Mary and I brought the kids to see the little show at the end. I was glad there were a lot of us because we were literally the only spectators. I was very impressed and frightened by how bendy this class is. Lots of impressive talent - including Elizabeth's friend Madeleine who has made a lot of progress in the walking on her hands department (something Elizabeth also aspires to)
I sent the kids home to bed and then headed back to watch the show at the end of the contortion class. This class is definitely right up Elizabeth's alley, that's for sure.
You might also like
- Magic Show
(0.337037)
- Siblings
(0.334802)
- Strawberry picking
(0.326969)
- Berry picking
(0.325095)
- Cold weather activities
(0.324373)
All
December 4, 2019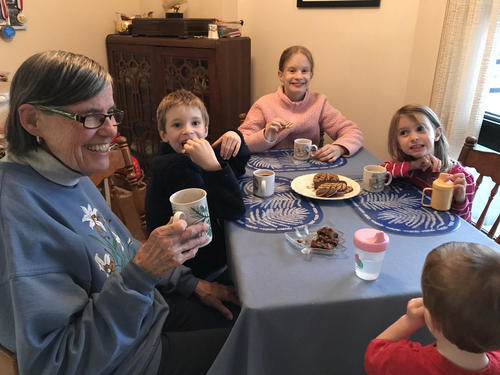 Ontario teachers are strangely objecting to the idea of increasing class sizes (and adding mandatory online courses) while not addressing problems like increased workplace violence and harassment. In any case, earlier this year the admin staff went on work to rule and now the teachers are also on work to rule.
Today our school was closed along with many others across the province as about 60,000 thousand teachers walked off the job.
We had school at home in the morning. Matthew practiced his reading and we all practiced our french and math. Elizabeth helped me with the littler kids. In the afternoon Elizabeth and Matthew went swimming at grandma's and I took Amelia skating at Landsdowne. Amelia is getting over a cold so wasn't allowed to swim but when we checked the skate situation we realized we hadn't done anything about getting Elizabeth new skates! Anyway, everyone was happy with the end result since they all got to have cookies at Grandma's.
You might also like
- Medieval Cook
(0.371975)
- Strike Day
(0.354953)
- Strike Day
(0.351254)
- Rachel and Andrew
(0.343634)
- Virtual School: Week 11
(0.342564)
All
December 3, 2019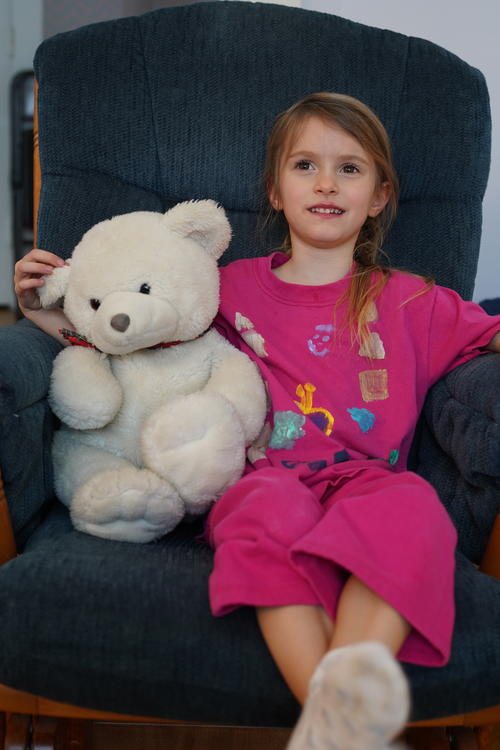 At four and a half, Amelia may be out of diapers but she's definitely still struggling on occasion. It's quite mind boggling how often she has accidents at school, especially compared to her siblings (we can't recall either of them having any!). In any case, Amelia is quite good at dealing with her own cleanup, to the point that her teachers didn't actually notice how often she was needing a change of clothing. Sigh.
Very creative, Amelia still loves to invent elaborate play worlds and adores playing with playmobile, fisher price, shopkins, stuffies etc. Really anything that she can use to make little plays with. Still also loves drawing. Her pictures have gotten much more sophisticated recently with snowmen and reindeer being popular at the moment. Recently she started drawing people upside-down the way Elizabeth used to.
Her speech is getting clearer but she still usually leaves off the "s" (no-men, nacks and no-shoeing). Seems to get along okay in school and her French is definitely making progress. She's inventing many fewer words now that she has more vocabulary which does make her easier to follow.
She seems to enjoy school and talks about many friends that she likes to play with.
As the baby girl of the family who has had more than her fair share of teasing by big brother Matthew, she has developed a habit of screaming in response knowing that by milking the moment she probably will get the advantage. Sadly for her we are now onto this strategy, but since Amelia tends towards the dramatic she does still tend to resort to screaming and crying when she wants her own way.
That said, she is generally a cheerful and happy kid with a pretty sunny disposition and she's especially fun to be around one on one without her siblings to annoy her. That doesn't mean she wishes she was an only kid; she especially loves playing with her brothers.
You might also like
- Amelia is five
(0.438976)
- Nine months
(0.438827)
- Amelia 20 Months
(0.430435)
- Amelia is 5 and a half
(0.429885)
- FIVE
(0.428839)
All
Elizabeth is hopefully running out of teeth to lose, because even though we've moved onto molars, the process isn't less fraught with DRAMA and BLOOD and GREAT GNASHING OF TEETH.
You might also like
- Movie Night
(0.247788)
- 1000 hours Outside
(0.247748)
- Throwback
(0.244565)
- Spring!
(0.242424)
- What's yours is mine and what's mine is yours
(0.241791)
All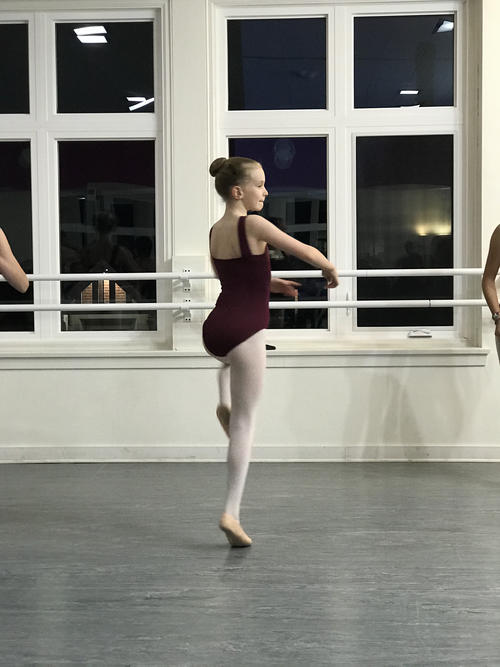 It was ballet viewing week so I got to watch Elizabeth dance. I was interested to see that she moved a bit differently than some of her classmates - I can see the karate influence lol. In particular her teacher corrected her hip movements more than the other girls. Elizabeth did appear to be having fun and she's certainly extremely graceful.
It will be interesting to see how long Elizabeth will be able to keep up this class in addition to karate.
You might also like
- Ballet and Paw Patrol Camp
(0.335211)
- First Grading for Erika and Maria
(0.323155)
- Kid Math
(0.303704)
- Grade 2
(0.297352)
- Father's day karate
(0.295775)
All
December 1, 2019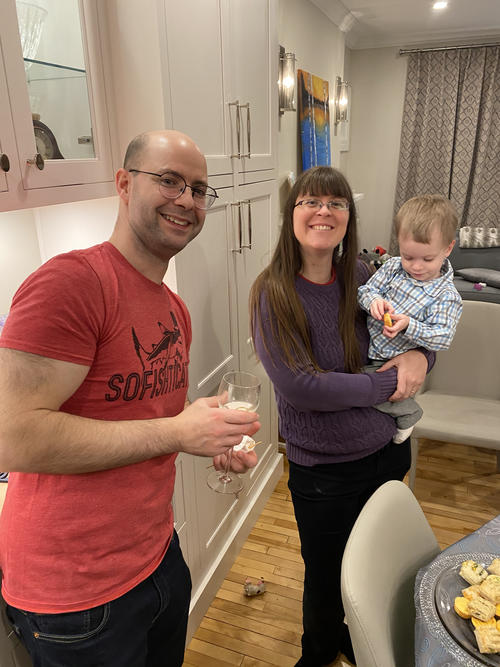 Despite some epic scheduling issues we managed to have a 2nd progressive supper with our neighbours. We even persuaded some new faces to come out this time. Everyone had a blast and hopefully next time we'll finally get the scheduling glitches sorted out.
You might also like
- Cookies with Grandma
(0.280335)
- The boys get haircuts
(0.270718)
- Grandma J Birthday
(0.269231)
- Ice cream party
(0.258824)
- End of August life
(0.258567)
All