December 8, 2019
Nutcracker time again and Matthew was invited for the first time, much to Amelia's chagrin. Amelia probably would have been ready but we thought that it wouldn't be fair to Matthew so she gets to wait another year.
It was the ballet with the bear and Matthew was captivated - at least by the first half. He couldn't stop talking about it.
You might also like:
-
Sleepover
-
Seed spitting and s'mores
-
The Dentist
-
Waterskiing, fish and clams
-
Hottawa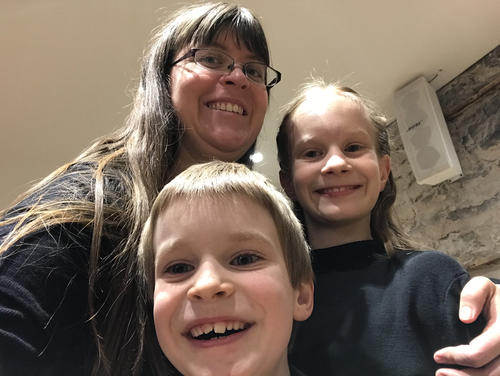 Matthew decided he wanted to sing the evening service for Lessons and Carols this year, partly because FIRE! and partly because "I just love singing so much". He worked very hard and because he's starting to be able to read it was easier than last year. He still had to memorize most of what he was singing. Some of the pieces were the same as last year which was helpful but also sometimes that meant that Matthew was a little overconfident and I had to remind him to look at his music!
He did great at the evening service, not wiggling too much, following along and also didn't set anything on fire.
Matthew was happy not to be the youngest member of the choir this year - that honour went to my friend Jessie's four month old.
Amelia actually thought about joining the choir but after half a rehearsal she gave it up and went to play in the nursery.
You might also like:
-
Come Sing Messiah
-
Carols and Lessons
-
Race Weekend (Children's Marathon)
-
Piano Recital
-
Sportball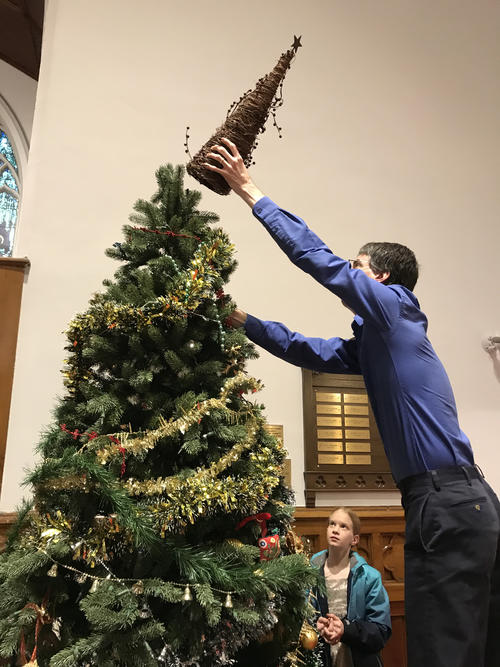 We helped decorate the church today. For some reason the star this year looked like a hat from a garden gnome with a tiny star on the top. (Some of the decorations seem to have been misplaced during the renovations). In any case, Brendan helped put the garden gnome on the tree, but we did later stage an intervention and went to buy a real star on clearance prior to Christmas. The increasingly crooked gnome star was hilarious but...
You might also like:
-
Decorating Tree
-
Ice Cream Festival
-
Christmas Cake
-
A masked visitor
-
Advent I
December 7, 2019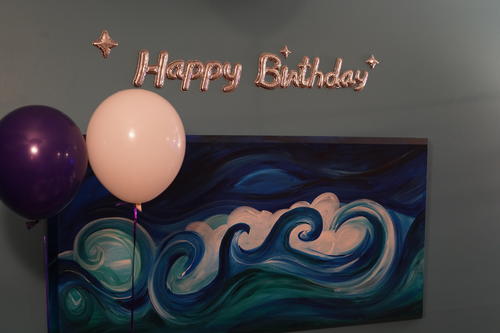 We decided to celebrate Auntie Mary's birthday with a cake after skating class, because Amelia pointed out that we hadn't gotten to sing happy birthday "properly". Plus two cakes in one day! (How could I turn that request down?)
Afterwards we headed to Auntie Karen's to celebrate Auntie Karen's birthday.
You might also like:
-
DQ
-
Museum and Birthday
-
O Tanjobi
-
Auntie Karen's birthday
-
Grading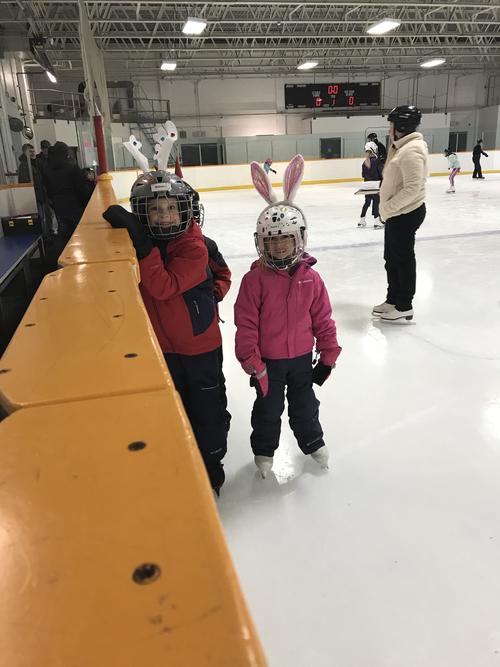 Amelia and Matthew took skating lessons right after swimming, which meant that we spent ten minutes hanging out underneath the dryer to make sure they had dry hair and didn't freeze and then drove from Dovercourt to St Laurent every week. Sometimes we stopped at home and Daddy took them to skating (but Mommy did ALL the swimming supervision) We scheduled an hour between classes and I was worried it was too tight but actually it worked out pretty well.
Amelia and Matthew made amazing progress in their lessons. Amelia went from shuffling around on the ice to passing the first two kinderglider levels. This is particularly amazing because her teacher was useless and that's being generous. Luckily the head instructor helped out a bunch, but Amelia spent significant portions of her lessons sitting on the ice instead of skating and one lesson she actually left the ice surface altogether without the teacher noticing (let's just say the teacher did not generally manage to capture Amelia's attention).
Matthew's teacher was great and actually paid attention to various kids. Matthew was more advanced than many of his classmates so she gave him quite a few extra things to work on. I wondered the first class whether he should have been sorted into the high instead of the low - he was kind of borderline - clearly one of the weakest "high" kids and the strongest "low" kid. Since he hadn't skated at all for quite some time (we took last winter off from lessons) I wondered if he was well placed but his teacher was so fantastic and he learned so much that we stopped worrying about placement early on.
He too passed more than one level - in his case he's about halfway through junior gliders. I suspect he's going to catch Elizabeth soon if he continues.
You might also like:
-
Matthew's first skating class
-
Skating
-
Virtual Piano Recital
-
Fall summer
-
Virtual school: Week 3
December 6, 2019
St Nicholas was eagerly anticipated by the children, although Matthew made it very clear that he knows this event requires parental involvement. We've never actually pretended that Santa is real, but I've been much more circumspect about St Nick. I do explain that St Nick was a real person that died long ago. Ironically, I feel that our refusal to tell fibs about Santa has made them more likely to believe. After all, most of their friends seem to think Santa is real so it's very strange that Mommy and Daddy keep saying it's a pretend story that's fun. In any case, the older kids seem much surer that this is a fun game we play. I gather they ARE puzzled by how we manage the donkey though.
Auntie Mary was here for St Nicholas for the first time so we enjoyed introducing her to the joys of selecting appropriate footwear and I think she enjoyed seeing this tradition close up.
I tried a new kind of gluten free licorice which turned out to have ammonium chloride as a main ingredient. Apparently this is a delicacy that you either love or think tastes like windex. I think it tastes like windex.
The last few years we've shifted St Nicholas to have European candy from the Dutch store, which I find both nostalgic and deeply satisfying.
Elizabeth's St Nick gift was games on her ipod and an inflatable boat. Matthew received a hot wheels race track. Amelia received a programmable kitten. Michael received a pop-up tent and tunnel/ball pit. I received a sweater dress, Brendan received new sweaters and Lorianne and Auntie Mary got tea.
You might also like:
-
Good Friday 2015
-
Apple Picking Reprise
-
St Nicholas Day
-
St. Nicholas
-
Egg Hunt
In the end, Elizabeth, Michael and I made it to all three rehearsals for this year's Messiah, but ducked out early for two of them. This was mostly because Michael really couldn't manage the whole thing and Daddy was already doing a lot of driving to get us to rehearsal and then the middles to skating and back without adding a second back and forth to the church. Matthew came to the second half of the first one. I'm sad to say that I didn't manage to find time to bring Amelia. She was a bit sad about that as well, although mostly she found the cookies I brought from snack time to be an acceptable compromise. Elizabeth was extremely helpful with Michael during rehearsals, though she did grumble a bit about missing parts as a result. Apparently rehearsal is no longer something to get out of :)
It was the first year that Alan Thomas didn't play the organ (Matthew Larkin has taken his place), but at least we had Alan for rehearsals.
Auntie Mary, Auntie Yukiko, Lorianne and I sang alto together, while Elizabeth and Rachel sang soprano. Elizabeth had been thinking about whether she wants to switch to singing alto (because that's what we rehearse and we have a critical mass). But she really enjoys singing with Rachel and apparently it's much easier to get a seat as a soprano.
You might also like:
-
Come Sing Messiah
-
Come Sing Messiah
-
Elizabeth is eight
-
Come sing Messiah Rehearsal 2
-
Christmas
December 5, 2019
Matthew insisted he needed to skip karate to come and watch Elizabeth's acro class, so Auntie Mary and I brought the kids to see the little show at the end. I was glad there were a lot of us because we were literally the only spectators. I was very impressed and frightened by how bendy this class is. Lots of impressive talent - including Elizabeth's friend Madeleine who has made a lot of progress in the walking on her hands department (something Elizabeth also aspires to)
I sent the kids home to bed and then headed back to watch the show at the end of the contortion class. This class is definitely right up Elizabeth's alley, that's for sure.
You might also like:
-
Magic Show
-
Siblings
-
Strawberry picking
-
Berry picking
-
Cold weather activities
December 4, 2019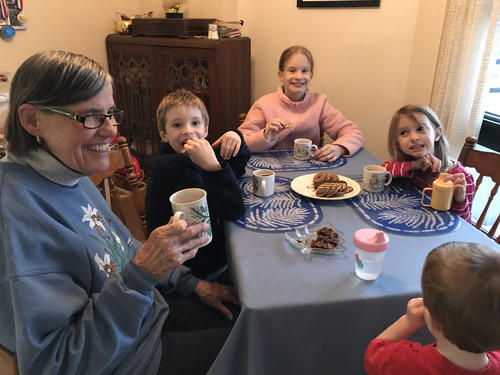 Ontario teachers are strangely objecting to the idea of increasing class sizes (and adding mandatory online courses) while not addressing problems like increased workplace violence and harassment. In any case, earlier this year the admin staff went on work to rule and now the teachers are also on work to rule.
Today our school was closed along with many others across the province as about 60,000 thousand teachers walked off the job.
We had school at home in the morning. Matthew practiced his reading and we all practiced our french and math. Elizabeth helped me with the littler kids. In the afternoon Elizabeth and Matthew went swimming at grandma's and I took Amelia skating at Landsdowne. Amelia is getting over a cold so wasn't allowed to swim but when we checked the skate situation we realized we hadn't done anything about getting Elizabeth new skates! Anyway, everyone was happy with the end result since they all got to have cookies at Grandma's.
You might also like:
-
Medieval Cook
-
Strike Day
-
Strike Day
-
Rachel and Andrew
-
PD Day