January 1, 2020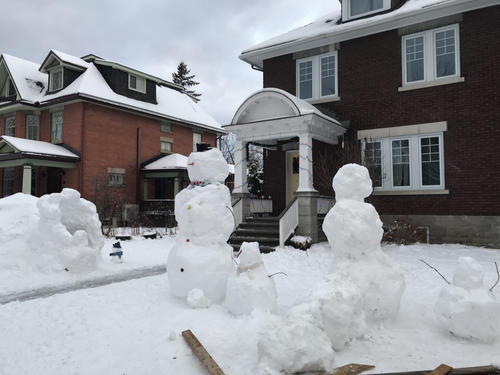 We started out the New Year by heading to the dojo for sensei Nick's annual workout.
Erika and Auntie Yukiko were supposed to join us but Erika was still not completely over her flu and Auntie Yukiko was ill by this point as well. We had fun!
After karate there was much playing in the snow outdoors and improving upon our snowman army. The kids built a second mega snowman - this time almost entirely without adult help. They built a snow ramp to support the wood ramp after the first wood ramp they used snapped in two under the weight.
We also helped build a very very tall one at Lauren and Ronnie's. Actually the first attempt was much wider but less structurally stable. Lauren said "Step back so I can take a picture as I don't think it will last long". So we did and before she got the camera up the whole thing collapsed to the great amusement of all. Ronnie and I (and Charlotte) rebuilt him as a very tall snowman with 7 layers.
There were quite a few other snowmen built on our street today - I tried to get a photo of all the snowmen!
Meanwhile Mila and Elizabeth were building a snow throne even as the sun went down...
You might also like:
-
Halloween
-
French Class
-
Happy Birthday Janice!
-
Junior Black Belt
-
Parc Omega
December 31, 2019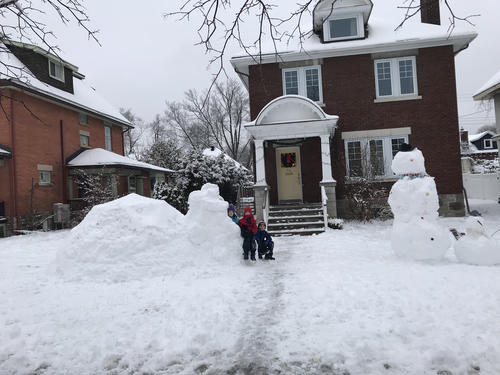 Perfect conditions for snowman building meant that we sent the children outside to play and they eventually insisted they needed help with assembling their GIANT snowman.
They had rolled a ball that conservatively weighed over 200lbs. Brendan and I had a go at lifting it before we decided we needed some mechanical aid and constructed a ramp out of wood to assist. It was still rather heavy to get the middle onto the snowman and we insisted the head be taller.
I spent a lot of effort shoveling snow onto the igloo - it wasn't quite the right consistency to cut blocks but this was good enough. We made an entrance to prevent bunnies from coming in and to cut the wind but I refused to close the roof "properly" because the whole point of using the playstructure as an igloo is to have a safe snow structure and avoid crushed children. I felt that the weight of the entrance was about at the limit of what was safe. The kids decided that they needed to have hot chocolate in the igloo and had a grand time playing there.
In the evening we were invited to neighbours' Lauren and Ronnie for a New Year Eve dance party! It was super fun. Elizabeth's favourite part was a limbo contest because she got to show off how ridiculously flexible she is. Then we did a countdown at 8:30pm and headed home for an early night.
You might also like:
-
River Oak
-
Messiah rehearsal, Santa parade
-
Virtual Piano Recital
-
Gingerbread
-
Climbing dome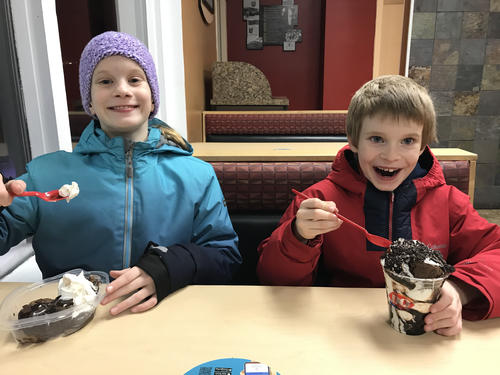 We went to Dairy Queen to celebrate the last karate class of the year
You might also like:
-
Uncle Dave's birthday party
-
DQ
-
Double Birthday party
-
Fifth Baptism Birthday
-
Daddy has a birthday
December 30, 2019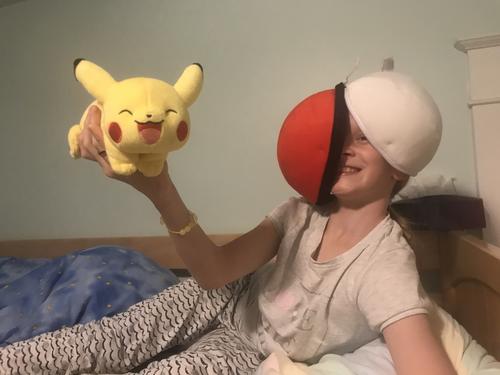 We started playing Pokémon Go with the rest of Ottawa in July 2016, but somehow we forgot to stop and we're still playing now.
The kids like to spin pokéstops and catch Pokémon on the way to karate. Actually they were starting to get bored and then a bunch of new features were introduced, like being able to have your buddy shadow you, and battling pokestops. Then we decided we really needed to have another account to trade with so we started over. Elizabeth has her own account and it's suddenly more fun to play because all the pokemon are new and we are going up the levels much faster.
You might also like:
-
Sleepover
-
Erika is 14
-
Sitting unassisted?
-
Photos in the snow
-
Happy Father's Day
December 28, 2019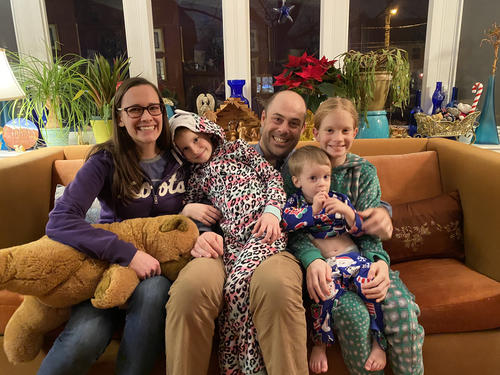 We drove down to Wellesley for our extended family Christmas, stopping at Auntie Muriel's house on the way where we got to visit with cousins and Lauren and Donna and Ryan and Rebecca. Amelia was not feeling too good; she had a cough and a fever and I actually checked with her doctor the day before to see whether we ought to cancel our trip. We got clearance to travel - just no food sharing, wash hands frequently and stay away from the baby!
By the time we got to the church for dinner though Amelia was feeling rather rough and I ended up spending most of the evening cuddled up with her in a separate room. Oh well! Her body temperature at one point dropped super low (35C) so she really appreciated her hot water bottle from Christmas that she had insisted she HAD to bring along with her. Of course after an hour or so she was right back up (39.4C) Poor Amelia! The other kids had a blast playing with cousins and eating all the yummy food.
Elizabeth randomly lost a molar (her first!). As one does. She agreed the tooth fairy could come later.
We then went back to Auntie Mary's hippo house to sleep. We all wished we could have stayed longer, but there was a storm rolling in so we drove back to Ottawa directly the next day instead of stopping at Muriel's again as planned.
You might also like:
-
London
-
Family Day
-
Auntie Muriel's
-
Good Friday 2015
-
Happy New Year
December 25, 2019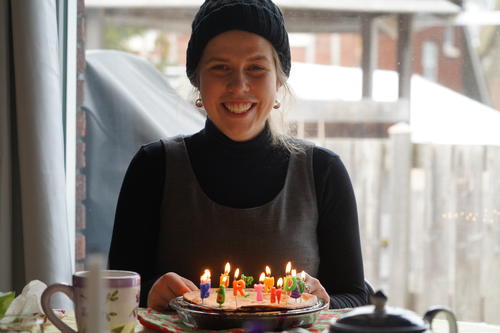 December 25th is Lorianne's birthday! The kids were excited because she stayed overnight! We told the kids they could open their stockings as soon as they got up so that us adults didn't have to get up so early so they did that before we were awake! Elizabeth tried to open hers slowly over a long time but apparently she got impatient and opened all her presents. There were hairbrushes, bracelets, elastics, books and candy and nail polish and a frame and of course a clementine in the toe. Her favourite stocking present was tinted lip balm. Matthew's favourite stocking present was "bubble bath" (aka a bubble gun in the shape of a dolphin that shoots bubble mix). Amelia's favourite stocking gift were three tiny porcelain bunnies. Michael liked the "tandy" the best.
After we woke up I had quite a lot of work to do to prepare for Lorianne's birthday and Christmas dinner. Elizabeth and Matthew felt this was unreasonable and wanted me to come and open my stocking. I remember always being annoyed as a child by my mom wanting to do the dishes before opening presents - it took TOO LONG. Now I understand my mom! LOL To be fair, the schedule didn't quite work out as I had hoped!
Anyway I had great fun making Christmas themed brunch for Lorianne with mini snowmen and fruit candy canes and fruit santas and cinnamon roll Christmas tree. Janice and Grandma J and Hibo all came for the birthday, and so we ate brunch and had blueberry pie in lieu of cake to celebrate Lorianne's birthday, including her family's tradition to say one thing about Lorianne that we liked (hard to choose one thing!). Lorianne opened presents and we opened some Christmas presents - but not all of them because I didn't want to have a Christmas where the birthday girl got to spend a chunk of her birthday watching people open a million presents. Instead everyone opened one present and we agreed with the kids that we'd open the rest during the whole season of Christmas.
Then the rest of the family arrived, except for Erika who was sadly very under the weather with a fever and cough. We had our cousinly gift exchange and ate much food.
You might also like:
-
Birthday five
-
Mary Day
-
Karate Tournament
-
Christmas Pukefest
-
Flying Squirrel