January 4, 2020
We celebrated Auntie Janice turning 33 at Uncle Dave and Auntie Karen's. There was giant Yahtzee (using dice Uncle Dave made!) and chili and cakes and presents!
You might also like:
-
Uncle Dave's birthday party
-
Sunday Dinner
-
Museum and Birthday
-
Two birthdays
-
Breakfast at Mary's
January 3, 2020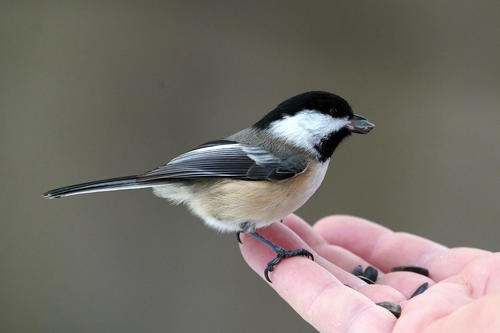 We decided to go feed the birds this afternoon with Michael and Caitlyn. Brendan came for the first time and very much enjoyed photographing all the birds.
We also brought also Simon from across the street to enjoy his first time. He was a complete bird magnet - they kept landing on him in a steady stream! The birds were very cooperative and everyone got to feed at least a few birds except our Michael who kept trying to catch the birds instead of feeding them.
We brought a sled along thinking Michael would like to ride in it even though Sarsaparilla Trail is very short and quite easy even for an almost two year old. Silly us - he wanted to PULL not ride. By self. Luckily Matthew is a very indulgent big brother and figured out a way to push the sled so Michael could imagine that he was pulling Amelia by himself.
You might also like:
-
Gatineau Park Ski
-
Family Day
-
LRT Grand Opening
-
Come Sing Messiah
-
Fish
January 2, 2020
The kids spent pretty much every waking moment outside today. At lunchtime they refused to come in, instead asking very nicely if they could eat in the igloo. At one point I counted four different sets of neighbour kids hanging out!
Elizabeth and Charlotte were going sledding and the kids thought this sounded like a great idea so we tagged along (taking Mila and Simon with us).
We had a great time sledding! Afterwards we made slime and introduced neighbour Elizabeth to the joys of Curious George.
You might also like:
-
Wheelchair races
-
Ski Club 3
-
1000 kicks and a party
-
Cottage Days: Visit with cousin Ryan
-
Chocolate
January 1, 2020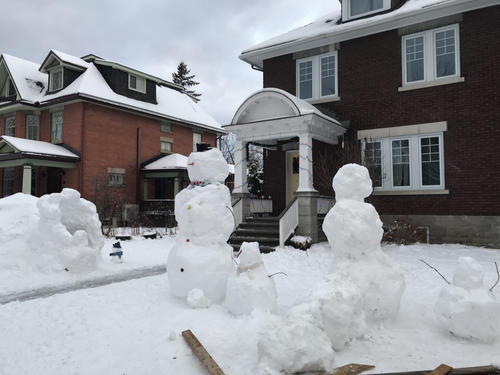 We started out the New Year by heading to the dojo for sensei Nick's annual workout.
Erika and Auntie Yukiko were supposed to join us but Erika was still not completely over her flu and Auntie Yukiko was ill by this point as well. We had fun!
After karate there was much playing in the snow outdoors and improving upon our snowman army. The kids built a second mega snowman - this time almost entirely without adult help. They built a snow ramp to support the wood ramp after the first wood ramp they used snapped in two under the weight.
We also helped build a very very tall one at Lauren and Ronnie's. Actually the first attempt was much wider but less structurally stable. Lauren said "Step back so I can take a picture as I don't think it will last long". So we did and before she got the camera up the whole thing collapsed to the great amusement of all. Ronnie and I (and Charlotte) rebuilt him as a very tall snowman with 7 layers.
There were quite a few other snowmen built on our street today - I tried to get a photo of all the snowmen!
Meanwhile Mila and Elizabeth were building a snow throne even as the sun went down...
You might also like:
-
Halloween
-
French Class
-
Happy Birthday Janice!
-
Junior Black Belt
-
Parc Omega
December 31, 2019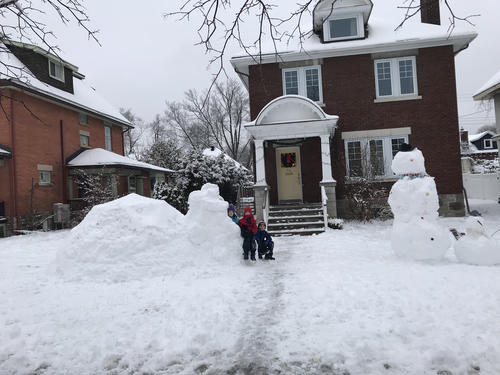 Perfect conditions for snowman building meant that we sent the children outside to play and they eventually insisted they needed help with assembling their GIANT snowman.
They had rolled a ball that conservatively weighed over 200lbs. Brendan and I had a go at lifting it before we decided we needed some mechanical aid and constructed a ramp out of wood to assist. It was still rather heavy to get the middle onto the snowman and we insisted the head be taller.
I spent a lot of effort shoveling snow onto the igloo - it wasn't quite the right consistency to cut blocks but this was good enough. We made an entrance to prevent bunnies from coming in and to cut the wind but I refused to close the roof "properly" because the whole point of using the playstructure as an igloo is to have a safe snow structure and avoid crushed children. I felt that the weight of the entrance was about at the limit of what was safe. The kids decided that they needed to have hot chocolate in the igloo and had a grand time playing there.
In the evening we were invited to neighbours' Lauren and Ronnie for a New Year Eve dance party! It was super fun. Elizabeth's favourite part was a limbo contest because she got to show off how ridiculously flexible she is. Then we did a countdown at 8:30pm and headed home for an early night.
You might also like:
-
River Oak
-
Mooney's Bay
-
Messiah rehearsal, Santa parade
-
Virtual Piano Recital
-
Gingerbread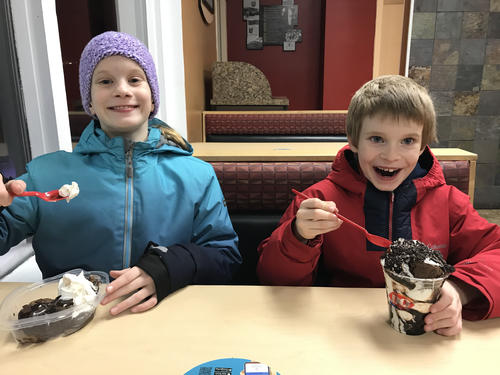 We went to Dairy Queen to celebrate the last karate class of the year
You might also like:
-
Uncle Dave's birthday party
-
Maria is 11!
-
DQ
-
Double Birthday party
-
Fifth Baptism Birthday