January 24, 2020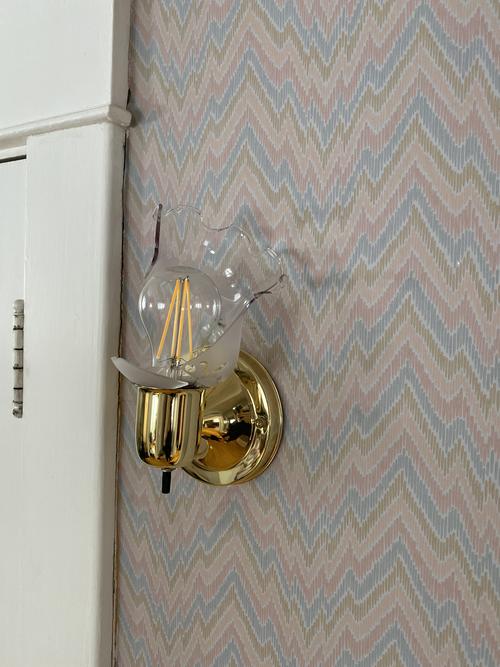 Bit of a rough week here.
An attempt to cook bacon in advance resulted in a kitchen full of smoke (and very very charred piggie) after I turned on the pot and then left for karate without actually telling anyone that the bacon needed supervising. Oops.
Then Matthew decided to slam open the hall door as he went thumping up the stairs. The smash was so loud Brendan heard it on the 3rd floor and went to investigate, but apparently Matthew was oblivious to the havoc he had just wreaked. Luckily the mirror didn't break but we are now apparently in the market for a new light. Turns out that brass fittings are out of fashion so it's not going to be easy to find a replacement.
You might also like
- Fish
(0.328969)
- Summer school week 4
(0.319118)
- Eight Years!
(0.314476)
- Cottage Days: Jack and Olivia
(0.314286)
- Apple bowling
(0.312782)
All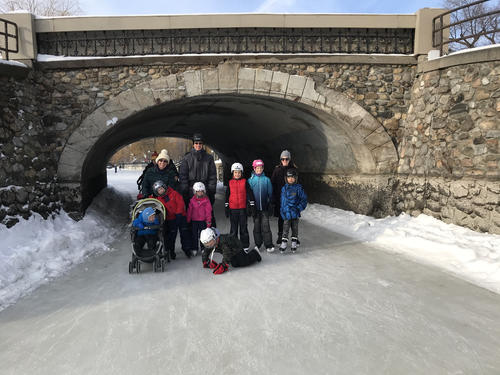 It was a PD day today, so we decided we should take advantage of the canal being open for skating. There are actually two sections open but they aren't attached - the section between Bank and Dow's Lake are very rough so only skate patrol like Janice gets to go through.
We met up with Bianca and Nico to go skating and brought along Simon from across the street. The boys raced along ahead and the older girls stuck together while I skated with Amelia who was determined to do the full open length again.
Grandma came too but needed to leave early. Since the ice was still quite rough we lent her Brendan and Michael to do the return trip to Patterson while Amelia and I carried on (and on, and on). We did see Janice and Matthew was quite happy to skate a while with her - I gather the pace the other boys set was inconsistent and he found it hard to keep up. I sent Nico, Simon, Elizabeth and Bianca on ahead to go right to the end and then stand in line for Beavertails. Unfortunately the Beavertails weren't open! Luckily we were first in line so we were able to indulge and treat Bianca to her first ever one! Nico is allergic so he settled for fries - I actually had forgotten this somehow when we were deciding on doing treats or not so I felt quite badly. In the end we all had a great time, though Amelia didn't do the section from Fifth to Waverley she felt satisfied with her efforts.
After skating we went home. The older two kids had a doctor's checkup, then Elizabeth went to her activities (ballet, karate) and Matthew, Amelia, Michael and Simon all played on Snow Mountain outside until it got too dark to see.
In the evening Grandma, Yukiko and I went to see the Wizard of Oz ballet by the Royal Winnipeg which was mesmerizing. There were lots of marionettes, including Toto. It was really well done. I found the sets and costumes truly amazing, especially the grasshopper/cricket costumes which I really want to show to Elizabeth.
You might also like
- Broken nose
(0.416094)
- Matthew's first skating class
(0.415415)
- River Oak
(0.40668)
- Ski Club 4
(0.406654)
- Family Day
(0.404941)
All
January 21, 2020
Erika got her first stripe on her brown belt! Matthew did NOT get a stripe, even though he's waggling his belt at us in this picture.
You might also like
- Stripes
(0.340909)
- Stripes and going to grading
(0.323529)
- Stripe
(0.318966)
- Third stripe on yellow
(0.318584)
- Erika has 2nd stripe brown belt
(0.303797)
All
January 19, 2020
The Canal is OPEN! Actually it opened yesterday but we were busy, the ice was not great and it was cold. Today was supposed to be warmer so we all went on the canal. I called Grandma and luckily she was free and met us there. Erika was having a sleepover so she tagged along. I tried to talk Yukiko and Maria into joining us but no luck...
Auntie Janice is working as skate patrol again this year and happened to be working. She met up with us at Patterson to say hi!
Patterson was a bit rough but the rest of the canal was actually not too bad. We skated the full length of the open canal (Waverley to Bank), even Amelia. Beavertails were acquired and enjoyed, despite the exorbitant fee increase ($7 for a Nutella one!)
You might also like
- Skating on the Canal
(0.352113)
- Skating on PD day
(0.337646)
- Canal #3
(0.332068)
- Canal with Angie
(0.331418)
- Music Recital
(0.323383)
All
January 16, 2020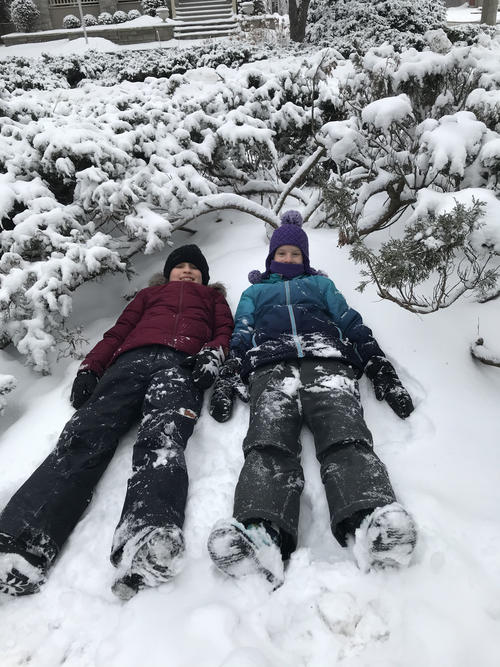 New snow meant extra shenanigans at the bus stop today. Elizabeth and Bianca made a giant snow angel each doing half of the angel and then joining the heads and bodies.
You might also like
- Snow
(0.248869)
- Snowman
(0.247967)
- Leader Board
(0.232143)
- New favourite way to get home from the bus stop
(0.230089)
- O Tanjobi
(0.228448)
All
January 15, 2020
There was another strike day in Ottawa. We went skiing first thing in the morning on the SJAM (our fourth outing). It was a little nerve-wracking as the hills are much more daunting on skiis than on snowshoes. Matthew and Elizabeth checked out the "big" hill first and declared it a bit icy but not too bad which gave Amelia the confidence to go as well.
I ended up carrying her poles home as she was finding they were getting in her way (and she wanted a tow). We only made it about as far as we normally do on snowshoes before Amelia decided she was so tired that she wasn't going to ski anymore so I thought we'd better go back. Matthew and Elizabeth were a bit annoyed but raced ahead so they could go up and down the big BIG hill five times while waiting for us.
Olivia picked Elizabeth up after skiing and they had a playdate.
In the afternoon we were going to go swimming at Grandma's but after the pool closed a day early we went skating at Landsdowne instead with Erika, Maria and Grandma. Maria initially refused to get out of bed but was persuaded in the end to come "watch". We brought skates in case she changed her mind - and she did! 20 minutes of skating later I was amazed by how much she's improved since last year. I think she was also pleasantly surprised, though she did claim that she was "not used to physical activity" and "got headaches if she moves around too much during the day", which was slightly concerning.
Neighbour Simon met up with us too and he and Matthew had a ball skating up and down. Matthew was chagrined to find someone much faster on his feet - but after all Simon is a year older and takes hockey!
After skating we went to Grandma's for cookies and hot chocolate before the evening's activities. Elizabeth and Erika had karate and Matthew had his first ever extremely anticipated shinny game. We did discover that he's going to need a different stick as he apparently shoots the opposite direction of the right handed stick we were told he needed in the store. Oh well!
You might also like
- Strike Day
(0.442117)
- River Oak
(0.434343)
- Pumpkin picking
(0.414141)
- Fall summer
(0.407407)
- 52 cm of Snow
(0.406513)
All