January 31, 2020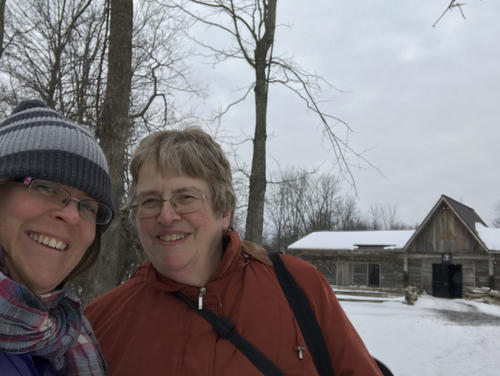 The canal has been closed all week due to the snowstorm that came in when Angie arrived. It reopened today, but the ice is listed as "poor" so we decided that instead of going skating on the canal we'd try out another forest skating place near Ottawa.
River Oak is much closer to us than Lac des Loups (about 30 minutes instead of an hour), so I was a little concerned that we might default here instead of returning to Lac des Loups (which I adore). Turns out there is no danger of that.
I'm not sure how the ice stacks up usually, but Angie and I both felt it was not nearly as well maintained as Lac des Loups. I overhead the owner talking about how they get the ice made when we arrived and he apparently makes the trails bigger and longer all through the season. His claim is that the ice improves the longer they are open. I wondered if they might be better off with a smaller ice zone that they can spent more time on, because aside from a small section the ice was fair at best. Lots of ripples and bumps across the surface and coupled with the significant elevation I was super uncomfortable. I did skate the whole surface (but only up the biggest hill, too chicken to go down it). Angie did a bit of skating around near the entrance but found the ice quality too poor to really want to venture far. There was also a distinct lack of seating (something that lac des loups does very well and we'd taken for granted). I'd definitely not recommend this place for beginner or uncertain skaters.
That said, it had a very funky vibe and encourages hockey players and shinny. The trails lead to several little hockey rinks in the woods which were surprisingly full of kids playing hockey given it was a weekday in the middle of the afternoon. The bathrooms are outside but heated and full amenity, and while we didn't check out the food trucks they had food and it smelled good.
I think that Elizabeth, Matthew and Janice need to go check out this place - I can see them having a real blast. I'd be willing to go back another time, but I'd take Michael in the stroller or call ahead and see what they say about their ice as I'd have more fun if I wasn't visualizing the rest of my winter in a cast!
Angie and I have decided that we will go back to Lac des Loups next year, and we'll also check out one of the other forest skating places that keep popping up. After all, we can't form a proper opinion without trying them all...
You might also like
- Calypso
(0.450433)
- Social Distancing: Day 3
(0.444043)
- River Oak
(0.439443)
- Hike in the woods
(0.438114)
- The Big Clock
(0.437233)
All
January 30, 2020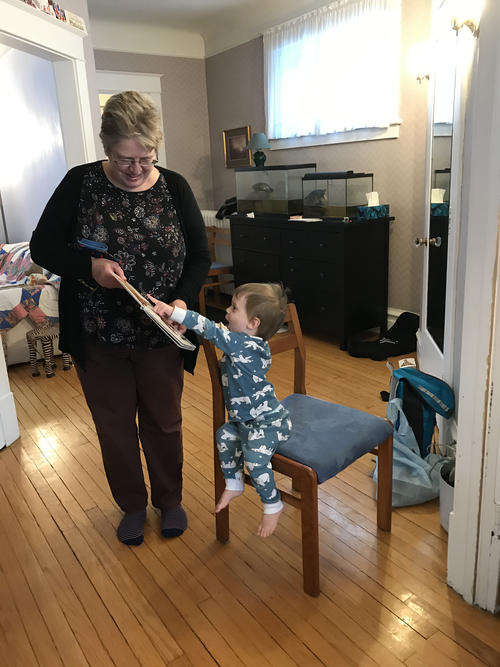 Angie is here again for her annual visit (the one in October was a bonus!). The kids are all very excited.
We had Karen and Dave and kids and Janice over on Saturday evening (no photos but I swear it happened!) and Lorianne, Chris and Yukiko and the girls tonight.
Elizabeth made a chocolate cake and fish on Monday because she wanted to make something "good" in honour of the visit.
We pulled the kids out of school a little early this afternoon for a trip to the toy store. It's always amusing to follow them around in a toy store and see what catches their eye. Michael saw a robotic elephant and immediately declared it his (ironically something Elizabeth has wanted for years and we never could find). It walks and trumpets and he loves it. Amelia hung around in the Barbie section for a few minutes before settling on a Barbie with baby horse. Then we watched Matthew dither. He considered hot wheels and tried to talk his way out of the "nothing that flies" restriction. We evaluated a shooting toy ("Won't he use that to torment siblings?" asked Daddy. Matthew: "Well...") He feels he has enough Lego. Finally he saw "spy stuff" and settled on a motion detector alarm. It's very noisy but he loves it so we are putting up with a certain amount of sirens at the moment. Elizabeth was the last to choose. All kinds of toys and games and she ended up choosing between a make-up kit or smelly, sparkly hair chalk. She must be a tween! We were a little surprised to discover at home that the make-up kit is actually for drawing make-up designs on paper. She's having fun doing that and I'm a little relieved that she's not experimenting with eyeshadow just yet...
You might also like
- Family Day
(0.399816)
- Good Friday 2015
(0.399809)
- Social Distancing: Day 20
(0.395713)
- Home
(0.392548)
- Welcome 2019
(0.3879)
All
January 29, 2020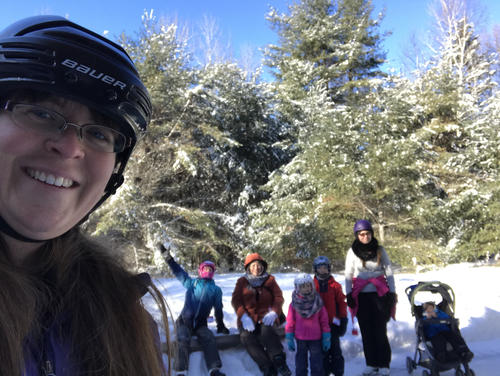 As per tradition, I pulled the kids out of school one day this week to go skating at Lac des Loups with Angie. Auntie Janice was able to come along too and I even brought Michael, though I only considered after we arrived that I didn't have a helmet for him! He was strapped into the stroller though so was safe enough. The ice was gorgeous and it was a beautiful warm sunny winter day. Glorious skating. Janice skated ahead with my older two and I skated at Amelia's pace. Janice, Elizabeth and Matthew ended up skating about 10km apparently around 9km/hour. I skated quite a bit less but I still had fun. When Michael was done sitting in the stroller we went in for lunch.
One thing that's new this year: indoor toilets! Big improvement!!
We had hot dogs and chili and hot chocolate for lunch (well, I had a sandwich). Janice brought a hot meal but somehow left it behind and had to drive to Wakefield later to retrieve it.
Then we skated some more. Amelia and Michael weren't going out again but then they changed their minds and had another short skate before we had to leave.
The kids already want to know when we can go back!
You might also like
- Lac des Loups
(0.428994)
- River Oak
(0.409857)
- Skating on the Canal
(0.393568)
- Bogonning
(0.388166)
- Party Day
(0.385781)
All
Maria has been taking an art class near us lately and we get to see some of her creations as we've been picking her up on the way to Elizabeth's late night karate class on Wednesdays. I really liked this gorgeous chat piece she finished tonight.
You might also like
- Karate PJ day
(0.313131)
- Skating season is over
(0.296296)
- Two stripes
(0.296104)
- Packing Snow
(0.295129)
- Spring has sprung
(0.288321)
All
January 28, 2020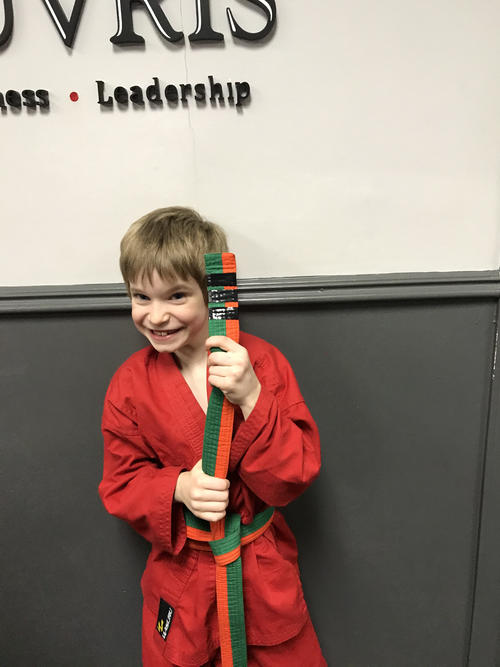 Matthew got his third stripe (along with being told he's very likely grading in February!) He's pretty happy because stripes mean donuts or Dairy Queen!
You might also like
- Stripes
(0.292208)
- Golden Lake
(0.255)
- Spa day, three stripes
(0.251232)
- Matthew's first grading
(0.248677)
- Third stripe on yellow
(0.248175)
All
January 25, 2020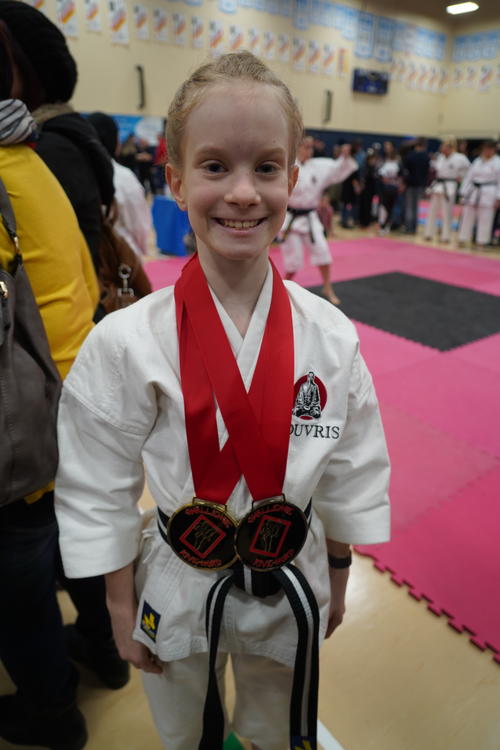 Today was the first karate tournament of 2020 and also Erika's first real tournament. There was some debate about going at all as there was a large snow/freezing rain storm forecast for the afternoon. After some debate we decided that we should be able to make it back before it hit. The girls and Yukiko all carpooled with Daddy to Montreal bright and early in the morning. Yukiko and Erika were both amused by the amount of French/lack of English.
First up was Elizabeth in traditional kata against 6 other kids including at least three from the host organization Sunfuki, two private students of sensie Suba and one wearing a Canada gi. Given that Sunfuki tournaments are known for a certain bias towards their own students we were absolutely blown away to see Elizabeth come in 2nd. Immediately afterwards she was up in classical kata. As there was no 10 and under classical category she competed up into the 11-12 category. Facing again 6 other very good kids daddy had double check to make sure the scores he saw were really Elizabeth's when she placed 1st! Elizabeth's kata has clearly made some amazing progress and she absolutely rocked it. As Elizabeth was getting her gold medal Erika was up in traditional kata and when daddy got over to take some photos he immediately realized that something was not right. Erika was in a line of all black belts other than herself. Since she's a brown belt there shouldn't have been any black belts in her group. Too late to switch as her real division had already finished we let her compete in the black belt group. Luckily her real sparring division hadn't gone yet and she had time to run over to it instead. She still got demolished by a super talented girl but we're sure it was less of a beating than she would have received if she'd gone up against the black belts... In the end she got a silver medal as she drew the lucky 3rd spot out of three girls. Then Elizabeth had her sparring match with 5 girls and would have been in a good position except that she drew the one giant monster kid in the group. This kid was easily double the weight if not more of the smaller girls and while Elizabeth managed to defend herself (if not score points) the smaller girls got absolutely beat up by this kid. It was to the point that both coaches (including her own) and the ref were telling her to go easier and she continued to wallop the other kids. Daddy was genuinely concerned that some of the other kids were going to get injured and felt that they should have disqualified her for failing to listen. Anyway a bit of a downer on an otherwise stellar tournament for Elizabeth. Her first silver and gold in a real tournament!
The girls then yakked all the way home and can't wait until the next opportunity to do it all again.
You might also like
- WKC Nationals
(0.460232)
- Nationals
(0.440236)
- WKC World Championships
(0.434109)
- WKC World Championships 2022
(0.429293)
- WKC Provincials
(0.419495)
All