February 6, 2020
Matthew was SO sure he was getting stripes on Tuesday and then he didn't get them and he was SO disappointed. Turns out it was an omission and today there was no mistake. He's going to have a green belt and he is very very happy.
You might also like
- Orange belt two stripes Matthew
(0.309942)
- Tomato seedlings
(0.29572)
- Grading
(0.290323)
- Red gi invites
(0.285)
- 1st Stripe Brown Erika
(0.283422)
All
February 4, 2020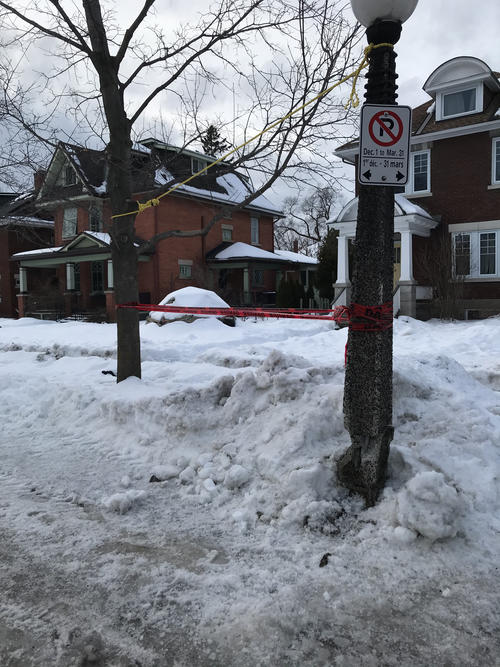 The snowbank eaters were scheduled to come and eat our snowbanks in the wee hours Monday. Brendan thought they were unusually loud - turns out he was right as the machines not only ate our snowbank but our lamp post as well.
The first we realized this was when Hydro showed up and tied the post to the tree. I was not super impressed. The following morning a crew did show up to remove the post altogether, replacing it with a bright orange pilon that presumably will grace our lawn until spring.
I'm not excited about the pilon as I think it's ugly and will go flying down the street but I am pretty happy about the prospect of a few months with less light pollution!
You might also like
- Good Friday
(0.316514)
- Skating!
(0.31145)
- Braking Leaves
(0.311334)
- Cutest thing in the pool
(0.310287)
- Rehearsal Dinner #RayCray2016
(0.308715)
All
February 3, 2020
Michael's French class is abruptly undergoing renovations so it's moved from the place on St Laurent to the Vanier Museopark. Michael was NOT AT ALL SURE about this, but we've stuck it out and he is starting to come around.
It's definitely challenging - they have to bring the toys, but today we made smoothies and went sledding outside which he adored.
In the afternoon he insisted on going outside to the bus stop to welcome his siblings home as he hadn't had enough of the snow.
You might also like
- Bus stop fan club
(0.327189)
- French class reno
(0.313107)
- Lac des Loups
(0.307692)
- Family Day 2011
(0.299803)
- Home Isolation
(0.297872)
All
February 2, 2020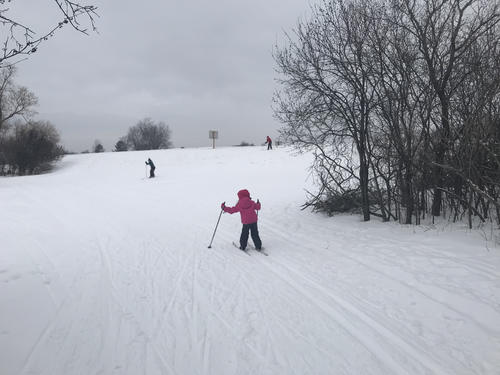 I probably OUGHT to have taken the kids to see ice sculptures and otherwise done winterlude stuff because next week apparently has a forecast of 5C.
I didn't register the forecast though so I took the older three skiing again and we hit a milestone on three fronts!
1) We've now been cross country skiing five times and have achieved half of our target outings.
2) Amelia actually skied by herself (with poles too!)
3) We made it well past the point that we always have to stop when we go snowshoeing.
Matthew and Elizabeth spent all their time skiing in circles up and down as many hills as they could find while waiting for us.
You might also like
- Gatineau Park Ski
(0.348802)
- Family Day
(0.348118)
- Three at a time
(0.345763)
- 2 weeks old
(0.345048)
- Siblings
(0.337815)
All
February 1, 2020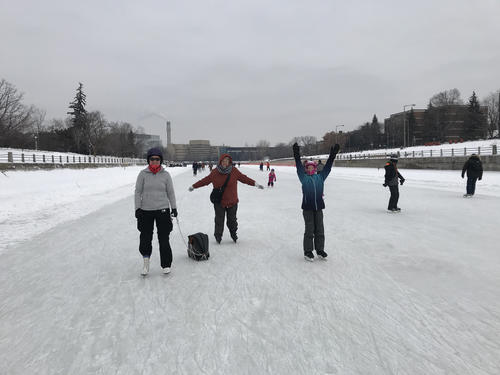 The canal ice was better today, so after breakfast with her friends I drove with Angie and Elizabeth to the canal and we met Janice there before her skate patrol shift.
We skated from Patterson to Delaware and then back. Angie thought she was being slightly reckless going skating two hours before she was due to board her train but luckily there were no mishaps.
All too soon it was time to say goodbye for another year. Despite some of my hooligans saying they were okay with Angie leaving because we have a bunny to console us this week, everyone already misses her very much.
You might also like
- Canal #3
(0.35259)
- Lac des Loups
(0.35)
- Life with two kids
(0.340949)
- Ollie Otter goes swimming
(0.33589)
- Canal
(0.335034)
All