February 28, 2020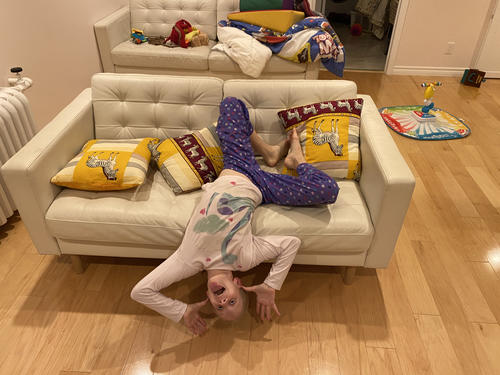 At 11, Elizabeth continues to be extremely athletic. Still highly focused on karate, she is working diligently towards getting her adult black belt. She's been taking private lessons with sensei Cody as she ramps up towards this year's world championships. She's working on more technique and especially confidence in her sparring, as well as fine-tuning her kata at a level that just can't be done in group lessons. She loves these sessions!
Elizabeth is very flexible and strong and seems to spend about half of her life upside down or in some kind of weird stretch. It's perhaps not surprising that her contortion class is giving karate some competition in the "favourite extracurricular activity" division.
This year she took up cross country and downhill skiing, and likes both. She is a very cautious downhill skier, as one might predict.
She's always been talkative but this year marks a definite increase in her desire to chat with her friends. Matthew calls the karate change room the "black hole of talking" because Elizabeth and Erika take so long to get out of there. Elizabeth frequently doesn't even need to change but always goes in anyway to gab with her friends and maybe do a handstand or two. Luckily kids these days don't seem to talk on the phone, but Elizabeth does like to text and send the odd email. Mostly she only has access to text with family. We can always tell if she's texting from a parental phone by the copious use of emojis. Now that she has her own device to text from she likes to send Mommy photos with drawings or funny selfies to emphasize a point. Her sense of humour is highly appreciated around here.
Eleven can be dramatic and sometimes snarky. Usually she has a pretty good attitude compared to many other tweens her age, especially if she isn't short on sleep. If she's very grumpy, sending her to practice piano still is highly effective therapy as it always improves her mood and that of those listening. Sending her to practice the violin is sadly the opposite story - she finds it very, very frustrating. It's actually improved a lot, but she doesn't think so. Still, she doesn't want to quit doing the class because she likes her teacher so much.
Elizabeth is still pretty organized, though she does tend to strew clothing all over her room. She makes lists and figures out her plans (just like mom). She's pretty self sufficient actually.
She's pretty patient with Michael, who adores her. She enjoys playing with him and is a great helper with him especially. She helps with her other siblings as well but often prefers to do big girl things on her own.
Elizabeth likes to invent stories and spends much of her free time writing them down in various notebooks or drawing pictures.
Her friend group is still the same core group of friends, but she had an easier time selecting only a few for her birthday. She seems to finally understand the concept that one can't do all the things with all the people. She likes this as little as I do. She says she has four best friends this year - Bianca, Olivia, Maddie and Samia.
Overall 11 is a fun age as she's still willing to be a kid but old enough to have some independence. It's neat watching her grow up and start getting glimpses of the lovely young woman she will be some day!
You might also like
- Double Digits
(0.498507)
- Now we are six
(0.484686)
- Seven
(0.481791)
- 4.5 and 8.5
(0.478362)
- Elizabeth is 12
(0.477414)
All