March 12, 2020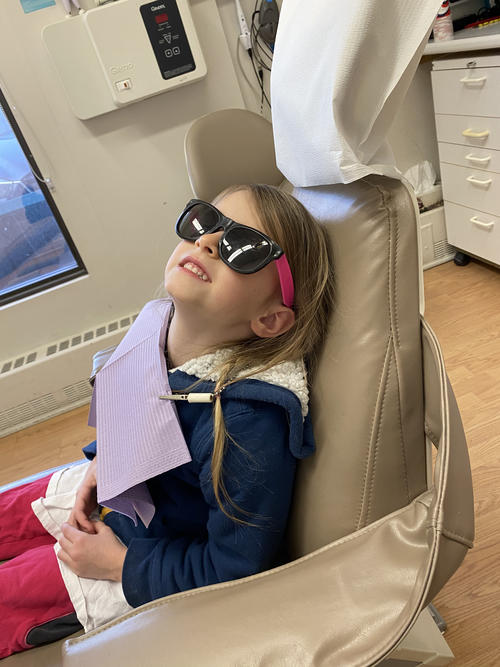 When I called to schedule dentist appointments for the middle two, at first they wanted to schedule it during March break. We were already thinking we'd be staying close to home soon, so I asked if there wasn't anything this week. Turned out they had a slot on Thursday and since they are both kids and it was Amelia's first visit they decided to book both of them in. Long story short I picked the kids up from school and Amelia had her first dental cleaning today!
Amelia was very much looking forward to going to the dentist - I can't imagine that she recalls her last visit since she would have been Michael's age but I was a little less excited. Neither Amelia nor Matthew do a great job of brushing or flossing and we've been slightly less than 100% diligent at checking up on them.
Amelia insisted on going first, and she was GREAT about opening her mouth. Actually the hygienist Lorna commented several times how amazing she was at opening wide.
Matthew was a little more nervous (he is apparently fully aware that he doesn't always brush his teeth well) and we knew going in that some of his gums were not in the greatest of shape. His teeth are also a weird shape and really hard to get clean. I was fully expecting him to have some kind of cavity but turned out he's done a good enough job for now. He was excited to get an extra toothbrush to help him clean his extra deep molar cavities.
Amelia unfortunately does have a small cavity developing on her front two teeth that will need extra attention for a while, but it's unlikely they will need to do anything about it before they fall out. So it was good news for us all around.
The kids were super excited to get to the treasure chest and pick TWO items, on top of the floss and toothbrushes. Amelia picked a ring and a rubber donut, while Matthew picked a gummy spiderweb and ?
They would like to go back very soon. I guess we won't wait two years, if only because we would like Michael to observe a visit prior to his first time. We would normally have brought him along but under the current circumstances we weren't comfortable doing that.
You might also like
- Virtual School: Week 37
(0.426485)
- River Oak
(0.423945)
- Home
(0.421373)
- Music
(0.415888)
- Virtual School: Week 20
(0.4115)
All
March 11, 2020
It's time to register Michael for preschool! Actually we could have sent him this year, but we were concerned about him hanging around while all his friends graduated. Maybe it's because he's our last baby but we wanted to have him around a bit longer...
Our plan this coming year was to send him for the toddler program, and do the preschool program the following year. Not sure what we were thinking because it turns out that he's going to be too old for the toddler program by a couple of months (!)
Anyway, today was the day to check out everything and so I took Michael off to preschool. He was a bit clingy at first but soon loosened up and he LOVED it.
You might also like
- Lessons and Carols
(0.356589)
- Jardin
(0.331828)
- Amelia starts preschool
(0.322511)
- Maria's first swim
(0.318982)
- Butterflies 2017
(0.317965)
All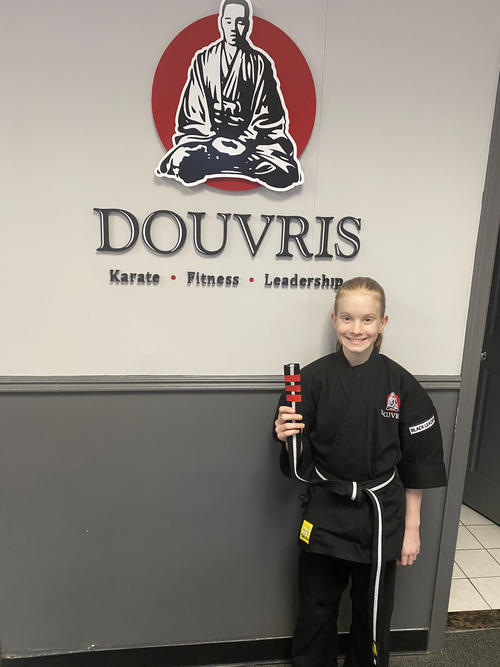 Elizabeth has received her third stripe on her junior black belt and is apparently going to get her full adult black belt in April.
You might also like
- Erika has 2nd stripe brown belt
(0.468085)
- Red stripe
(0.384615)
- Erika going to grading stripe on green
(0.362903)
- Stripes and going to grading
(0.330882)
- Second stripe
(0.315508)
All
March 9, 2020
Lorianne is planning to visit her brother in Sweden so we thought we'd have a quick dinner and movie night before she left! We let Elizabeth stay and watch Groundhog day with us.
You might also like
- Lorianne
(0.300847)
- Thanksgiving
(0.279167)
- Liz and Kurt visit
(0.278846)
- Joanne
(0.275591)
- Happy Birthday Rachel
(0.269531)
All
March 8, 2020
Despite a super busy day the older two kids still wanted to go to the Kids Kicking Cancer fundraiser at karate. Basically the kids all kick for an hour while jumping up and down and generally making anyone who is watching feel tired. Some of them take it upon themselves to dress up in super hero themed costumes. This year Cody really outdid himself and came as Captain Canada in a costume that he and his girlfriend apparently spent 7 hours making. Much fun was had raising money for a good cause.
You might also like
- 1000 kicks and a party
(0.344203)
- Cottage Pony by self
(0.297917)
- Pie Day
(0.297683)
- Fish
(0.297345)
- Indian summer
(0.29156)
All
March 6, 2020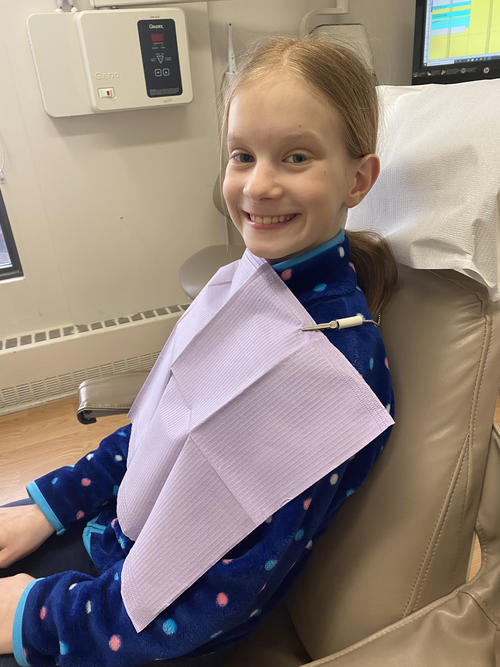 We're overdue for dental checkups by about a year (whoops) so I decided it was time to rectify that. Amelia was keen to get her teeth looked at, Matthew was keen to go get a toy and Elizabeth asked whether she could go "later".
Since it's been two years since our last visit I decided we might as well send the reluctant child first. After all, she has the most adult teeth to look after. I also decided that all of us at once might be too much of a good thing. My appointment was yesterday (no cavities! teeth and gums in pretty good shape! Maybe I don't need to go every year after all lol) and today was Elizabeth and Brendan's turn.
I'm happy to report that it was completely uneventful. She didn't volunteer to go first, but she did sit in the chair, open her mouth and have her teeth cleaned. Apparently she takes good care of her teeth. The other kids are all very jealous of the loot she brought home.
You might also like
- The Dentist
(0.407609)
- Dentist again
(0.374226)
- Fish
(0.372771)
- Thanksgiving
(0.364826)
- Maria's first swim
(0.360345)
All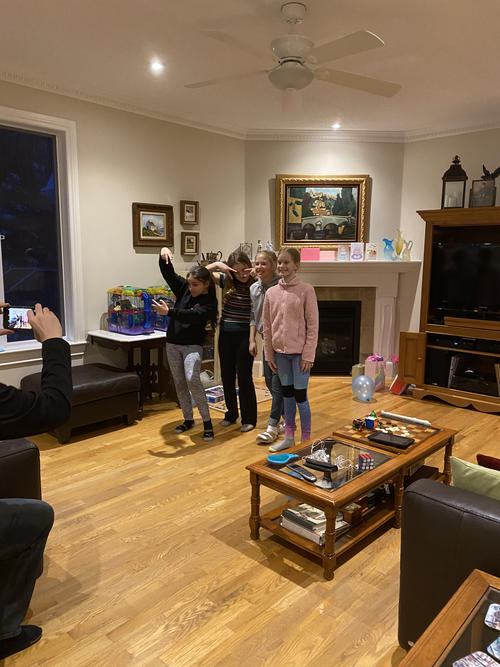 Elizabeth's friend Remy from karate wanted to have her over for a sleepover and Elizabeth's friend Bianca (from school) also wanted to have her over for a sleepover and it so happened that they both happened on the same weekend.
So I dropped Elizabeth off near Manotick Station Friday night, then I picked her up after bo class Saturday afternoon and drove her (and Matthew, who was also having a sleepover with Nico) to the Glebe. Then we picked them up on Sunday and drove them to karate for Kids Kicking Cancer. I went to church with the two youngest and Daddy stayed to supervise them. After Kids Kicking Cancer there was a tournament team practice, so Erika, Elizabeth and Matthew went to Tim Horton's for lunch in between and then just hung out at the dojo. Meanwhile Amelia, Michael and I checked out the new Farm Boy that opened by church along with a significant portion of the congregation. We got ourselves some lunch and then picked the others up from karate. I dropped them off at home and Elizabeth and I went to piano. What a busy weekend with not much Elizabeth in it!
You might also like
- Silly Sock Week
(0.349265)
- Holy Saturday
(0.344733)
- Muriel and Pat come to visit
(0.344165)
- Halloween
(0.340881)
- Summer school week 6
(0.340875)
All