March 15, 2020
The ski hills and sugar bushes are still open but we decided too risky. We'd also decided to do church at home. Then the whole congregation went virtual which was great as we got to listen to the sermon as a family while the kids coloured. Then we used zoom to connect with other jr church families for our junior church story and small groups. It worked pretty well.
We figured that it would be safe enough to visit Grandma J before things get too crazy here and go for a swim in her pool. We thought too that going swimming would be a more normal March Break activity for the kids.
I was slightly surprised the pool hadn't been closed to outside visitors, but I'm sure that will come.
The kids all enjoyed splashing around very much, and the cookies even more. Brendan took the opportunity to set Grandma up with video conferencing so we can have virtual play dates.
You might also like
- Strike Day
(0.33865)
- Camp Otonabee
(0.334239)
- Grandir Ensemble
(0.333333)
- Water baby in the pool
(0.33222)
- Easter egg hunt
(0.326478)
All
March 14, 2020
Our local toy store is closing down and I promised the kids that they could go to visit Mrs Tiggy Winkles and Lost Marbles (or Tinky Winkles as it's known around here) one last time before that happened. Their last day is March 22nd but we want to be limiting our community exposure and anyway I think the selection will be pretty poor after the weekend. Actually I nearly took the kids out of school early because we are worried about covid-19/corona virus but in the end we decided that we figure the medical system could still manage if we got it now.
We asked the kids not to touch items in the store, which was a hardship but they did comply. Michael didn't get to go in, but we texted him photos and he got to pick his own toy too.
By the time we were leaving it was starting to get quite busy - I was glad we'd scheduled it first thing in the morning! We did see many people we knew in the store - everyone is very sad to see them go.
Elizabeth picked a tie dye kit, though she strongly considered both thinking putty and a couple of stuffed elephants. Matthew looked at robots and lego and science kits, in the end settling on a slime making kit. Amelia picked a colour changing sequined unicorn, and Michael picked a lego fire truck.
You might also like
- Virtual Piano Recital
(0.387755)
- Social Distancing: Day 3
(0.386746)
- St Nicholas Day
(0.382786)
- Mooney's Bay
(0.37987)
- Strike Day
(0.379152)
All
It was pi (or should I say pie?) day, so we had chicken pie at lunch. We suspended our lenten dessert abstinence and I made chocolate and apple pies. A great treat!
You might also like
- Pi Day 2019
(0.265896)
- Ash Wednesday
(0.213592)
- Museum and Birthday
(0.204225)
- Karate injury
(0.204082)
- Theo is Three
(0.202532)
All
March 13, 2020
Elizabeth was scoffing at some of the changes in her life recently due to Coronavirus precautions. So I tell her the story of the grasshopper and the ant (la cigale et la fourmi). "Bah", she says. "Don't grasshoppers eat ants?" 😂
In her defense, this was prior to any cases being confirmed in Ottawa (current count is 3)
For those of you wondering what the state of the nation is for us:
1) School is out for the next three weeks. Some of my kids are more excited about extended homeschooling opportunity than others (we usually homeschool during breaks)
2) Panic buying is out in full force. Line-ups over an hour long at many stores. Just the line to drive into East end Costco this morning was backed up well down the highway. Apparently the fire marshall closed the Barrhaven one for being over capacity. Lots of gaps on the shelves of most stores especially toilet paper, bottled water, flour and canned goods. We've only gone into stores without crazy lines; they still exist and even Costco allegedly calmed down this evening - probably because they are definitely out of toilet paper.
3) City is mostly shutting down. All city facilities are closing until April 5 at least. Pools, libraries, community centres etc. Museums are closed indefinitely.
4) Elizabeth's dance classes have moved online. Her piano is offering an online option but will go ahead as per normal if we want for now. Karate is making everyone wash hands on the way in, no one is touching cards except staff, and there's no contact. People who are sick are being told they can't come. Otherwise business as usual. Michael's music class is on hold indefinitely. Amelia and Matthew's classes are on break for March break so I guess we'll find out the plan later.
5) Not seeing much impact at work yet, but we work from home.
You might also like
- Flying Squirrel
(0.402643)
- Airplane and skating
(0.400301)
- St Patrick\u2019s day
(0.400164)
- Amelia is three
(0.396082)
- Music Day
(0.393985)
All
March 12, 2020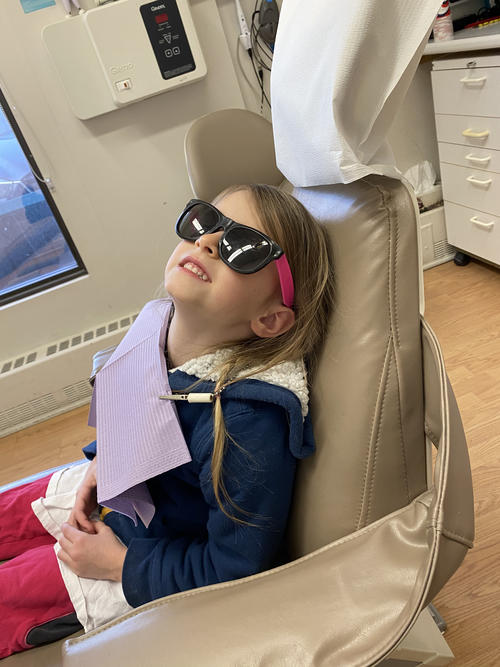 When I called to schedule dentist appointments for the middle two, at first they wanted to schedule it during March break. We were already thinking we'd be staying close to home soon, so I asked if there wasn't anything this week. Turned out they had a slot on Thursday and since they are both kids and it was Amelia's first visit they decided to book both of them in. Long story short I picked the kids up from school and Amelia had her first dental cleaning today!
Amelia was very much looking forward to going to the dentist - I can't imagine that she recalls her last visit since she would have been Michael's age but I was a little less excited. Neither Amelia nor Matthew do a great job of brushing or flossing and we've been slightly less than 100% diligent at checking up on them.
Amelia insisted on going first, and she was GREAT about opening her mouth. Actually the hygienist Lorna commented several times how amazing she was at opening wide.
Matthew was a little more nervous (he is apparently fully aware that he doesn't always brush his teeth well) and we knew going in that some of his gums were not in the greatest of shape. His teeth are also a weird shape and really hard to get clean. I was fully expecting him to have some kind of cavity but turned out he's done a good enough job for now. He was excited to get an extra toothbrush to help him clean his extra deep molar cavities.
Amelia unfortunately does have a small cavity developing on her front two teeth that will need extra attention for a while, but it's unlikely they will need to do anything about it before they fall out. So it was good news for us all around.
The kids were super excited to get to the treasure chest and pick TWO items, on top of the floss and toothbrushes. Amelia picked a ring and a rubber donut, while Matthew picked a gummy spiderweb and ?
They would like to go back very soon. I guess we won't wait two years, if only because we would like Michael to observe a visit prior to his first time. We would normally have brought him along but under the current circumstances we weren't comfortable doing that.
You might also like
- River Oak
(0.423945)
- Home
(0.421373)
- Music
(0.415888)
- Frosty Blades
(0.408278)
- Home again, home again
(0.406835)
All
March 11, 2020
It's time to register Michael for preschool! Actually we could have sent him this year, but we were concerned about him hanging around while all his friends graduated. Maybe it's because he's our last baby but we wanted to have him around a bit longer...
Our plan this coming year was to send him for the toddler program, and do the preschool program the following year. Not sure what we were thinking because it turns out that he's going to be too old for the toddler program by a couple of months (!)
Anyway, today was the day to check out everything and so I took Michael off to preschool. He was a bit clingy at first but soon loosened up and he LOVED it.
You might also like
- Lessons and Carols
(0.356589)
- Jardin
(0.331828)
- Amelia starts preschool
(0.322511)
- Maria's first swim
(0.318982)
- Butterflies 2017
(0.317965)
All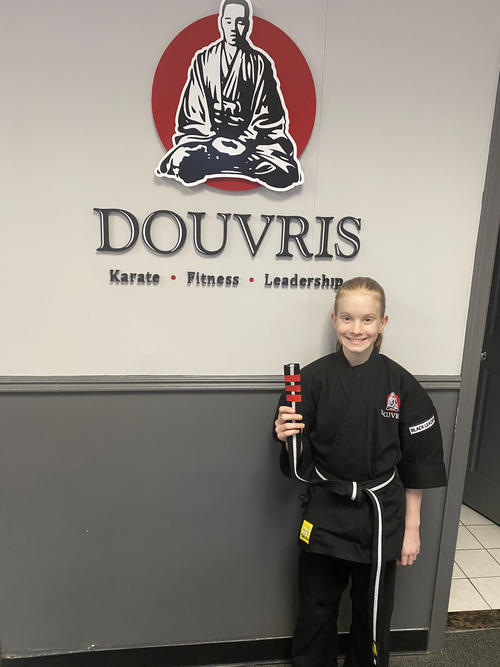 Elizabeth has received her third stripe on her junior black belt and is apparently going to get her full adult black belt in April.
You might also like
- Erika has 2nd stripe brown belt
(0.468085)
- Red stripe
(0.384615)
- Erika going to grading stripe on green
(0.362903)
- Stripes and going to grading
(0.330882)
- Second stripe
(0.315508)
All