March 25, 2020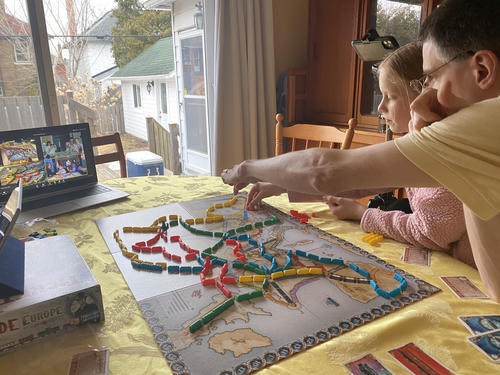 Sometimes we play a game called Roses and Thorns, where you talk about something good that happened, something bad, and something you are looking forward to.
So for today: My rose is that Elizabeth, Brendan and I played a very successful game of Ticket to Ride over the internet with Lauren, Anna, David and Lindsay. We each set up a board and a bunch of devices so we could see and talk to each other. We split the route cards in half, then we played!
But also the first time that the kids decided to play hairdresser. Apparently Amelia had the idea and Matthew carried out the deed. It could have been much worse. I had terrible forebodings when Elizabeth announced that she had just discovered that Matthew had cut everyone's hair, including the stuffy lion's mane. Daddy put Matthew to bed until lunchtime when he denied all knowledge.
Daddy: "You are COVERED in hair!" Matthew: "...."
After haircuts, Michael has a small bald spot at the top of his head. Matthew's hair is a 1/4" shorter than normal and the front is still a bit weird (but he didn't want me to "bald him" and I figured that it was good enough). Amelia has a rather crooked fringe which is honestly quite cute. I DO like bangs on her and it was never my idea for either of the girls to grow them out. She apparently wants to grow it back though, so we have left it for the moment and we'll see whether we shorten that one side to make it look a bit less lopsided.
You might also like
- Virtual Piano Recital
(0.407407)
- Lego April Fools Day
(0.397982)
- LRT Grand Opening
(0.397946)
- Fall summer
(0.393593)
- Piano Recital
(0.392622)
All
March 24, 2020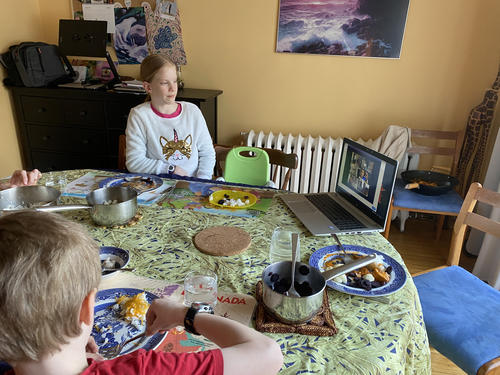 Probably what we're actually doing is closer to social isolation than social distancing, but this week is ALL about the setting up of virtual community and connections.
The schedule is now complicated enough that it needed to be written down a little more formally. I guess I'll post a photo when we get something more stable. This week is frustrating because we're still figuring out how best to balance work and homeschooling four kids. I'm really glad we've been "practicing" this, but we can't really afford to just let work slide the way we can when we normally homeschool in short spurts.
I need to keep reminding myself of the lessons from last summer, especially the one where I concluded that I simply cannot expect to get a quality one-on-one intense lesson on every topic in every day for every kid. There's just too many of them, and the age range is too wide to really expect everyone to be engaged in a group lesson. So we need to divide and conquer and be okay with some kids playing or having screen time while we focus on one child at a time.
Our local community center (GNAG) is doing virtual circle times so we logged on today and sang songs with Jason and showed off our favourite stuffies. Elizabeth had a violin lesson (sadly Matthew has no violin, so Elizabeth's going to get two lessons a week instead). We connected with Auntie Janice. There was another live karate lesson and Michael joined in too, briefly. "Yaya Karate? Beth Karate? Mahew karate? Me karate TOO!!!" Elizabeth had a ballet lesson and experimented with the best substitute for a ballet barre.
We went for a walk outside ("Not MORE zigzagging!" said Elizabeth. "I'm tired of zigzagging")
But the highlight of the day was a neighbourhood virtual zoom "dinner". It was super nice to catch up a bit with our neighbours. When this is all over, I think we'll have to have a neighbourhood feast!
You might also like
- Social Distancing: Day 3
(0.430726)
- Grading for a brown belt
(0.40481)
- Homeschool wk apr 6-9
(0.39984)
- 4.5 and 8.5
(0.396552)
- Virtual Piano Recital
(0.395833)
All
March 23, 2020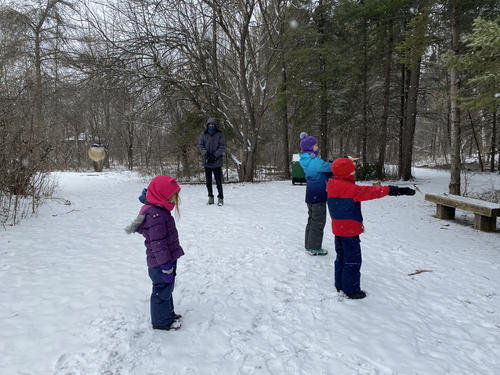 We are fully expecting a shelter in place order to be implemented in Ontario soon, so when we saw that the weather was cold and snowy we thought it would be a good day to try visiting the birds again.
This time when we got to the parking lot there was only one other car so we decided it was okay to go for a hike with some bird seed. It was super slippery with the fresh snow on top of ice and Matthew took a hard fall but after that we all were very careful and we had a great time. We did see someone else arrive in the parking lot a few minutes later but once we got on the trail we were completely alone and we didn't see anyone else again.
Elizabeth had great success with birds flocking to her hand but Matthew didn't want to take off his mitt so he only got one or two visitors the whole time. Amelia tried for a few minutes and then got bored and Michael spent the entire time trying to catch the squirrels and chipmunks. We had a really great time, which is good because I'm quite sure that given our experience on Saturday it won't be long before these trails are closed until the virus is under control.
While we were out in the woods I got a call from Spinnewyn to say they had received the last part of our recent order, but were closing for the duration in the next few hours. Then I was glad that I had decided to bring lunch along for the car as we detoured to the optical place. We'd been discussing all week whether getting new glasses was essential or not or if it could wait but my glasses have been repaired twice and sit on a noticeable angle and my prescription has changed. But the clincher was that Matthew accidentally banged his head into my glasses a few days ago and the lens has been loose ever since. I was relieved to discover that I was able to pick them up without coming closer than 2m to anyone else!
Since we were out and about and next to a grocery store, I sent Brendan into the Metro to grab the rest of the things that we had attempted to order online.
The kids have demanded a proper school day tomorrow complete with quiet time. Brendan thinks that there are nefarious reasons behind this sudden interest in quiet time.
You might also like
- River Oak
(0.438114)
- Summer Week 1 - Visiting
(0.424559)
- First outings: Music, library, karate
(0.42335)
- Field trip day
(0.421098)
- Social Distancing: Day 3
(0.420715)
All
March 22, 2020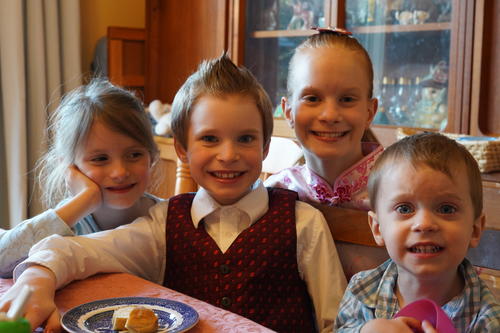 One of the last things on our winter list was our long anticipated winter feast. Since technically it is already spring and it is obvious that we are not going to be able to invite anyone to join us, we decided we'd go ahead with it this Laetare Sunday. A joyful Sunday seemed like as good a day as any!
First we had church-at-home and junior church on zoom and again it was really great. This week there was a baptism (Baby! Baby! said Michael) and music! Matthew was super engaged and so cuddly that I wondered if he was coming down with something. Elizabeth was cranky that her other siblings were playing with her kinetic sand.
Then it was time to work on our feast.
Starter (Hors d'oeuvre): Garlic Bread
Potage (Soup): Alphabet or green soup
Fancy Jello
Poisson (Fish): Cucumber, cream cheese and smoked salmon bites
Entrée: Chinese fondue with chicken
Sorbet as palate cleanser
Salades: Rooster salad
Fromage: Cheese platter
Dessert: Triple chocolate mousse bites
I had to substitute chicken noodle for the alphabet soup since the pasta was out of stock and our cheese platter wasn't quite as envisioned but otherwise we actually had everything we needed despite not getting to go grocery shopping for this specifically.
The kids were a bit overexcited but probably not as excited as I was about the jello. I've been waiting for a chance to play with my birthday present and this seemed like as good a chance as any. The kids even got to try their hands at it. More practice is definitely needed but the results were very promising.
You might also like
- Winter Feast
(0.420043)
- Flying Squirrel
(0.374885)
- Plasma Car
(0.373992)
- Virtual School: Week 10
(0.372659)
- Four
(0.371454)
All
March 21, 2020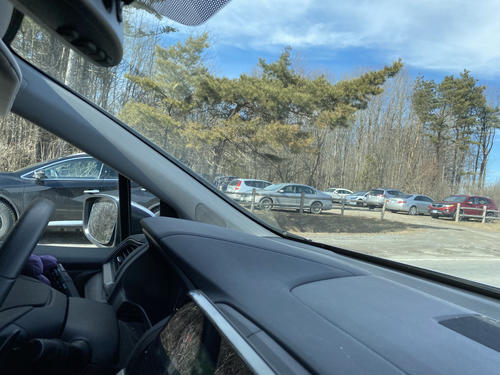 We thought we'd try getting groceries delivered. Our local Metro is no stranger to deliveries so we figured they'd be able to handle it. I've never ordered groceries online before so I was a bit worried about things like whether they would deliver mushy raspberries.
It turned out that was the least of my worries because due to food shortages we didn't get fruit. Or bread. Or bacon. Only one bag of milk (3 days worth). One bag of apples instead of three. One cream, not two. No yogurt. No alphabet pasta. In short, about half of our order didn't show up. Click and collect at Loblaws and most deliveries in our area are also now about a week out. So basically we need to go shopping again in the next couple of days. Oh well.
Then we thought maybe we could go for a walk on the greenbelt. It was a nice day, but Sarsparilla trail with the birds is a lesser known destination compared to Jack Pine. Yeah. Let's just say when we arrived, the parking lot was full. We pulled in to assess whether we dared get out of the car. The trail was a ZOO. While we were turning around, three more cars arrived. We drove a loop around all the various entrances to the greenbelt near there. Other places were so busy that cars were parked up and down the highway. It was very discouraging - at this rate the trails will get closed and then no one can enjoy them, but it was obvious that it would be impossible to social distance with that many people so we went home and played in the backyard.
Then the kids had various virtual live lessons all back to back to back. Elizabeth was first with a karate lesson, followed by Amelia and then Matthew with piano. I was pretty pleased with the karate setup as we got sensei Cody a side and front view. Not quite the same as being there but it was pretty good.
Our piano setup needs some work but we managed to figure out a workable solution and it will be even better next week.
In the evening Elizabeth was so tired she fell asleep on the couch while waiting for the other kids to go to sleep. She decided to go to bed early after that!
You might also like
- Social Distancing: Day 3
(0.43318)
- Ski Club 4
(0.427656)
- Hike in the woods
(0.416168)
- Dr Lynn is leaving :(
(0.4159)
- Ski Show and Douvris Halloween
(0.415295)
All