March 29, 2020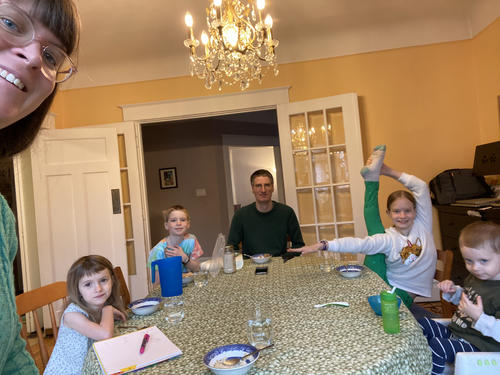 Elizabeth decided that we just HAD to have a week where everyone dressed the same. So she declared that we were going to wear red on Monday, orange on Tuesday, yellow on Wednesday, green on Thursday, blue on Friday, Pink and Purple on Saturday and Black and white on Sunday.
I actually wore red on red day (and Elizabeth wore red under her pink sweater). Pink was considered acceptable for red though. When we looked back at the photos we all got confused about which photo was red day because it's so pink. I hadn't yet thought of changing the tablecloth to match the theme - it was pink only because of Laetare Sunday the day before!
You might also like
- Twelfth night
(0.349272)
- Olympic skater
(0.34331)
- Red gi for Matthew
(0.327473)
- Waterskiing, fish and clams
(0.324165)
- Raclette
(0.322457)
All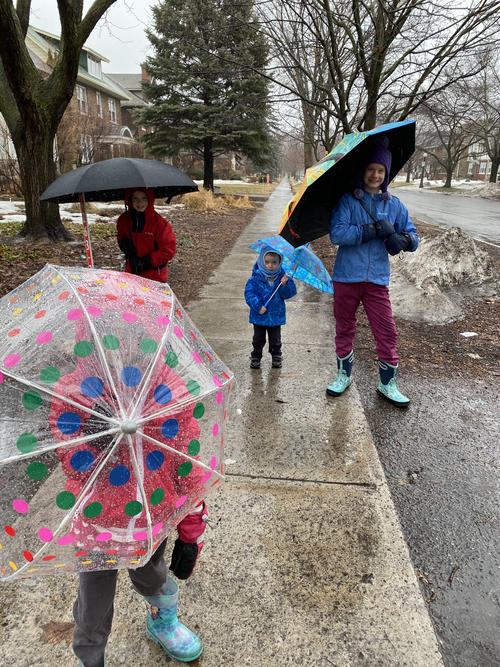 Our third Sunday in isolation and I have to say that I think I could get used to church at home. At least the part where I get to listen to the sermon every week and hold my husband's hand!
I made eight colours of play dough before the service for the kids to play with in addition to colouring their bulletins while they listened. This was very popular. Michael particularly liked stabbing his with a fork and growling.
Amelia somewhat wistfully pointed out that we used to have cookie time after church, so I even made chocolate chip cookies. We had them as dessert though, because by the time junior church is over it's lunchtime.
Junior church used breakout rooms in zoom for the first time to simulate small groups leaving. I was pretty pleased by how this worked, although I think there were still too many kids in the youngest group. In other news Matthew learned how to "steal" being the host from the liturgy leader. This caused a lot of confusion.
After lunch we told the kids they could each pick anyone to connect with. Amelia picked Auntie Janice, Elizabeth picked Erika and Matthew picked Auntie Mary. We had some lovely conversations.
Then I took the kids for a walk in the pouring cold rain. They (correctly) figured that no one else would be crazy enough to go out so they wouldn't have to duck and dodge. The observant will notice that Michael is not wearing boots. That's because he completely filled his boots with water on the LAST walk and they are still not dry. They squelched when they came off and water was streaming out of them.
After our (somewhat abbreviated) walk with the umbrella brigade, we came home for hot chocolate and marshmallows. Once we'd changed our wet stuff and warmed up a bit we settled down to watch Frozen II. I personally liked it better than the first one. Elizabeth had already seen it, so she told Matthew and Amelia when to put their heads under their blankets ("here comes another scary part! But don't worry, it's short!")

It was a pretty relaxing day. Elizabeth is definitely a tween now - she's started experimenting with different skin care regimens...
You might also like
- Easter Sunday
(0.419325)
- Social Distancing: Day 3
(0.417493)
- Virtual school: Week 5
(0.416313)
- Good Friday 2015
(0.41106)
- Grading for a brown belt
(0.409487)
All
March 27, 2020
Elizabeth picked a Tie Dye kit as her "toy" from Mrs Tiggy Winkles' going out of business sale and today she finally got to do part one as her shirt arrived (and was out of quarantine). She says next time she's going to use more dye, but in general she's pleased with the results.
You might also like
- University Buddy Day
(0.291317)
- Elizabeth lost (part of) a tooth
(0.287625)
- Pink Eye
(0.281967)
- It's a boy!
(0.276786)
- Strawberry picking
(0.276276)
All
March 26, 2020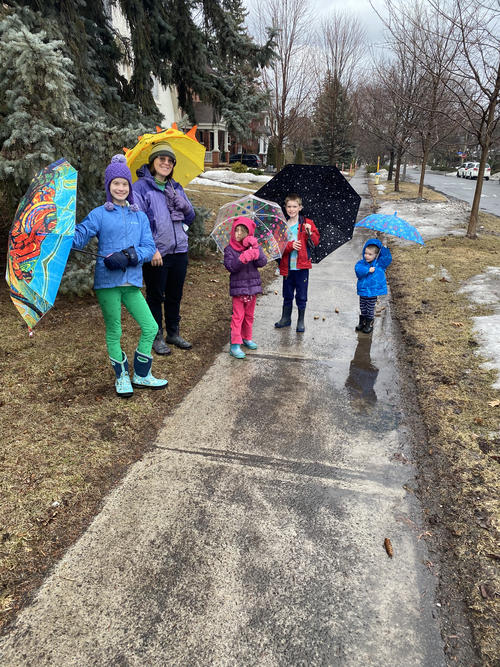 One thing that's interesting about mostly not going out (aside from how much less bookkeeping I have to do) is how quickly the days all seem to blur together in a kind of "Groundhog day" sort of way.
Part of our schedule has a "quiet time" built in at Michael's nap time. The kids are to do things by themselves in separate rooms and we are not to hear them. I thought they would object but surprisingly this has become one of the kids' favourite time of day. Matthew would prefer it if we would allow electronic devices though.
I certainly am not finding that it's much less busy around here or anything. We've started an initiative to connect the kids to their school friends on a regular basis, with the hope that they can speak french. I'm not sure how successful that's been but Matthew has really really enjoyed speaking with his friend Chloe the past two mornings.
It was raining when it was time for our family walk outdoors but that's just an excuse for using umbrellas, right? There had been thunder earlier but it subsided and we correctly reckoned this meant fewer people outside and thus less zigzagging required. People seem to be a bit more considerate now as well, tending to wait at intersections of the sidewalks or crossing into the street rather than forcing all the kids to dodge around them. Perhaps the news of our first Covid-19 death has made people take the 2m metre distance request more seriously. Perhaps there is hope that we will get some summer after all.
Today was Elizabeth's first live acro and contortion classes over Google Hangouts. Let's just say we prefer Zoom and leave it at that, but I think it went alright.
You might also like
- Social Distancing: Day 3
(0.428705)
- Mooney's Bay
(0.410101)
- Egg Hunt
(0.40708)
- 10 Months
(0.399619)
- Virtual school: Week 5
(0.396031)
All
March 25, 2020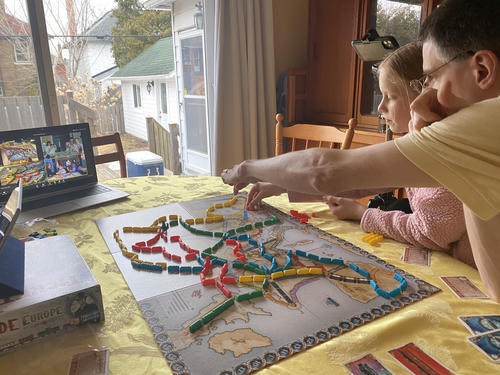 Sometimes we play a game called Roses and Thorns, where you talk about something good that happened, something bad, and something you are looking forward to.
So for today: My rose is that Elizabeth, Brendan and I played a very successful game of Ticket to Ride over the internet with Lauren, Anna, David and Lindsay. We each set up a board and a bunch of devices so we could see and talk to each other. We split the route cards in half, then we played!
But also the first time that the kids decided to play hairdresser. Apparently Amelia had the idea and Matthew carried out the deed. It could have been much worse. I had terrible forebodings when Elizabeth announced that she had just discovered that Matthew had cut everyone's hair, including the stuffy lion's mane. Daddy put Matthew to bed until lunchtime when he denied all knowledge.
Daddy: "You are COVERED in hair!" Matthew: "...."
After haircuts, Michael has a small bald spot at the top of his head. Matthew's hair is a 1/4" shorter than normal and the front is still a bit weird (but he didn't want me to "bald him" and I figured that it was good enough). Amelia has a rather crooked fringe which is honestly quite cute. I DO like bangs on her and it was never my idea for either of the girls to grow them out. She apparently wants to grow it back though, so we have left it for the moment and we'll see whether we shorten that one side to make it look a bit less lopsided.
You might also like
- Virtual Piano Recital
(0.407407)
- Lego April Fools Day
(0.397982)
- LRT Grand Opening
(0.397946)
- Fall summer
(0.393593)
- Piano Recital
(0.392622)
All
March 24, 2020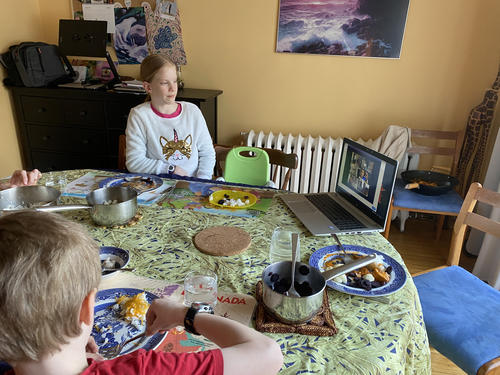 Probably what we're actually doing is closer to social isolation than social distancing, but this week is ALL about the setting up of virtual community and connections.
The schedule is now complicated enough that it needed to be written down a little more formally. I guess I'll post a photo when we get something more stable. This week is frustrating because we're still figuring out how best to balance work and homeschooling four kids. I'm really glad we've been "practicing" this, but we can't really afford to just let work slide the way we can when we normally homeschool in short spurts.
I need to keep reminding myself of the lessons from last summer, especially the one where I concluded that I simply cannot expect to get a quality one-on-one intense lesson on every topic in every day for every kid. There's just too many of them, and the age range is too wide to really expect everyone to be engaged in a group lesson. So we need to divide and conquer and be okay with some kids playing or having screen time while we focus on one child at a time.
Our local community center (GNAG) is doing virtual circle times so we logged on today and sang songs with Jason and showed off our favourite stuffies. Elizabeth had a violin lesson (sadly Matthew has no violin, so Elizabeth's going to get two lessons a week instead). We connected with Auntie Janice. There was another live karate lesson and Michael joined in too, briefly. "Yaya Karate? Beth Karate? Mahew karate? Me karate TOO!!!" Elizabeth had a ballet lesson and experimented with the best substitute for a ballet barre.
We went for a walk outside ("Not MORE zigzagging!" said Elizabeth. "I'm tired of zigzagging")
But the highlight of the day was a neighbourhood virtual zoom "dinner". It was super nice to catch up a bit with our neighbours. When this is all over, I think we'll have to have a neighbourhood feast!
You might also like
- Social Distancing: Day 3
(0.430726)
- Grading for a brown belt
(0.40481)
- Homeschool wk apr 6-9
(0.39984)
- 4.5 and 8.5
(0.396552)
- Virtual Piano Recital
(0.395833)
All