May 31, 2020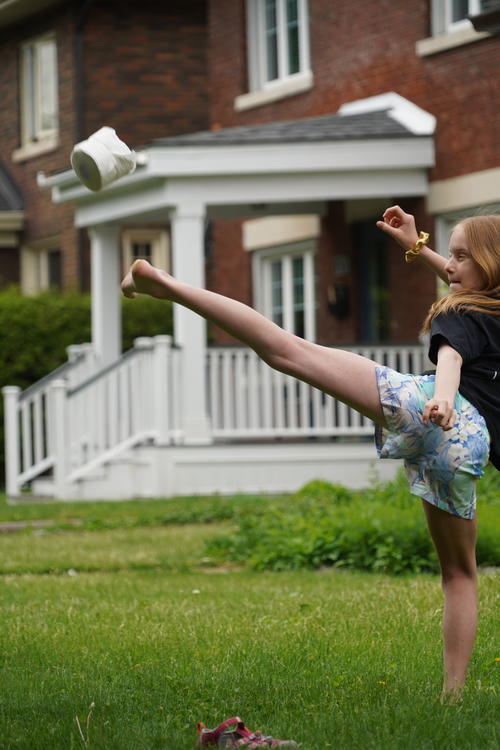 Another weekend, another virtual karate tournament. This time Elizabeth moved up and finished 4th in kata. Given the level of competition this marks a significant improvement and a very impressive finish. She placed 7th again in weapons. Matthew was tenth in kata but tried out the kicking and the TP challenge this time. Elizabeth tried to up her TP game by tossing it over her head and kicking it on the other side, but it turned out the judges were looking for more and she was disappointed with her finish. This time Erika came over to cheer the others on and to practice (at a distance) with Elizabeth before her turn. There was also some brief oooing and ahhing as the crewed mission to the space station aboard the Dragon spaceship was launched. Finally Elizabeth also participated in the pet trick challenge with Gabriel the turtle. All in all a very exciting weekend.
You might also like
- Grand Slam WKC virtual worlds qualifier #4
(0.363376)
- Mask Mania
(0.347905)
- WKC Battlezone
(0.347551)
- Virtual InHouse
(0.33377)
- In house tournament
(0.333333)
All
May 30, 2020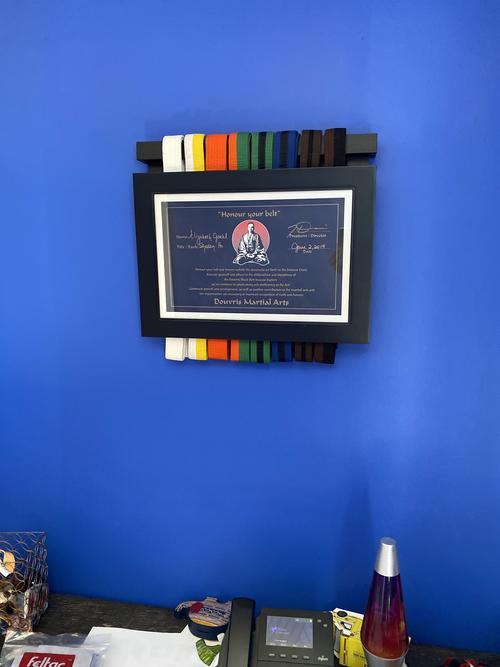 When Elizabeth got her black belt we realized that the certificate was something of significance and ought to be displayed properly somewhere. This got us thinking further and after some research into what other people do with their such certificates we decided that it would be fun to display the belts along with it. The problem was that we didn't like any of the commercial display options. Daddy foolishly said something along the lines of "I could make something better"... so roughly a year later time was finally found to take the various parts which had been procured for the purpose and turn them into a finished product. There was some hemming and hawing over exactly how to do it as the idea was somewhat conceptual but in the end it worked out pretty much as envisioned. After a few days of staining the wood and then trying different belt arrangements it was done and hung on the wall for all to admire.
You might also like
- Thanksgiving
(0.34874)
- Ballet
(0.341902)
- Pony Dancing
(0.340855)
- Birthday party
(0.340136)
- Apple Picking Reprise
(0.335019)
All
May 29, 2020
We started this month with some snow, so it seems rather fitting to end it with some rather spectacularly hot days. Getting to play in the paddling pool and the slip n slide is definitely a perk of doing school at home! The kids invented an obstacle course that they could do "for gym". There was certainly a lot of running and shrieking. Michael is our water baby who thinks nothing of dunking his head underwater - he's quite terrifyingly wild in the tub - but by the end of the second day he seemed to get over his certitude that he "not like it". We spent a significant amount of time outside, working on "our" gardens. We even ate many of our meals outdoors.
Amelia's teachers selected a geography theme this week "since Amelia likes geography so much". I was a little surprised by this, but perhaps fewer parents are sending photos of their activities? Amelia was the only kid in her small group (another kid did show up for the first five minutes) this week, which did not bother her in the least because she adores chattering away on zoom, at least to adults. Other kids apparently spend too much time fiddling with their background and they don't ask questions that she knows how to answer. She doesn't let her inadequate french vocabularly get in the way of the chattering either. She just subs in whatever she doesn't know in English. Sometimes with an appropriately french pronunciation and occasionally she just uses her own invented nonsense (what she calls "french fry language"). This can make her somewhat tricky to decipher. One of Amelia's projects was to make a little book about countries around the world. I'm actually not entirely sure what the original assignment envisionned but I was happy with what we came up with. Everyone had fun this week looking at the flags and then seeing if they can remember which country they belong to. Amelia also had fun doing a science experiment with ants. There was great debate over the best place to attract ants. She wasn't too sure about actually holding a plate with insects on it at the end!
Michael thought all the cutting and gluing for the geography project looked like fun and he managed to talk me into letting him use scissors too. The trouble with Michael and scissors is that he gets bored after a while and starts seeing what happens if he cuts the door. Or his siblings. Once he reaches that point it's fairly difficult to remove said scissors without worrying about him cutting me or himself, so I've been slow to allow access. He might be growing up because this time he asked first "Michael cut door now?" and went back to cutting paper right away as soon as he inferred that the scissors were going to go away if he tried unsanctionned activities. I might even let him do it again next week.
Michael and Amelia are still enjoying their zooms with french playgroup and the library.
Matthew did a lot of writing this week. I find it interesting that he and Elizabeth are both working on "le récit", and in remarkably similar ways. Elizabeth's is obviously much longer. He was going to do another survey but ran out of time. His classmates have stopped showing up for zooms, so Auntie Janice dropped by a couple of times and he got to chat on the telephone with his teacher. To be honest this probably meets the goal of forcing him to practice his oral french better than playing with backgrounds on zoom with his friends... He did a science experiment this week measuring the temperature of various containers in the shade versus the sun. The experiment ran from 4:15pm to 6:15pm. The damp earth in the sun was 35C and in the shade was 2C cooler. We trapped some air in our yogurt pots with plasticine. In the shade it was 33.5C and in the sun it was 37C but it was so hot in the sun that the plasticine melted so I'm not sure how valid a result that was. He also had to compare a damp paper towel in the shade and the sun. We folded them up to try and preserve moisture but the one in the sun was totally dry and inclined to wander around the yard within about 15 minutes. He claimed he could feel a tiny bit of wetness in the one in the shade but I couldn't.
This week Elizabeth finished up writing her story (about a magic door). At the end of the week she found out that she could either write a new story or keep refining her existing story. So she decided not to submit it! I should note that her teacher has stopped actually teaching in her twice weekly classes. Now the small group class is "an opportunity for questions about the assignments" and the whole class hangout is an overview of the work to come in the following week. Elizabeth did a pile of math and some grammar and reading assignments as well as a fairly lengthy assignment on Canadian parliament. Her favourite part was to create her own coat of arms. There was other art as well, including a game where one person does a scribble and the other has to turn it into a doodle. She was able to complete everything independently until she came to the last page of her math. Here's a line. It is 16cm long with markings of 0 at 0cm, 1 at 7.5cm and 2 at 15cm. The first line was pretty straightforward. She needed to mark intervals such as 0.5 and 1.75. The rest of it was ridiculous. For example, she was asked to find 0.45 on the line. That would mean she was expected to locate 3.375cm. She's still working on being able to accurately mark lines to the millimetre and it's not out of the ordinary for her to be one or two millimetres off, having not spent a ton of time working with a ruler. Trying to mark two decimal places using a standard ruler is a stretch in my opinion and three is just silly. Some kids don't even have access to a printer and are apparently having to complete this using a PDF editor. The mind boggles.
You might also like
- Homeschool wk may 11-15
(0.527317)
- Back to (virtual) school
(0.518686)
- Homeschool wk may 4-may 8
(0.510357)
- Child Labour
(0.496521)
- Homeschool wk june 8-12
(0.49195)
All
May 24, 2020
It's been quite warm the last few days and we've been eating most of our meals outdoors. This weekend we ate all except one meal out on the back deck.
Although it was cold in the morning, the kids have been extremely keen to drag out the paddling pool and go swimming. I promised they could do so after church.
(I took a few pictures to remind me of what church-at-home currently looks like.)
You might also like
- Rain rain go away
(0.311721)
- Artissimo
(0.31127)
- Cherry Picking
(0.310905)
- Bruce Pit
(0.30303)
- Not a butterfly
(0.3026)
All
May 23, 2020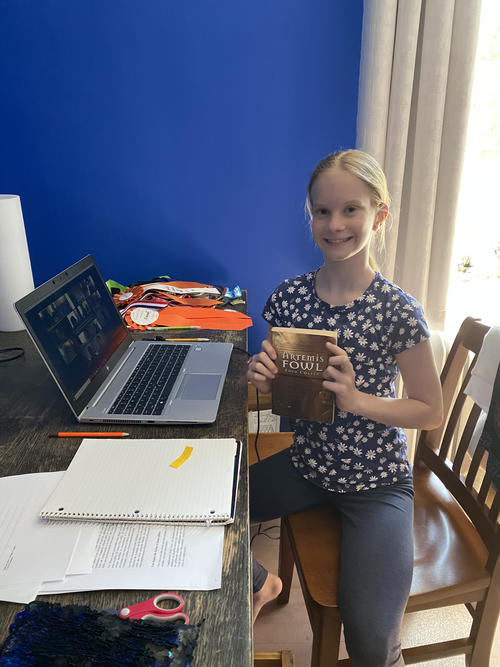 Elizabeth's karate dojo did a zoom version of bookclub. She likes real bookclub better but this was apparently an acceptable substitute under the circumstances.
She says:
"The book this time round was Artemis Fowl which is a story about a 12 year old genius who catches a fairy because he wants gold. I still can't decide if he's a good guy or a bad guy. I liked him but when the book was talking from the fairies' point of view then I was on their side.
At book club Sensei Nick's bird would say chirp chirp chirp whenever he or Madison said anything. It was funny. He also has a snake and I do not wish to meet it.
I got to plant a cookie in my mouth because one of our tasks was to plant something like Holly had to plant an acorn to get her magic back. I got to have lemonade and oreos because at book club we always get to eat stuff but this time we couldn't.
I liked it. Erika and Daria were there too."
You might also like
- Fish
(0.353752)
- Apple Picking
(0.348228)
- Mother's Day
(0.348045)
- Birthday parties
(0.342688)
- Roses and Thorns
(0.340909)
All
It was clear that the tulip festival would be a little different this year. All the festival activities were online. For a while, the NCC had put up signs forbidding photography in every tulip bed and there were discussions of digging up the tulips altogether. After a backlash cooler heads prevailed and it was decided people were allowed to photograph the tulips as long as they stayed 2m apart.
The weather finally warmed up enough for the tulips to emerge and we decided that the best shot at getting to see them would be bright and early in the morning while most sane people are still in bed. So right after breakfast we headed over and found that while a few other people had thought of the same idea it wasn't too busy. Most people were even doing a relatively good job of being respectful of other people's space.
There were still many many signs discouraging stopping, though the previous signs had been removed from the beds themselves. We had a nice stroll up and down the beds of tulips stopping only very briefly to photograph them and us. Nonetheless by the time we were done traffic was clearly picking up and getting to the point of being a bit more crowded than we liked. The tulips themselves were of course lovely as always and it was nice to get out of our space if only briefly.
You might also like
- Tree
(0.361282)
- Apple Picking Reprise
(0.349456)
- Mooney's Bay
(0.348502)
- Crystal Gardens
(0.347645)
- Sixteen Months
(0.34611)
All