June 27, 2020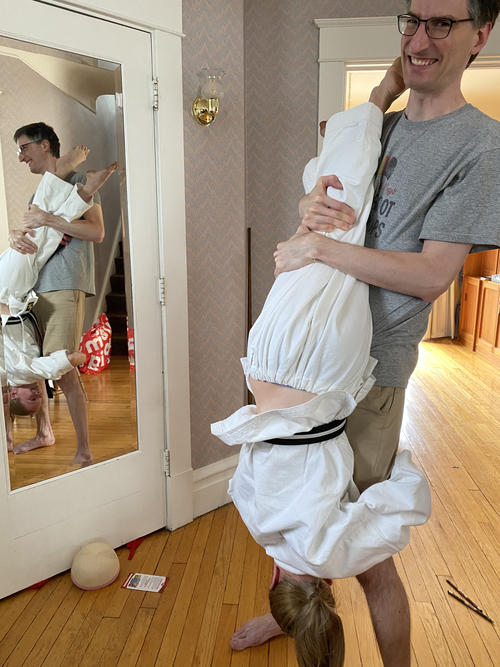 We tried to get back into the whole virtual karate tournament things again with Mask Mania. There was some angst about the weather as it was threatening to rain at any moment and in the moment we got the time wrong so we tuned in just in time to see the scores for Elizabeth's kata division. This of course totally threw everything for a loop and Elizabeth had to immediately run upstairs, change her gi and run outside to do her weapons division in a mad hurry. Predictably the results were less than stellar. Matthew at least was on time and managed an average performance for him. Oh well, a good lesson is recovering from mistakes...
You might also like:
-
Corona Cup
-
First bath; meeting Erika & Auntie Yukiko
-
13 months
-
Bikes
-
Opthamologist
June 23, 2020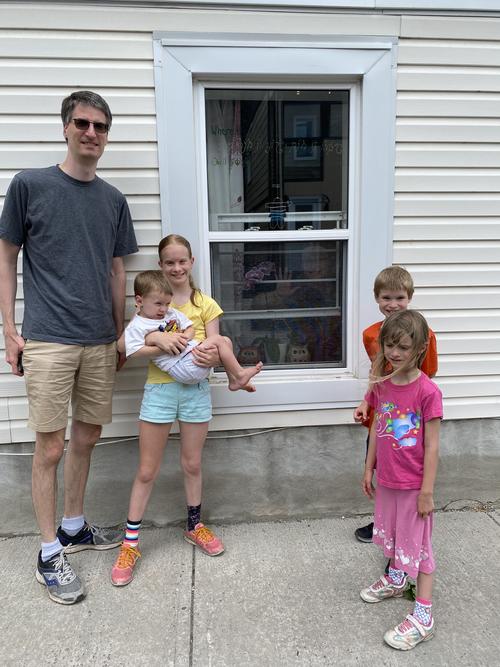 Auntie Janice has moved into a new apartment and the whole family went on an outing to get a tour from her window.
June 21, 2020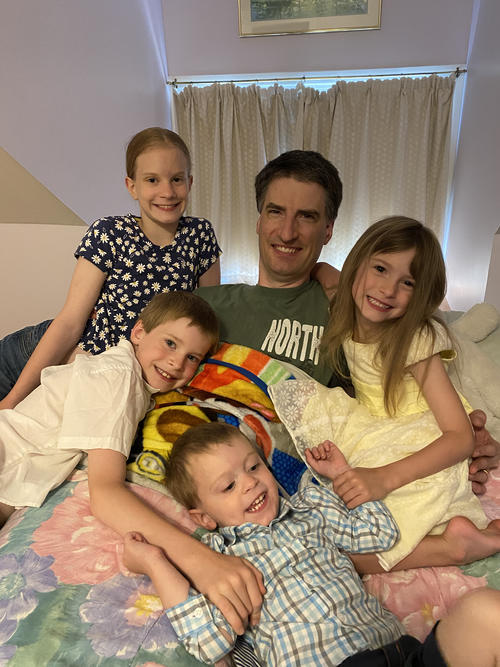 Daddy got to sleep in which is a true sign of love around here. The children made him a cute hand-print t-shirt of "daddy's wild animals". We then went to Sunnyside for lunch of palatschinken and marillenknödel with our bubble. It was Matthew's first time in a car since the beginning of the pandemic restrictions 90 days ago!
You might also like:
-
Christmas Day
-
Horseback riding
-
The boys get haircuts
-
Happy Father's Day
-
Terrible Tomatoes
June 20, 2020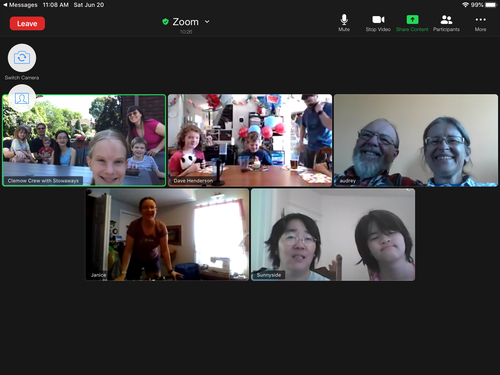 It was Theo's birthday! Uncle Chris was helping Brendan build a new bed for Elizabeth now that we can get together again, so he and Erika were at Clemow when it was time for the birthday zoom. I had cleverly made two cakes for Uncle Chris' birthday and set one aside so we were all ready to go!
You might also like:
-
Happy birthday Uncle Chris!
-
Happy Birthday Rachel
-
Chris has a birthday
-
Stripes, stripes, stripes
-
Museum and Birthday
June 19, 2020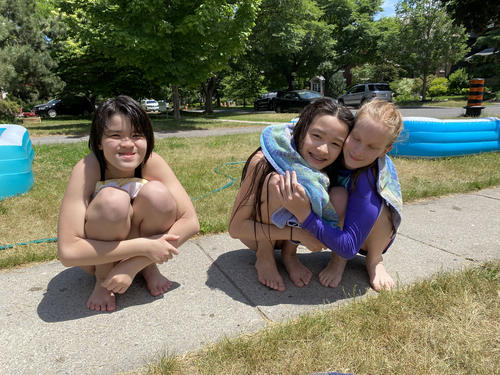 It's the last day of spring and the first day of summer holidays so we thought we'd better finally have our long anticipated "spring tea party" before it was too late for the second year in a row.
We invited Erika and Maria to come over with their bathing suits and we pumped up two of our paddling pools.
Then we brought out our tea. We had dolmades, cheese and regular gf buns, chopped veggies, a cheese platter, a meat platter, cake, cookies and of course tea. I made a fruity tea (cranberry orange), Earl grey and Mint.
It's 36.7C outside in the shade according to our garage, so the pool and shade was quite appreciated. I put all the food out on ice packs.
Michael splashed around, ate and then curled up and went to sleep on the porch just like a little cat. He's been pretending to be a cat rather a lot lately so I'm not sure this wasn't deliberate.
Auntie Yukiko and Grandma came by as well, so after a quick "swim" Brendan and I went back inside to do some actual work while the partying continued on outside.
You might also like:
-
Camping
-
Maria arrives!
-
Christmas
-
Strike Day
-
Canoeing