July 9, 2020
We started the day early with a bike ride. Grandma, Auntie Yukiko, Matthew and Maria went for a 25km ride. Elizabeth and Erika went off up the locks somewhere and I took the little kids for a ride across Flora bridge. I was melting by the time I got back and it was only 9:30am.
The kids really wanted to go backyard camping and in the past cousin camp has included backyard camping together, so we decided to do it this week as well even though it was stinking hot (well over 35C).
Originally Auntie Yukiko was going to pitch her tent too but she ended up having to work early the next day and given the weather she decided to pass.
Uncle Chris and Auntie Yukiko came for supper and we made s'mores on the BBQ. I had totally forgotten about our Jr Church program moving to Thursdays, so we had a little delay while Elizabeth and Matthew paused for their small groups. After they were done we had a virtual campfire with the Teevens crew. We sang songs and told stories and tried to prevent Michael from doing grievous bodily harm as he flung himself around inside the tent. The kids have scattered rock shrapnel all over the backyard in course of their experiments with fire starting, so there were limited spaces where it was possible to pitch a tent without risking damage. We put the bigger one on the deck and the popup where the tree used to be. Erika and Elizabeth opted for the popup which I thought was great because I was worried about raccoons down there.
The girls were too hot so they got up and wandered around outside. Daddy put them to work watering the garden. We opened all possible flaps under the theory that if it rained we wouldn't be more uncomfortable than we were in the sweltering heat. Eventually it got dark and Michael abruptly passed out but not without some protesting that he wanted Daddy. It was quite pitiful - he didn't want to leave the tent but the bedtime routine requires his Daddy and he was SAD. With the sudden silence the rest of our tent (me, Matthew and Amelia) were able to sleep as well. Unfortunately I did not sleep well at all - when various children didn't startle me awake then an emergency service vehicle would go by sirens blazing. I don't know whether this noise is normally muffled by our windows but I was not amused by the noise pollution. Certainly some of the houses around here don't have good A/C and it would be reasonable to expect that extended siren noises would be quite disruptive in the wee hours of the night.
Although I felt a bit like I was keeping newborn hours, we did have fun and the kids are already demanding to know when we can camp again.
You might also like:
-
Mooney's Bay
-
Race Weekend (2km, 5km)
-
Homeschool wk june 15-18
-
At Mary's
-
Halloween
July 8, 2020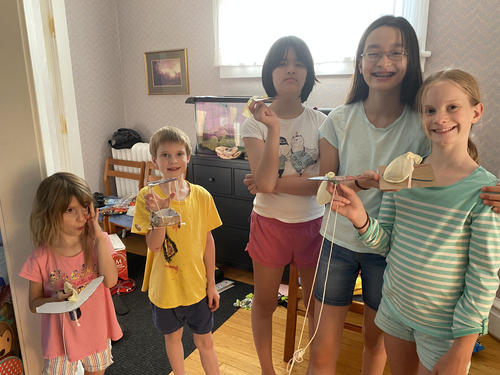 The cousin activity today was making balloon cars and airplanes. I had all the supplies requested and then cleverly recycled all of our cardboard for garbage day this morning. We did manage to find some that survived the purge but I was quite annoyed with myself.
The kids might have been slightly more interested in flying the balloons around the room without actually making the vehicles or blowing up the balloon until it popped, but most of them did make something with varying degrees of success. It was apparently amusing to see what the other cousins did over zoom as well.
You might also like:
-
End of year french class
-
Grandir Ensemble
-
Food kids demand we photograph
-
Christmas Village
-
Geoboard
July 7, 2020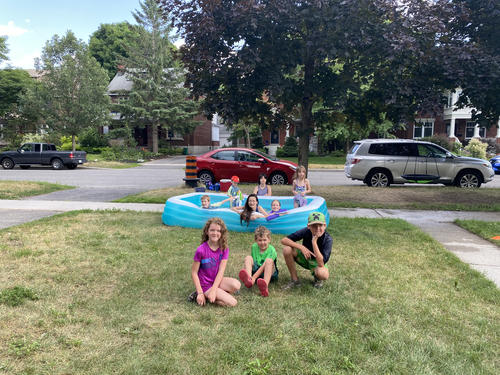 We thought it might be nice to have one day where all the cousins could see each other, if only at a distance. I suggested that cousins come to our place and we could play on playstructure equipment while taking turns. The kids also wanted to have a distanced water fight. I had an elaborate plan for swapping some kids to the backyard so that we didn't go over our legal limit of 10 people for a gathering. Maria had to go and pick up her passport at the embassy for her Japan trip so that meant that we were only 11 people right until it was time for Xander, Isabelle and Theo to leave. In the end we decided to just do a gathering of 11 and if someone asked about it we could always send one of our crew indoors.
Janice set up zones with cones and we rotated from one zone to another. One zone had the pool and soccer area, one zone had the playstructure (with sprinkler because otherwise it was far too hot in the sun) and the other zone had the swing and bubble machine.
I thought it worked okay although we could have used a second water gun filling station as this was a temptation for people to leave their zone.
First we had a water gun fight, then we tossed water balloons back and forth, then we kicked a soccer ball back and forth and then we had more water guns. It was a super fun afternoon, despite being a bit weird.
You might also like:
-
Apple Picking Reprise
-
Recital, Home Depot, movie night
-
Farewells
-
Piano Recital
-
Mother's Day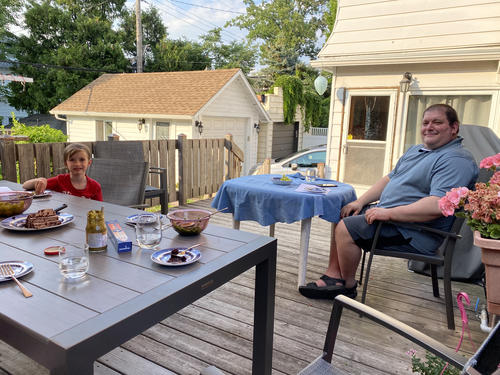 It was Amelia's baptism birthday! We decided it was time to celebrate at least one kid's baptism this year. Lorianne is in Winnipeg but we had Michael over for our first post-pandemic non-bubblemate meal (separate tables, two metres apart)!
It was a little different but workable and we had a great time.
You might also like:
-
Baptism birthday
-
Baptism Anniversary
-
Last day of grade one, Matthew's baptism birthday
-
Amelia baptism birthday, visit from Hayley
-
Canal part deux
July 6, 2020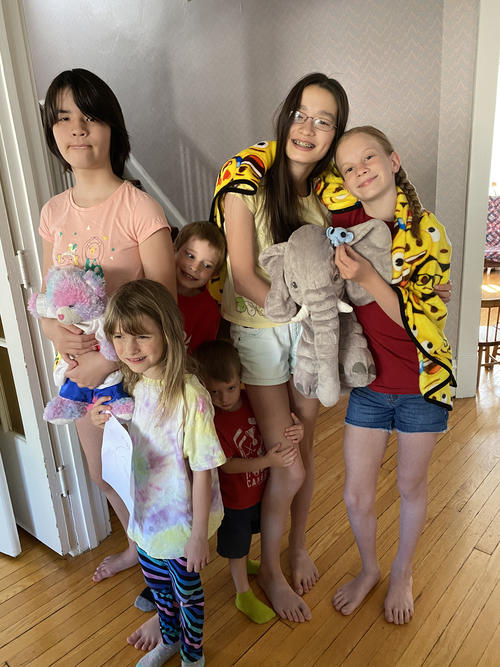 Auntie Janice had planned to run a cousin camp this week, but with the pandemic our plans obviously couldn't go ahead as originally envisioned.
Nonetheless we have planned to do cousin things all week. Today Janice challenged both bubbles to an emoji scavenger hunt!
We had fun finding all the items, but I didn't plan out our approach at all and wildly underestimated the amount of time it would take to find things. This ended up being super stressful when we were scrambling to finish in time to get Elizabeth to her online class (in the end we didn't manage - boo!).
Then we had to find books and I made the mistake of getting the kids to choose their favourites and instead of doing the scavenger hunt everyone wanted to read instead!
We took a little break and then came back to it after. This time we divided and conquered and it went more smoothly, however we never ended up finding ducks or bicycles as we were going to bike to Dow's lake and just ran out of time.
Erika and Elizabeth went to karate then we shared our photos over zoom with the other bubble and planned out the rest of the week.
You might also like:
-
Happy Canada Day
-
Mother's Day
-
Wedding prep
-
Social Distancing: Day 9
-
Science by Night
July 5, 2020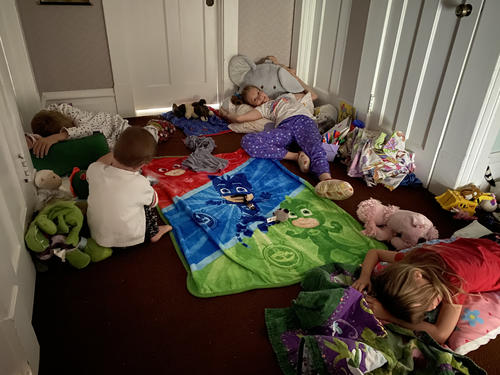 One of the ideas on this summer's bucket list was to have a "lazy day". So after church the kids put back on their pjs, dimmed all the lights (including putting cushions to block windows where the curtains were deemed insufficient) and had a tea party.
Apparently the idea was that they had to "relax" for 30 minutes with their stuffies before they were allowed to have the tea party, but predictably the younger kids weren't doing it right so after a bit of a kerfuffle Amelia went off to do a lazy day "playing by myself without annoying people around me". "Mommy? Can I tell you something? That was just TOO LONG to be quiet!"
Elizabeth was inclined to cancel the lazy day altogether if "no one else knows how to be lazy but me" but Matthew fetched her some tea which considerably smoothed rumpled feelings and Michael gave her some "tisses". Then the remaining kids watched many hours of inspector Gadget en français (Amelia doesn't like Inspector Gadget so declined to participate).
It was a very lazy day.
You might also like:
-
First day of Holidays
-
Piano Recital
-
Fall summer
-
Come Sing Messiah
-
Roses and Thorns