July 21, 2020
There hasn't been a kids triathlon in Ottawa for a number of years now and with a global pandemic in full swing it might seem like the last thing you'd expect us to be doing, but seeing as the group that runs it had already prepared materials including having medals made they actually encouraged folks to run their own home triathlons. Dianne did a huge amount of both figurative and physical legwork organizing the details, including painting and plumbing so that there would be bathroom facilities available! There were 24 participants in total, with four doing their triathlon elsewhere and the rest meeting up to do a distanced race at David and Dianne's.
The actual race was as her place as they have a pool and live on a fairly secluded stretch of road right next to a long walking/biking trail through the woods. All in all a pretty ideal spot.
Bright and early (too early) the whole family piled into the van and loaded bikes on to the back (making use of our amazing although somewhat lonely and forlorn bike rack). Erika had slept over to save herself the 6:00am bike ride to our place and Grandma even pried herself out of bed before anyone ought to in order to come and watch Michael so that Daddy could go along and act as the official race photographer.
Each heat was set up with kids of similar abilities so that they could have some sense of racing, but only heats of 2 so that we could easily keep our distance. There was extra time between heats to make sure we weren't all crowding together.
The kids started in the pool with David recording start times and counting laps. Amelia swam 3 lengths (20m), Matthew 4 (25m) and Erika and Elizabeth did 43 (300m). The older girls were a bit concerned they were going to get dizzy with all the turning around as the pool is only 7m long but it was fine. Elizabeth decided to compete in Erika's age bracket to keep her company despite it being roughly 3 times the distances (and it isn't like she isn't fit enough to do so). They then dashed out of the pool and out to the bike coral (aka the driveway). Then off into the woods for a bike ride and back to drop their bikes and run up and down the road. Amelia biked 500m, Matthew 1.5km and the older girls 10km. Amelia then ran 100m, Matthew 500m and Elizabeth and Erika 3km. They finished by running through a magnificent pool noodle arch where Dianne recorded their finishing times.
Amelia finished in 12 minutes (3rd in her group of 5). Matthew finished in 14 minutes (1st in his group of 4). Erika and Elizabeth were the only participants at the black level and they finished in 61 minutes.
The whole thing was great. Everyone was pretty good about staying socially distant and wearing masks when not racing. The kids all had lots of fun and even got a little bit tired out.
You might also like
- Triathlon
(0.439602)
- RACE
(0.420893)
- WKC World Championships
(0.414469)
- Social Distancing: Day 20
(0.412294)
- Calypso
(0.411284)
All
July 20, 2020
We've been working our way through our cooking class curriculum again this summer with all four kids.
You might also like
- BYC Awards 2016
(0.234637)
- Spring thaw
(0.2)
- Cookies with Grandma
(0.193182)
- Chocolate Milk Straws
(0.190955)
- Chair Train
(0.187793)
All
July 18, 2020
We continued our biking adventures with the chariot this weekend. The kids seem to really enjoy it and it has been super nice to be able to all do something outdoors as a family. We also went to a playground for the first time in many months as they are now open again. The kids are pretty good about keeping their distance from the other kids. We also had church at home which while chaotic and noisy is still an opportunity to stop whatever else we're doing and spend some time with God as a family. Hopefully some small part of it sticks with the kids in between all the wiggling, poking each other spilling snacks on the floor and drawing on each other's colouring sheets. To finish off the weekend we watch the three younger kids do a circus presentation complete with popcorn. It was adorable.
You might also like
- Fancy hotel
(0.324468)
- Kindergarten Intake
(0.321805)
- Circus camp
(0.317841)
- Party Day
(0.316867)
- Blood Pressure
(0.312411)
All
July 17, 2020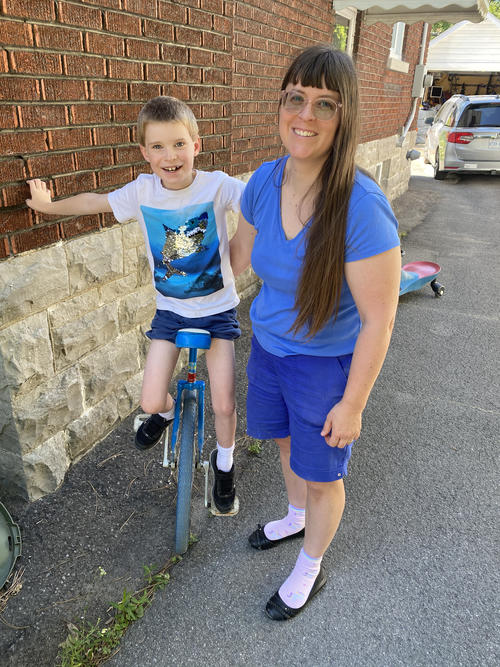 It was a quiet week on the homeschooling front because Elizabeth was at circus camp all week!
Naturally we had to do a circus theme at home as well. The kids got to play with some of Elizabeth's circus things (scarves, ostrich feather and plate balancing), my juggling balls and Matthew even tried out my old unicycle.
It was a pretty hot week! I took Elizabeth to the store for the first time since the pandemic started because she wanted new shorts. Actually she also went to the shoe store on the same day. She found it very strange since she hasn't been in a store for so long. The next day I took Matthew and Elizabeth to Decathlon to find some raincoats and buy Matthew some supplies for his riding lessons that are coming up in lieu of the horseback riding camp he picked. I didn't get a photo but neither of them had any trouble at all wearing a mask, so I guess if school requires them I won't be worried.
You might also like
- Ultrasound
(0.381877)
- Horseback riding
(0.380776)
- Rainy day
(0.379363)
- Halloween
(0.374806)
- Silly Sock Week
(0.371287)
All
Pre-pandemic Elizabeth had been signed up for circus camp with her friend Samia. For a long time it was all up in the air and no one knew what was going to happen or if it would simply be cancelled. Finally the staff came up with a plan which seemed workable and safe enough from our perspective, in addition to meeting the various government requirements. The whole thing would be outdoors under an open tent. No shared equipment and limited numbers of kids so as to maintain distancing. There were two cohorts of only five kids (separated by whether they were doing post camp care or not). Elizabeth agreed it seemed reasonable and her parents decided to fork out the extra money to cover the increased cost. In the end she had a lot of fun. They did juggling, aerial work with silks, acrobatics, diablo, spinning plates and flower sticks. Friend Olivia joined in at the last minute. At the end of the week the parents got to come and watch (all spread out around the park).
You might also like
- WKC Provincials
(0.357591)
- Starr Gymnastics
(0.354796)
- Rachel and Andrew
(0.348808)
- WKC virtual world championships
(0.348052)
- Michael's birthday
(0.344037)
All
July 12, 2020
My garden is pretty scruffy most of the year (especially the back!) but it does look pretty good in the springtime.
This year we assigned the kids their own plots with which they could plant what they wanted.
Amelia planted tomatoes and beans.
Elizabeth planted beans, sunflowers, peppers and a variety of herbs. I tried to talk Elizabeth into planting her sunflowers by the house but then the one I had planted there died so that was that.
Matthew planted tomatoes and carrots. Many, many carrots.
Michael and I planted pumpkins, and then I thought better of having the baby water and dig around the pumpkin roots and assigned him the potatoes instead.
You might also like
- Garden planting
(0.391111)
- Harvest
(0.369106)
- Garden 2018
(0.358824)
- Garden
(0.344538)
- Cottage Days: Visit with cousin Ryan
(0.331915)
All