August 31, 2020
We got so used to taking pictures of suppers in July that we continued in August.
You might also like:
-
Family Portrait
-
Tree decoration
-
Family photos
-
Skate to church
-
A study in bed head
August 29, 2020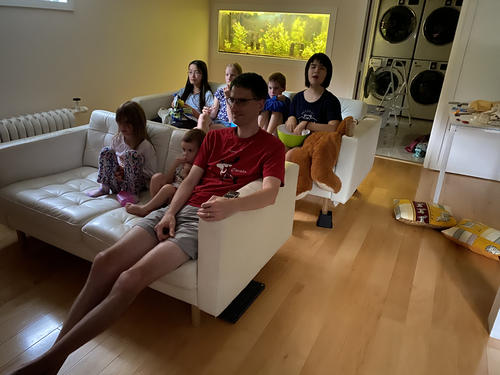 In which we kidnap cousins and have a family movie night, completely forgetting about Matthew's riding lesson.
I found Ratatouille extremely boring the first time around, but I have to say that I enjoyed it this time. The kids now want me to make ratatouille for supper.
You might also like:
-
Baby shower and Canal
-
Hottawa
-
Cottage Days
-
Sleepover with Peyton
-
Auntie Janice
August 28, 2020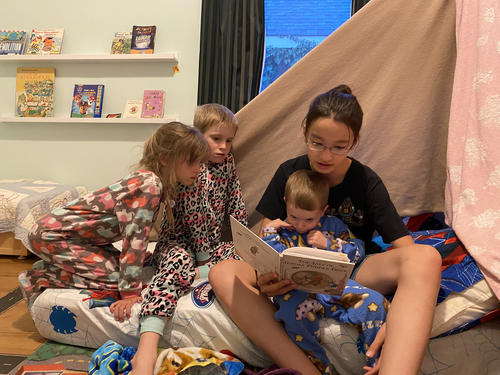 Erika is staying with us this week while her family quarantines after their trip to Japan so that she can still go to karate.
We're winding down our summer school activities, realizing what isn't going to get done before school starts up again and trying to squeeze in the last bits of summer while we still can!
We did some cooking and some art class. Elizabeth wanted to learn to draw a horse so we tried a "how to draw a pony youtube video" which was pretty popular. We did some math. I'm pretty pleased with Elizabeth's progress this summer.
Matthew didn't get as far as I had hoped but is enjoying learning his multiplication tables especially now that I found a couple of new games to drill with. Math Ninja is especially popular though I'd like to see a mode where it doesn't give you the answer as a multiple choice.
A highlight this week was the Grandir Ensemble science experiment with oil, vinegar, coloured water and baking soda.
You might also like:
-
Social Distancing: Day 5
-
Lac des Loups
-
Science by Night
-
Sport Day
-
Family Day
August 27, 2020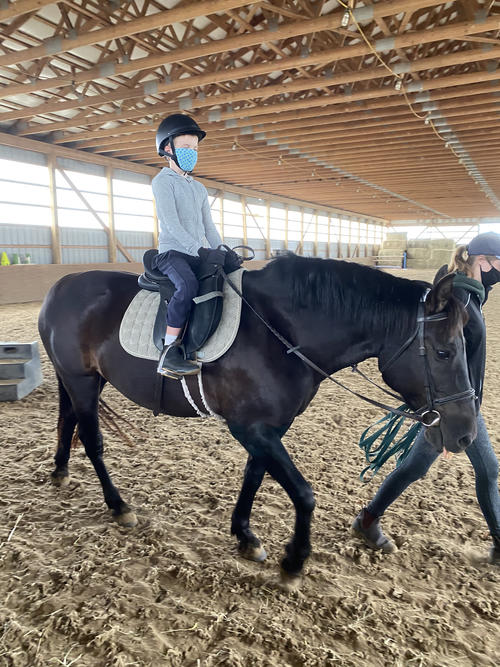 It was kind of rainy so we ended up in the barn for our lesson.
We discovered that the barn is very well ventilated, which means that we are seriously considering allowing Matthew to continue with his lessons into the fall.
Matthew is super proud that he has graduated to being allowed to trot. He proudly showed his siblings his videos "Look! I can make the horse turn!" only to be deflated by a withering "Why are you on a leash???" He just rolled his eyes and told them that they didn't understand "horseback". Elizabeth remains unconvinced that he will not break his neck.
You might also like:
-
Bikes
-
Good Friday
-
Are we really ready to leave the house?
-
End of an era
-
Summer school jul 13-17 Circus week
August 25, 2020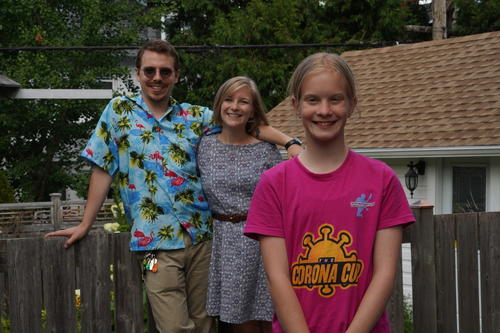 Rachel and Creighton were in Ottawa for a couple of days and we were lucky enough to be able to get together!
We took the opportunity to have lunch and celebrate Elizabeth's baptism birthday. It was super windy so lighting the candle was a challenge but eventually it was managed.
You might also like:
-
Fifth Baptism Birthday
-
Elizabeth baptism birthday
-
Finally cake
-
Baptism Anniversary
-
Grandma Norman