September 2, 2020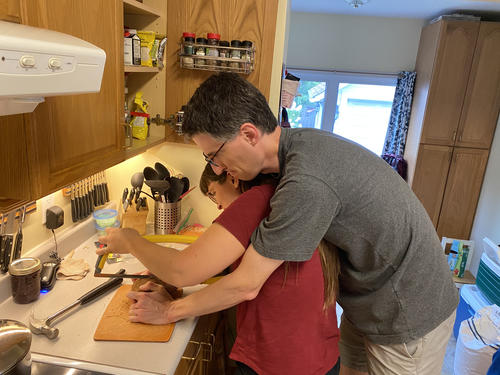 We've been reading Swiss family Robinson with the kids to their great amusement. To be fair the story is rather fantastic and many of the things they get up to are a bit over the top. Since they are often eating coconuts (in between breaks from shooting the animal du jour), the kids thought it would be fun to try a real coconut. Sadly Mommy's coconut selection skills are subpar, but we did have fun sawing it open and we figured the spoilt coconut vinegar was similar to what they created in the book... (Yuck!)
You might also like:
-
The Dentist
-
Siblings
-
Visitors
-
March Break
-
End of an era
August 29, 2020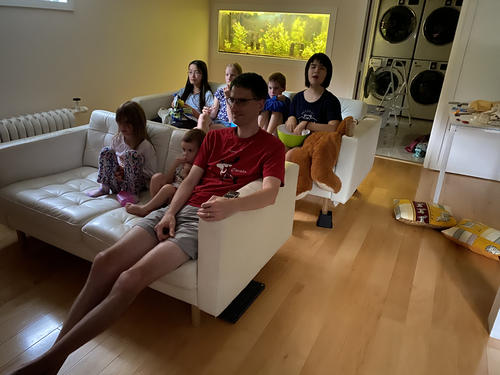 In which we kidnap cousins and have a family movie night, completely forgetting about Matthew's riding lesson.
I found Ratatouille extremely boring the first time around, but I have to say that I enjoyed it this time. The kids now want me to make ratatouille for supper.
You might also like:
-
Baby shower and Canal
-
Hottawa
-
Cottage Days
-
Sleepover with Peyton
-
Auntie Janice
August 27, 2020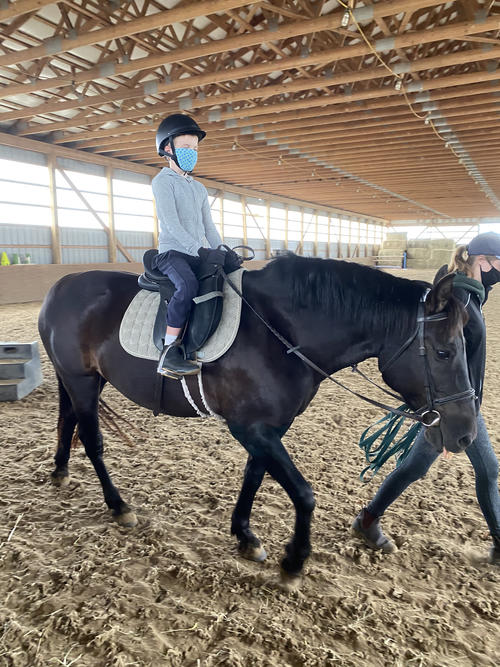 It was kind of rainy so we ended up in the barn for our lesson.
We discovered that the barn is very well ventilated, which means that we are seriously considering allowing Matthew to continue with his lessons into the fall.
Matthew is super proud that he has graduated to being allowed to trot. He proudly showed his siblings his videos "Look! I can make the horse turn!" only to be deflated by a withering "Why are you on a leash???" He just rolled his eyes and told them that they didn't understand "horseback". Elizabeth remains unconvinced that he will not break his neck.
You might also like:
-
Bikes
-
Good Friday
-
Are we really ready to leave the house?
-
End of an era
-
Summer school jul 13-17 Circus week
August 25, 2020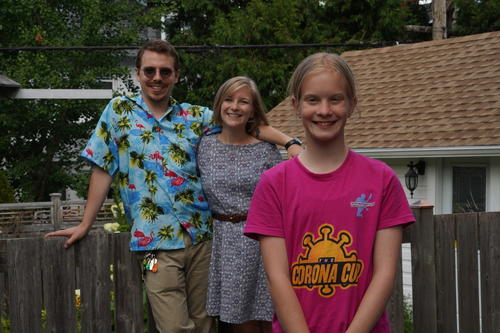 Rachel and Creighton were in Ottawa for a couple of days and we were lucky enough to be able to get together!
We took the opportunity to have lunch and celebrate Elizabeth's baptism birthday. It was super windy so lighting the candle was a challenge but eventually it was managed.
You might also like:
-
Fifth Baptism Birthday
-
Elizabeth baptism birthday
-
Finally cake
-
Baptism Anniversary
-
Grandma Norman
August 23, 2020
After a last dip in the lake we were finally on our way. There was no chicken at the chicken church because of the coronavirus has presumably cancelled their annual dinner. The kids think it's very strange that the chicken church does not have their chicken displayed all year! We made chicken noises as per tradition anyway. We stopped at Golden Lake to dip our feet in the lake and brave the stinky port-a-potties. All of our kids now refer to hay bales as "baby marshmallows", because my husband always jokes about the white ones being marshmallow fields. This kind of backfired because Michael loves marshmallows and with all the marshmallow talk he thought he really ought to be allowed to eat some.
We didn't get home until past 7. When we arrived the kids immediately headed to their bedrooms where they discovered that Auntie Janice had made them a scavenger hunt to do "before dark". We did part of the hunt in the fading light before some children had complete hangry meltdowns. So we paused the hunt, fed the wild beasts and sent them to bed. In the morning we completed the scavenger hunt and were appropriately rewarded with much excitement.
You might also like:
-
Cottage Arrival 2019
-
Big Apple
-
Earth Day
-
Come Sing Messiah
-
Family Day