September 3, 2020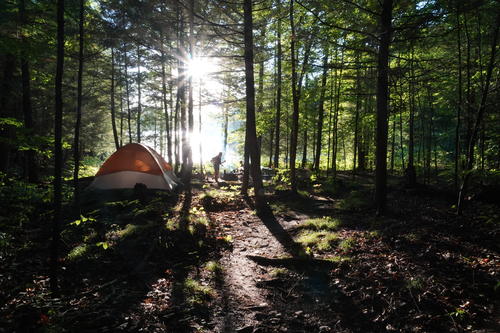 Our bucket list said we were going to go camping, so camping we went.
We weren't going to go canoe camping with the little kids just yet but we also didn't want to share a large communal bathroom at a campsite near Ottawa during pandemic. Nor did we feel quite up for a more remote site with no outhouse facilities as Michael loves driving but after about an hour and a half he gets a little antsy.
So we decided that we'd book all the sites at one of the campgrounds at Lac Lapêche. We were hoping to bring others in our bubble too, but in the end it was just us plus Erika.
Lac Lapêche can be very windy and our time there was no exception. We took one look at the wind in our faces on the way out and decided we should have two canoes instead of three. I was pleasantly surprised to find out that we had quite a lot of room to spare!
I packed lots of canoe snacks for Michael but we weren't even out of sight of the beach before he declared that he was all done and ready to go home. I did manage to avoid nursing him until we were around the (less windy) corner. There were dozens of loons but it was much too windy to even think around taking photos - any time we stopped paddling the canoe ended up drifting at an alarming rate and aimed backwards. Matthew privately told me later that he just shut his eyes because he was so concerned about smashing into something. Brendan, Elizabeth and Amelia's canoe got within a paddle length of a loon. It was pretty special! We also saw a heron catching his supper.
Our campsite was very tucked away. My canoe got there first and unloaded the desperate-to-get-to-dry-land baby, convenient-teen-baby-whisperer and barefoot-helper. We emptied our canoe, then I headed back out because I had the map and realized the others wouldn't see our site from the main bay. Good thing I did! Eventually we were all unloaded and tents set up.
For supper I planned hotdogs and s'mores in order to minimize washing up. It's a good thing because by the time we'd eaten, caught a few frogs, had a very mushy swim in the swamp, tucked all the children into tents and hung the food barrel on the bear hooks it was very dark. Brendan and I sat by the fire for a few minutes and then crawled into bed ourselves just in time. I literally zipped up the tent fly and suddenly it was pouring.
Matthew and Amelia were very keen to have Michael in "their" tent, so Brendan and I had the novel experience of being in a tent to ourselves with no kids for the first time in over a decade. I did predict that this would not last the whole night, but it's understandable that the kids were nervous given the storm with up to 43km winds whistling through the trees.
Actually the wind was so loud that I didn't even hear Michael screaming his head off until I got really close to the tent. I did hear Matthew repeatedly hollering "Mommy I need you!" - that boy can project his voice. Matthew told me that Michael hadn't wanted to go to sleep and ended up falling asleep cuddled in his arms. But then he woke up and was inconsolable and the loons were too loud and he decided he needed help. I accepted my fate and crawled into Michael's sleeping bag with him, thinking sad thoughts about my own dear little air mattress. The older two were quite scared too, so it was either schlepp all three and sleeping gear in the pouring rain back to the parent tent or stay put. Amelia insisted on holding my hand the rest of the night. Matthew checked that I hadn't left the tent at regular intervals and if I thought that noise was keeping Michael awake or not. Eventually we all slept, for some value of sleeping. It was quite cold because of the wind and the ground was hard and rocky. So rocky.
In the morning there was no more rain, but Amelia and Elizabeth were sorry they'd picked such thin camping pants and Michael and Matthew regretted bitterly their foolish decisions to leave behind their shoes. Since Matthew had deliberately not worn shoes, he didn't get (much) sympathy nor did we let him off the hook when helping pack up in the morning.
Despite some initial dawdling, the kids all pulled together well to take down the campsite and we actually left by 11:08am. Of course it was windy again on the way back - the wrong way! It was quite a bit less windy at first. By the time it was getting serious we got to the turn and there we were very happy to find out the wind was at our backs and we could practically drift home. Michael fell asleep but the waves were so high that they splashed right over the edge of the canoe and woke him up - luckily not until we had made it back to the beach.
A quick lunch and we were on our way home - Elizabeth had a karate tournament video shoot. All in all we had a really good time and a longer canoe trip in the near future might be feasible.
You might also like
- Karate Tournament, Birthday and ER Part 2
(0.487984)
- Sewing with kids
(0.478289)
- Canoe Trip
(0.473248)
- Summer School Summer
(0.471873)
- Family Day
(0.46959)
All