September 10, 2020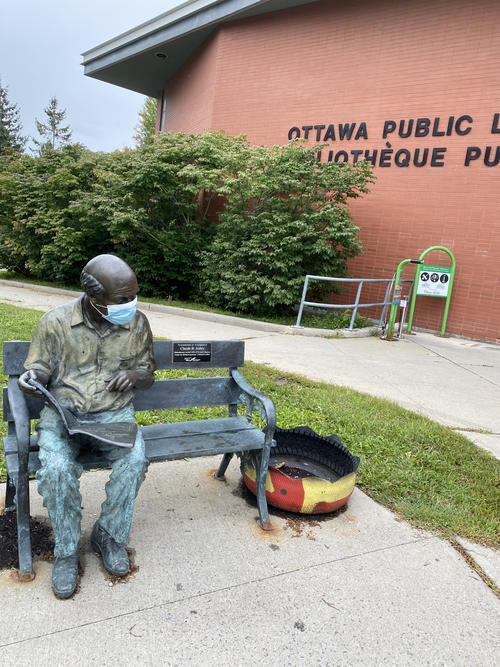 I thought it might be interesting to look back at some of the things that I would have found odd this time last year.
-One way aisles at the grocery store
-Requests not to handle products
-Product limits
-Empty spaces on the shelves (toilet paper, flour, yeast, pasta...)
-Physical distancing reminders
-Crazy continuous lines at Costco
-Very large pallets of PPE at Costco
-Even the statues wear masks
You might also like
- Getting there
(0.264286)
- 12 Days of Christmas: Boxing Day
(0.264192)
- Canal
(0.262787)
- Hello, Goodbye
(0.260956)
- Cousin Week: Pottery Painting
(0.260456)
All
September 9, 2020
Beautiful bouquet from Auntie Mary!
You might also like
- Pretty flowers
(0.229508)
- Autumn
(0.175)
- Pussy Willows
(0.163462)
- Auntie Janice
(0.16129)
- Visit to Auntie Janice
(0.145299)
All
September 8, 2020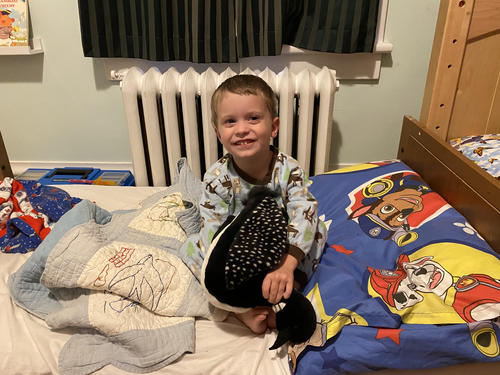 Michael has been sleeping in the same room as Amelia and Matthew since we got back from the cottage, so we've taken apart the crib and reassembled it as a toddler bed for the first time since Elizabeth was four! It's quite weird having so much space in our bedroom.
Elizabeth's only comment was that everyone in the house now has a real bed except for her.
You might also like
- Room swap
(0.320513)
- Bedtime milestone
(0.30854)
- The boys get haircuts
(0.308094)
- Cottage Days: Arrival
(0.30303)
- Rain rain go away
(0.302083)
All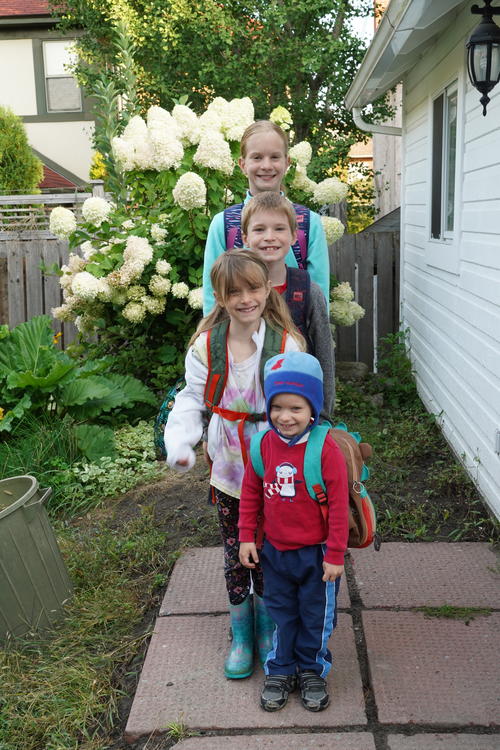 It's the first official day of virtual school!
You might also like
- Mother's Day
(0.253968)
- First snow
(0.22619)
- Snowy PD Day
(0.221053)
- Guy Fawkes
(0.221053)
- Crazy hair day
(0.215385)
All
September 7, 2020
When school shut down in March, one of the things that stopped was violin lessons for Matthew as he had no violin.
Now violin lessons are starting up again. Since there are no extracurriculars allowed at school, their beloved teacher is offering lessons by Skype or at her in-home studio. Since Matthew needed to be fitted for a violin anyway, we decided to go try out lessons. Everything is well set up with hand washing and mask wearing required and much ventilation. Matthew did his lesson out in the waiting area because I needed to watch and take notes in order to hopefully be a good support person when we need to do lessons over Skype. Elizabeth did hers in the studio. Since Elizabeth is more advanced than Matthew her teacher was further away sitting behind plexiglass.
The kids were very happy to get to do an in-person lesson. Matthew is very happy to have his own violin and loves to practice for anyone who cares to watch. At his level there is a lot of focus on proper technique - most of which I'm pretty sure I never learned in my own lessons(!)
Elizabeth loves lessons but historically hasn't much liked to practice because she thinks she sounds "like a dying cow". Matthew and Elizabeth agreed in the car that she might now sound like a "squawking duck" more than a cow, but I was struck by how much she has improved over the last year.
You might also like
- Ballet
(0.392677)
- River Oak
(0.389744)
- Senior Kindergarden
(0.37421)
- Summer week 3
(0.373093)
- Matthew's first skating class
(0.369878)
All
We've been teasing Erika that she needed a cheering squad to show up at her first day of high school.
I was very very tempted, but settled for tagging along for pictures and mortifying both Elizabeth and Erika by asking some random kid and dad if they wouldn't mind moving off the front steps so we could take pictures. Dunno why that was embarrassing but apparently it was.
You might also like
- Terry Fox Day
(0.30474)
- Snowman
(0.300261)
- Le Patinoire
(0.298507)
- First Steps
(0.296209)
- The boys get haircuts
(0.295566)
All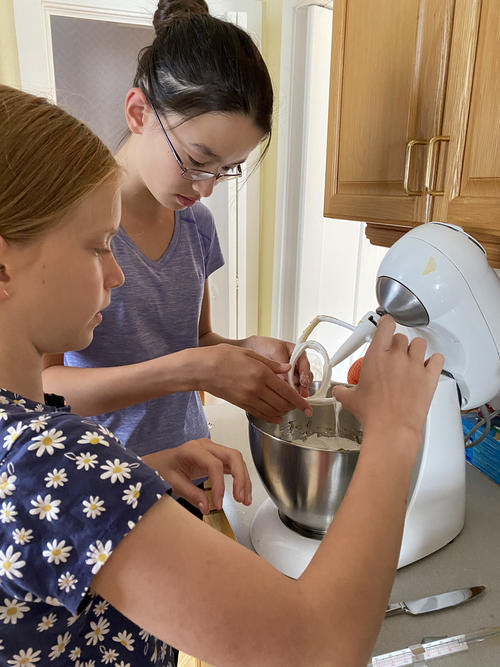 One of our summer bucket list items was to "make marshmallows with cousins" because apparently they have never done this before.
We made vanilla with sprinkles on top, red food colouring and vanilla with sprinkles mixed in, lemon and a chocolate/vanilla mix. I still haven't quite gotten the hang of getting the bottom smooth (and not sticky). The batch Erika and Elizabeth made unfortunately got a bit over mixed so the texture wasn't quite as good but I think all in all they were considered quite popular.
You might also like
- Maria is orange-green
(0.325142)
- Hashi
(0.316425)
- Douvris Christmas Potluck
(0.309771)
- Timbits
(0.30941)
- Summery Smiles
(0.308108)
All
Erika and Maria head back to school this week (Erika tomorrow). We think the risk of covid from in person school is too high, and the potential long term consequences too severe to risk, so sadly we must suspend our social circle.
We took advantage of the weekend to get in our last quality time as a bubble.
You might also like
- Skating, skating
(0.236264)
- 12 Days of Christmas: Lego day
(0.235955)
- Uncle Dave's birthday
(0.235872)
- Great Grandma
(0.23565)
- Sleepovers
(0.234624)
All
September 6, 2020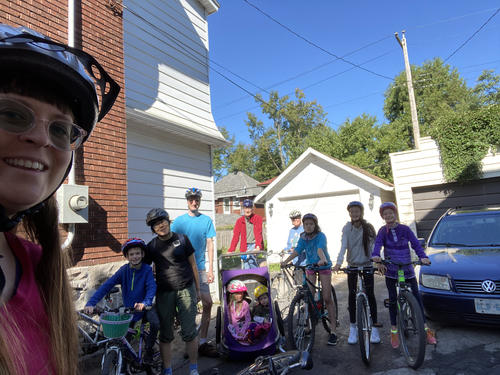 Over the summer, the kids (especially Elizabeth and Erika) went biking with Grandma from time to time. Early on, they decided that one of their summer bucket list items was to do a long bike ride to Aylmer Island at the end of the summer.
Last week we realized that we were running out of time before school started. The weather was not great all week but Sunday seemed acceptable and before we knew it the entire bubble was ready for our grand expedition! Grandma does more biking than the rest of us and she reckoned it would take about an hour to bike out, half an hour to recover and an hour to bike back. Let's just say that Grandma is a wee bit faster on her bike than the rest of us, so it actually took us about five and a half hours with lots of stops to admire the scenery, a stop for a snack and washroom break at Aylmer beach and a very popular stop at the Cassis Gelato et Sorbet Maison for the most enormous "small" scoops I've ever seen. Our group tried marshmallow, chocolate, lemon and blueberry. Apparently they were all very nice.
Yukiko had a meeting in the afternoon, so she only rode with us to Remic Rapids, but the rest of us managed the entire 30km round trip.
I should add that I was by far the slowest on the trip out, hauling 63 lbs of children + water and snacks and other things in the Chariot behind me. Luckily Brendan agreed to pull the chariot and also some of the children were tired on the way home so I actually found the way back much nicer than the way out. The scenery was beautiful and we enjoyed ourselves very much.
You might also like
- Mother's day
(0.390766)
- Homeschool wk june 15-18
(0.37522)
- Halloween
(0.372826)
- At Mary's
(0.365079)
- Lucy and Jack
(0.364939)
All