October 6, 2020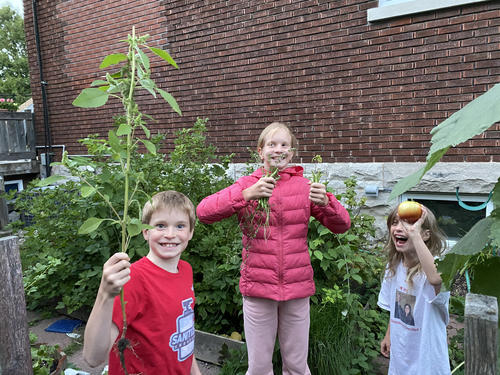 We mostly left the garden up to the kids this year. I did give some guidance on what was planted but they
Matthew planted tomatoes and carrots, Elizabeth planted many herbs, sunflowers, a pepper and beans. Amelia planted beans and two kinds of tomatoes, and Michael planted potatoes. Actually originally Michael helped with the pumpkins, but I realized early on that I didn't want him watering the pumpkins because they don't really like getting their leaves wet. The pumpkins were a disappointment as we were plagued with cucumber beetles. We ended up with only a couple pumpkins, both very small and one of whom started rotting before it was ripe.
The larger tomatoes, herbs and pepper didn't do that well either - there was too much shade from the sunflowers and the beans. In retrospect Elizabeth says she should have planted the sunflowers more strategically. The flowers gave her great joy and certainly did well. She was disappointed to discover that the squirrels and birds ate ALL her seeds by the time she got around to harvesting!
Amelia's baby tomatoes were very prolific, but prone to splitting this year. So she mostly refused to pick them. She was more interested in the beans. I don't really have a good sense of how our crop did - the kids certainly ate many meals worth raw straight from the garden, and we managed to grab quite a few to eat at dinner. More diligent picking would have improved our crop, but the overall yield was quite good.
Michael enjoyed harvesting the potatoes (I actually let everyone help) and we got about the expected amount.
Matthew's garden probably did the best of the lot - he planted six tomatoes and about five times as many carrots as I would have ever imagined. He was thrilled with his harvest. Next year he says he might agree to do even more thinning but he kind of liked his weird shaped carrots!
Overall the kids spent more time in the garden than usual and worked pretty diligently to look after it, so I think the experiment can be called a success.
You might also like
- Garden update
(0.441472)
- Garden
(0.436941)
- Garden
(0.432896)
- Harvest
(0.431579)
- Virtual School: Week 28
(0.416008)
All
October 2, 2020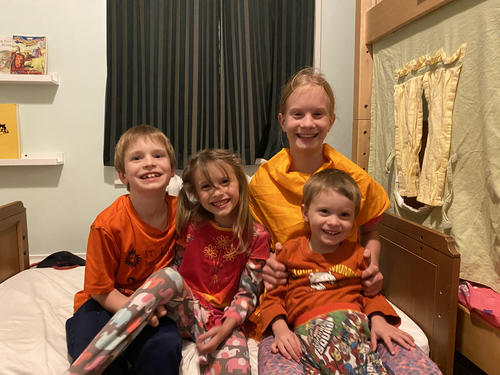 This week's kindergarten stations: leaf sensory bin, books, tunnels, Lego, dominos. I think I'm going to switch up the stations slightly mid-week. Amelia got bored of the tunnels by Wednesday and told me I didn't need to bother putting them out. Her class was talking about carrots this week. Amelia was pleased to be able to inform her teacher that some carrots are white (and no, they are not parsnips). She's doing an experiment to see whether carrot tops grow better in dirt or water. They did a painting exercise which ended in disaster when I chose to prevent paint on the couch instead of following Michael to the sink where he went to "wash his hands". I swear he was out of sight for a couple of minutes at most but it was enough to spray an inch of water all over the kitchen, the hall and part of the dining room, through the ceiling and into the basement. We seem to have escaped without significant damage, though Brendan liberated a cupful of water out of the light fixture over Amelia's desk. She wasn't too happy as some of her art was destroyed.
At school this week Matthew was working on sorting animals based on their characteristics, writing numbers by place value notation and basic literacy.
I talked to his math teacher and she commented that she didn't have a good read on Matthew because often he seemed to be following along but then suddenly she'd be asking him a question and he'd fail to respond. I did explain that he likes to turn off the camera because he hates being on video and she's fine with that but would like us to work with him to make sure he knows that he still needs to pay attention even if he's off screen. "He seems to have a lot of technical issues." We realized that perhaps we need to let the teacher know when he leaves for things like riding lessons. Also it turns out that he has discovered how to make it look like things aren't working. For instance he can make his screen appear to "freeze" so that if he goes to the bathroom or is just tired of being on camera he can have a little break without anyone knowing. I was telling Elizabeth that I hoped she wasn't doing the same thing. "Of course not mom", she replied. "I use the app!" Apparently she has a program that not only freezes your screen but can make your sound glitch. Ahem. So virtual school is teaching our children technical skills. Matthew has been figuring out what all his desktop settings do and is quite taken with his newfound powers.
I asked his teacher whether the level of work being done was deliberately easy as a review and she confirmed that was the case. She said that they were taking things extra easy this year because they were worried about kids who didn't do much after March, but was glad to know that the work was much too easy for Matthew. We talked about his reading difficulties and we have a plan for that as well. Mid-week she pulled Matthew and the other kid that's quite far ahead in math into their own private Google Meet. She's giving them extra work. Matthew is somewhat inclined to be dismissive of the "friends" who aren't so good at math, so we're working on being self confident without being prideful... He very much enjoyed the extra work so far.
It was orange shirt day this week. Elizabeth had much angst because she does not like orange and therefore has no orange shirt. Since only her front had to be presentable, we ended up taking a piece of orange fabric and pinning it to approximate something shirt-like. The only photos are the night-before concept and the "quick, put your clothes back on so we can get a photo" - strangely she unpinned herself to do her karate and dance classes...
You might also like
- Homeschool wk may 4-may 8
(0.49774)
- Homeschool wk apr 6-9
(0.495588)
- Homeschool wk apr 27-may 1
(0.489655)
- Virtual school: Week 5
(0.483216)
- Homeschool wk may 11-15
(0.48201)
All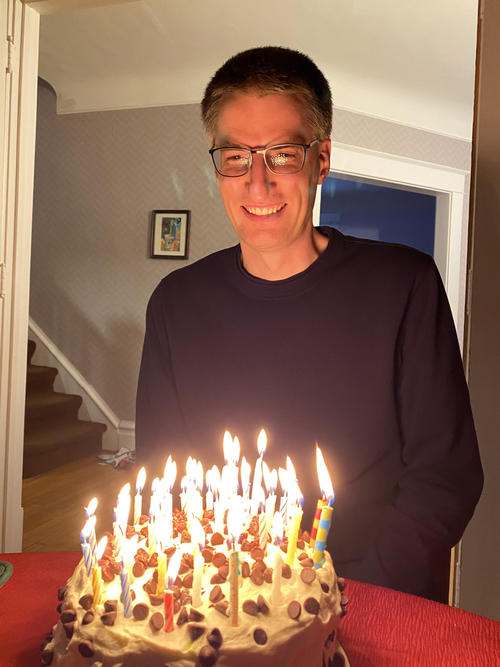 We celebrated Brendan's birthday with candles at every meal, including the whole 42 all on one cake. The heat was so intense that in the time it took to bring it from the kitchen to table the cream and chocolate chips on top melted!
There were many cards. Xander drew some fireworks. Not to be outdone, Isabelle made a card with detachable fireworks and a cake! They are all into 3D card effects right now - Theo's blueberry is particularly cute. Michael painted the outside of his card and then absolutely refused to put anything in the inside. Matthew made his on the computer. It's DJ for "Daddy J", in case anyone is wondering. He made a race track with a beach and an island. Amelia drew many unicorns and made a paper airplane as her gift (the number is its call sign?) Elizabeth didn't like her initial card so made about six different variants as is her current modus operandi. She spent hours working on them, especially the water colour.
We had Grandma J over for cake and lasagna. Sunnyside, Janice and Teevens all joined remotely to sing Happy Birthday and open presents. Brendan said it was a very peaceful birthday.
You might also like
- Incredibles 2
(0.358053)
- Happy Birthday
(0.356021)
- Virtual School: Week 18
(0.355769)
- Rainbow party
(0.352778)
- Christmas
(0.352236)
All
September 30, 2020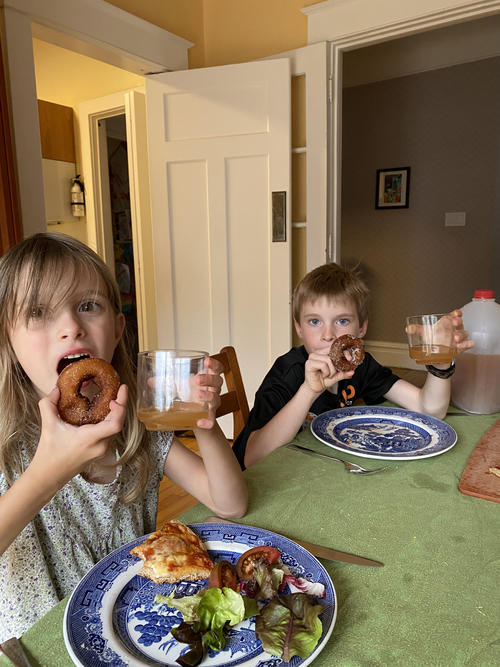 Food highlights from September:
-Making donuts with Matthew
-Making pie with Elizabeth
-So much corn
-Michael helping himself to his favourite snack of "peanuts, chocolate and cranberries". He also likes mixed nuts and raisins.
You might also like
- Home Depot
(0.248869)
- Happy birthday Uncle Mark
(0.239726)
- Violin
(0.230769)
- Pumpkin Carving
(0.229885)
- Karate on the beach and wiener roast
(0.227273)
All
September 29, 2020
It was the last race of the season. There was wind! Elizabeth thought we "almost tipped" about ten times, so she's not that comfortable with heeling yet. We actually had her stand in the cockpit for most of the race - I think Mike's son was a little nervous about a repeat of the shoe incident. She said she didn't mind.
It was not too cold, it didn't rain and there was the most glorious sunset. All in all a very fitting end to a rather weird season. In the end we got out five times, which is five times more than I had expected at the beginning.
You might also like
- First day of grade 3
(0.351626)
- Lessons and Carols
(0.341317)
- Summer week 6: Circus and Gymnastics
(0.339024)
- Waterskiing, fish and clams
(0.326446)
- Winter
(0.326203)
All
September 27, 2020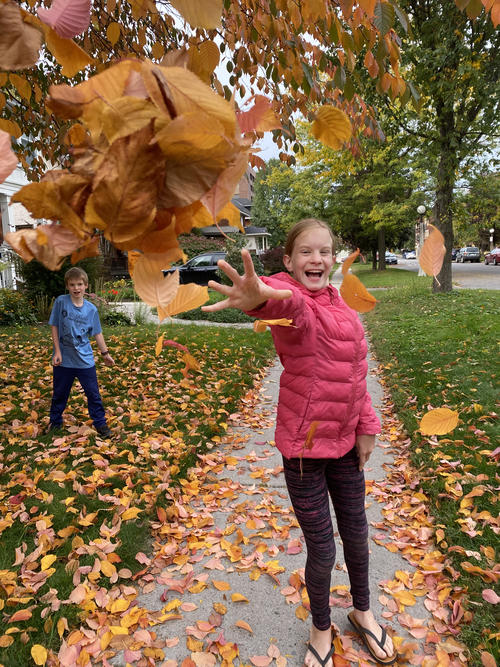 Today featured a socially distanced leaf fight with neighbour Simon, climbing trees (the latest obsession) and a socially distanced bike ride with Erika down to the locks. On the way to the locks we stopped to do a buy nothing pickup of doll clothes for Amelia's teddy - to her great delight!
At the locks we stopped to look around and found a friend! Mister snake needed protecting from all the bikes trying to squash him as he glided across the path. We were interested to discover that snakes know how to swim, but he didn't seem to be having much success climbing back out on the other side. With the lock water level dropping rapidly and Erika not having much success with rescue attempts the kids were not too happy when I declared we better move on. (I was getting increasingly concerned about Michael or Matthew falling in!) Luckily for the snake, as I was buckling the littler kids into their chariot Erika finally managed a rescue and we were able to return triumphantly home.
You might also like
- Canoeing
(0.363513)
- Mooney's Bay
(0.351724)
- Bike swap
(0.34757)
- 16 Months
(0.341722)
- Virtual School: Week 17
(0.337805)
All