November 11, 2020
It was Remembrance day, so we ditched school and headed over to Grandma's to make some Christmas cake, as per tradition.
Matthew and Elizabeth did almost all the chopping this year.
You might also like
- Remembrance day cake
(0.420091)
- Christmas cake
(0.341837)
- Christmas Cake 2013
(0.321033)
- Back to school
(0.320652)
- Pumpkin carving
(0.303797)
All
November 8, 2020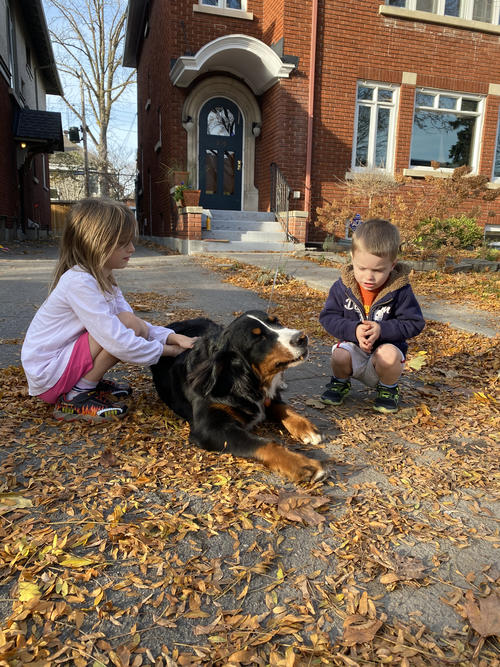 It was super warm today so the kids spent pretty much the entire day outside enjoying the last gasp of summer. They scootered up and down the street endlessly, did karate, ran around half naked and generally speaking had a grand time until the sun went down. Then grandma came over for dinner.
You might also like
- Grandma has a birthday
(0.304833)
- Kids kicking cancer
(0.29156)
- Museum and Birthday
(0.283988)
- Nora and Simon visit
(0.283439)
- Cousins
(0.283088)
All
November 6, 2020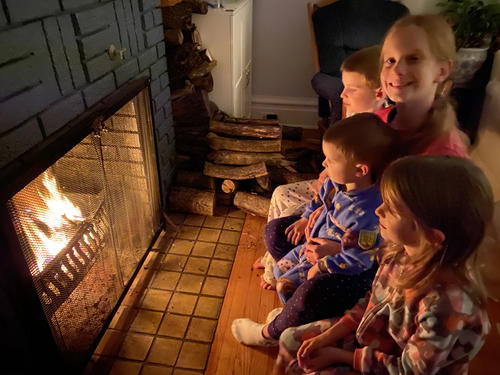 We were all psyched up for Guy Fawkes (and the official start of fireplace season in our house) on November 5th, but by the time we were organized enough for a fire the younger two were already ready for bed.
I might have delayed bedtime, except that it was very warm outside. When the outside temperature is above zero, we often get smoke sucked back down the other chimney into the red room. Since Matthew is using the red room as his schoolroom these days, we decided that it would be prudent to delay until Friday evening for our fire.
We had a great time sitting in front of the fire. Matthew is thinking that one of these years we should have a real bonfire.
You might also like
- First meal outside of the season!
(0.326772)
- Sleepover
(0.325658)
- River Oak
(0.323529)
- Christmas Day
(0.320856)
- First day of Maternelle
(0.315873)
All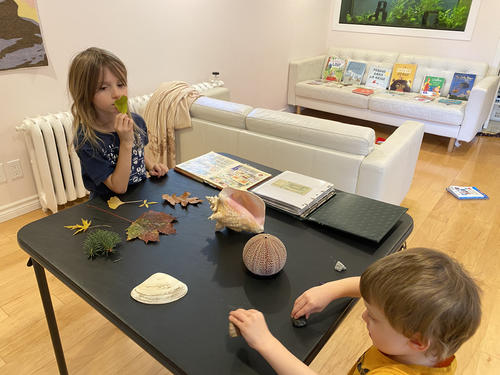 First big snowfall this week. Our morning walk took MUCH longer than usual because they would keep flopping down to make snow angels. Amelia and Matthew were having too much fun to go in for school. So Amelia did her class outside and I let Matthew skip the first period. Amusingly many of the kids this week have discovered the new Google Meet backgrounds so based on a couple of comments I do not think the teachers realized that Amelia was actually outside.
Instead of school Matthew did his reading with me and played. When we came in, he hadn't obviously missed anything and he caught up with his asynchronous work before the next segment started. This is a bit of a theme. The amount of time where nothing substantive happens is mind boggling. Teacher will routinely spend 30 minutes finding stuff and checking if things are submitted and and responding to student questions etc etc So Matthew tends to check out mentally and do his work; might as well get useful stuff done. Then the talking is distracting so he turns the sound off. Then he gets stuck so he fetches me. I teach the lesson in 5 min. He finishes in another 5. Then teacher teaches lesson but he just did it so he turns off camera and does something else. This of course completely defeats the purpose of not homeschooling since he is then not listening to or speaking french. His teacher has started doing small group reading with two or three kids at a time, but even though his class is under twenty, it still takes more than a week to rotate through.
If I were not reading with him, he would be reading less than 30 minutes a week. Most of the work is done onscreen, and the one daily writing assignment is not assessed so Matthew frequently hasn't been doing it. Math is also a problem. Matthew's frustrated because they appear to be doing constant review. He's clearly ahead of the rest of the class but he's completed the assigned extra work. So we are doing our own thing about 90% of the time after doing the busy work.
But as soon as I think ok, this is dumb I should pull him out altogether, we have a day where teacher is actually teaching something useful and he even thinks about participating. For example - this week in Science the kids got to present their pets. Matthew presented Gabriel the turtle and had a wonderful time explaining what turtles are like. He also enjoys art class very much. In any case, there's a conversation with his teachers that is needed.

Other than our "outdoor classroom", kindergarten this week really only had three stations - a very large house out of fort magic complete with mini kitchen, bedrooms and (lego for food?), reading nook, and "the museum". The plan for the week talked about going to museums and traveling so we created our own museum and all week Amelia and Michael brought precious things to be admired on our table. Amelia also spent much time using the glitter glue the switch witch brought. Michael has taken to making and playing in little nests in his bed during Amelia's "rendez-vous". Unlike grade 2, I'd say virtual kindergarten continues to go well.
Grade 6 is doing some kind of space theme in science. Elizabeth was disappointed that most of the snow melted before she could do her private (outdoor) bo class with Cody, but there were still some tiny patches. She says school is "fine".
You might also like
- Virtual school: Week 4
(0.463704)
- Virtual school: Week 2
(0.449688)
- Virtual school: Week 5
(0.441654)
- Virtual School: Week 20
(0.441311)
- Back to (virtual) school
(0.439834)
All
November 4, 2020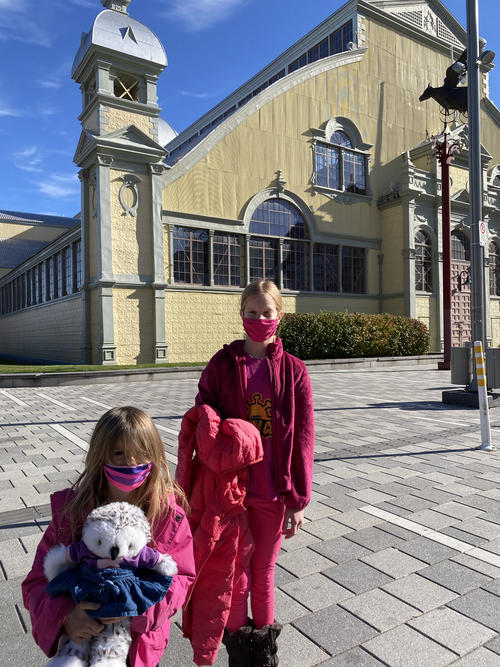 We usually get our flu shots with Ottawa Public Health as they are the only place available to do the entire family at once if you have kids under five and don't all have the same family doctor. This year, OPH was not offering their usual family appointments but they moved all the public clinics to an appointment based only system so it was pretty similar.
They should have reminded us to fill out our forms in advance at home, but otherwise we were extremely impressed with how organized the entire thing was.
Our location was at Landsdowne in the Horticulture building. We did not tell the kids it was flu shot day until immediately before. This definitely was the right move for Matthew, but Amelia was uncharacteristically nervous. I was nervous too, because Matthew is getting too strong to hold for a shot but his nurse happened to have CHEO experience and managed to talk him through getting the shot without any screaming, hiding under tables or even too much visible anxiety. In short, it was his best shot ever and we were profoundly grateful.
Unfortunately, my own nurse was rather inexperienced and managed to inject my shot much too high. I knew it was wrong immediately as there was intense pain shooting down my arm and my middle finger went numb. In fact, I'm pretty certain she hit a nerve and she definitely injected into my shoulder joint. Long story short I now have vaccination induced bursitis and was unable to use my arm for 24 hours or feel my middle finger for several days. I am profoundly grateful that I was the one affected and not one of the kids. Of course, this is very unusual and I will definitely still be getting my vaccinations. But as recommended by the Ottawa Public Health head nurse, in the future I will be talking to anyone providing me or my children a vaccination to ask them how they figure out where to inject. Similar to marking your body parts before surgery or running a basic checklist, I don't see this as questioning the competence of my shot provider but more as a safeguard to ensure they are focused on proper placement and less likely to make such a painful error. I highly recommend that everyone else do the same.
Addendum: as of Nov 22, my arm still aches on and off and I don't have full sensation in my finger but it's improved quite a bit.
You might also like
- Michael Gabriel
(0.411321)
- Healthy Girl
(0.408451)
- London
(0.407905)
- The Big Clock
(0.407751)
- H1N1 Rock Concert
(0.406695)
All
November 1, 2020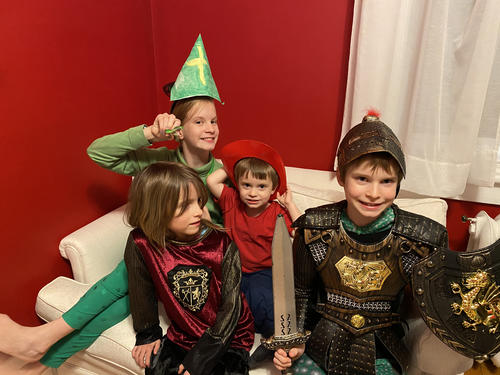 It was All Saints Sunday!
As usual, Matthew was St George. It's the only saint he's agreed to be since we started doing parades in 2016. He wanted Michael to be his dragon on the grounds that a younger sibling has always been his sidekick, but Michael wanted to wear a firefighter hat so Michael was St Florian.
Elizabeth was St Patrick (complete with rubber snake and a zoom beard) and Amelia was Joan of Arc (she wanted to wear "armor" and wave a sword).
I dressed up as St Mary. Since we aren't physically going to church and the parade couldn't really happen anyway, we did a virtual parade in Sunday school with a pretend march and all the kids dressed up. It wasn't the same but the kids enjoyed marching up and down in their rooms so I feel it was successful.
You might also like
- All Saints Day
(0.345083)
- Twelfth night
(0.330855)
- First Communion
(0.329431)
- Cousins move in
(0.328889)
- Santa at Cumberland Heritage Village
(0.323077)
All